Web site set up to help combat contraception ignorance in Taiwan 了解避孕知識別害羞 婦科醫師線上解答
Chen Ching-hui, a doctor in Taipei Medical University Hospital's Department of Obstetrics and Gynecology, says that teenage girls' menstrual cycles are more irregular than an adult's, making it easy to neglect one's situation and that this is the reason for many unexpected pregnancies. Every year obstetricians and gynecologists in Taiwan prescribe tens of thousands of abortion pills to pregnant teenagers. Sighing with emotion, Chen says that gynecologists are inherently meant to discourage people from having abortions, and that every year on Sept. 26 World Contraception Day is supposed to remind everyone about the importance of contraception.
Chen says that in European countries such as Germany and France more than 50 percent of teenagers are having sex, while that number is only 20 to 30 percent in Taiwan. Despite that, the rate of abortion in Taiwan is seven times that of Germany and France, which shows just how ineffective sex education in Taiwan is and that teenagers lack knowledge about contraception and have nowhere to turn. Becoming pregnant unexpectedly without ways to financially support themselves, young mothers have no means to take care of the child and have a difficult time staying in school or getting a job.
Taiwanese teenagers get most of their knowledge about contraception from the Internet, and mistakenly assume that safe period calculation methods or coitus interruptus is sufficient protection, or that taking birth control pills will cause cancer, or make them barren or gain weight. All of these assumptions are unsafe or simply ways of thinking and methods that are wrong, Chen says. The condom-pill method — the male wears condoms and the female takes birth control — is currently considered to be the most effective contraceptive method among medical professionals, preventing both the transmission of venereal diseases and avoiding pregnancy.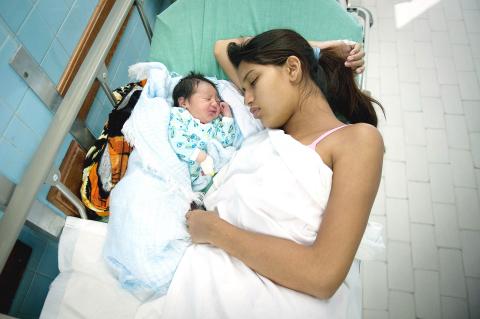 A young mother rests with her newborn son in a maternity center in Caracas, Venezuela on Dec. 15, 2011. 一位年輕母親二0一一年十二月十五日在委內瑞拉卡拉卡斯一間婦產科與其新生兒休息。
Photo: AFP
照片:法新社
To actively combat this issue and help teenagers answer all their perplexing questions regarding sex and contraception, the Taiwan Association of Obstetrics and Gynecology recently started a Web site specifically aimed at providing counseling online for teenagers seeking information about contraception (www.8181.org.tw). The site provides accurate sex education info and a platform where medical professionals can offer replies to messages, as well as a navigable guide on contraception and useful medical and pharmaceutical organizations.
A printed version of the guide is available at most medical providers, and there is a free 24-hour hotline that provides professional counseling (0800-25-8181).
(Liberty Times, Translated by Kyle Jeffcoat)
台北醫學大學附設醫院婦產科主治醫師陳菁徽表示,青少女經期較不規則,容易忽略自身狀況,意外懷孕的案例很多,台灣婦產科醫師每年開出好幾萬顆墮胎藥。陳菁徽感嘆,婦產科醫師的天職是不該鼓勵人墮胎的,每年的九月二十六日是世界避孕日,就是提醒大家正視意外懷孕這個議題。
陳菁徽指出,歐洲國家如德國、法國,未成年性行為比例超過五成,台灣只有二、三成,但是台灣的墮胎率卻是德、法的七倍,這顯示台灣性教育落實不足,青少年避孕知識不足、求助無門,意外懷孕後,又因沒有經濟能力,導致孩子扶養、小媽媽就學與就業都陷入困境。
台灣青少年的避孕知識大多來自網路,常誤以算安全期、體外射精就可以了,又誤以為吃避孕藥會致癌、不孕、發胖。陳菁徽表示,這些都是不保險,甚至錯誤的觀念和方法。目前醫界認為最有效的避孕方法就是「保避(保庇)」,也就是以男性戴保險套杜絕性病傳染,女性服用避孕藥防止懷孕。
為了主動出擊、協助青少年男女解答心中對於兩性與避孕的疑惑,婦產科醫學會即日啟用「青少女(年)避孕指引諮詢家」網站(www.8181.org.tw),提供正確兩性教育、線上留言有醫師專業回覆,另可查詢避孕指引和醫藥機構。
紙本的「青少女(年)避孕指引」則可在各衛教通路索取,還有二十四小時免付費諮詢電話(0800-25-8181)提供專業諮詢。
(自由時報記者邱宜君)
Publication Notes
TODAY'S WORDS 今日單字
1. discourage v.
勸阻;打消 (quan4 zu3; da3 xiao1)
例: The risk of imminent death should be enough to discourage you from such risky behavior.
(這種冒險行為有致死之虞,應足以打消你的念頭。)
2. ineffective adj.
無效果的;不起作用的
(wu2 xiao4 guo3 de5; bu4 qi3 zuo4 yong4 de5)
例: Some argue that history has already proven that prohibition against certain drugs is ineffective.
(有些人主張歷史已經證明禁止某些藥物毫無效果。)
3. barren adj.
不生育的;不妊的 (bu4 sheng1 yu4 de5; bu2 ren4 de5)
例: Technology is always coming up with new ways to help barren women get pregnant.
(科技不斷地發展更多協助不孕婦女懷孕的方法。)
Comments will be moderated. Keep comments relevant to the article. Remarks containing abusive and obscene language, personal attacks of any kind or promotion will be removed and the user banned. Final decision will be at the discretion of the Taipei Times.