Taipei public bike system's new policies go into effect next month YouBike 下月新制十五分鐘內同站無法續借
On the first day of October next month, two of the Taipei YouBike public bike rental system's new policies will go into effect, including a new rule that prevents people from renting another bike at the same station if they return the first bike within 15 minutes of renting it. The other new policy includes the implementation of a progressive rating system, which stipulates that the first 30 minutes will still be free of charge, but that the regular price of NT$10 per 30 minutes for the three and a half hours after that, increases to NT$20 per 30 minutes between the fourth and eighth hours of renting the bike, and NT$40 for every 30 minutes after the eighth hour.
The YouBike system is quite popular, but there are often complaints being made about there not being enough bicycles available. One of the main reasons for this problem is that the first 30 minutes are free, meaning that a person can get another free rental as long as they return the previous bike within 30 minutes of renting it. With so many people taking advantage of the free ride, many potential customers are left waiting for bikes, so Taipei City's Department of Transportation says that it has decided not to allow customers to rent another bike at the same station if they return it within 15 minutes of renting it.
After taking into consideration that people might want to switch out a bike because it has a problem, the department says the restriction will not be applied to customers who swap bikes at the same station within five minutes of renting it.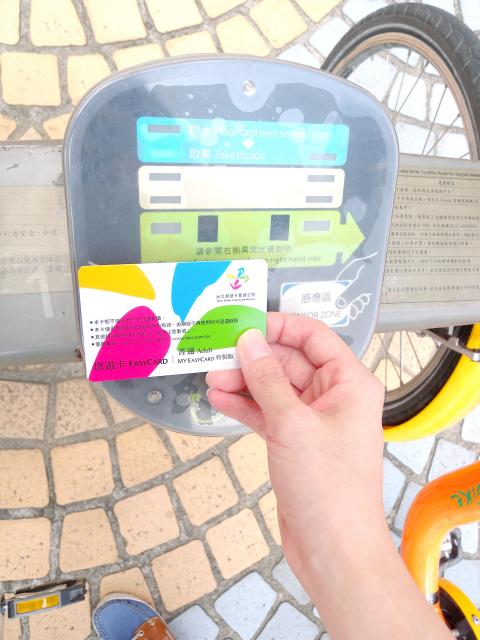 A woman swipes her EasyCard to rent a public bicycle from the YouBike system in Taipei on Sept. 16. 一位女士九月十六日在台北市用悠遊卡租借YouBike的腳踏車。
Photo: Wu Liang-yi, Liberty Times
照片:自由時報記者吳亮儀
According to statistics from the department, only 0.5 percent of customers are using the public bikes more than four hours at a time, adding that only 5,600 of the 1.12 million customers in the month of August used the bikes for more than four hours.
(Liberty Times, Translated by Kyle Jeffcoat)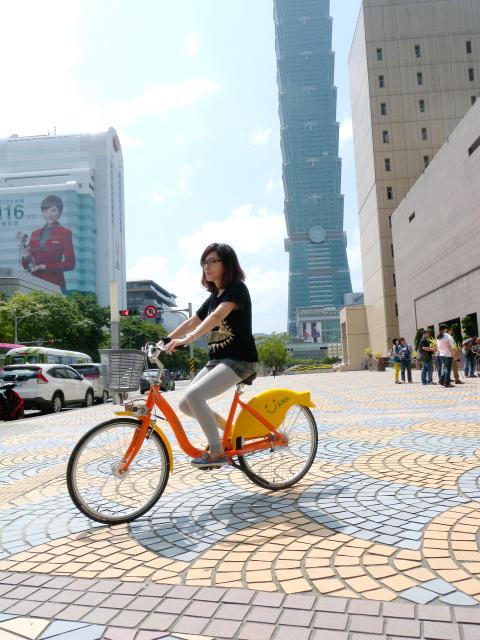 A woman rides a public rental bike near Taipei 101 in Taipei's Xinyi District on Sept. 16. 一位女士九月十六日在台北市信義區一0一大樓附近騎公共自行車。
Photo: Wu Liang-yi, Liberty Times
照片:自由時報記者吳亮儀
下月一日起,台北市公共自行車YouBike租借方式有兩項新規定,還車後十五分鐘內,無法同站續借。另外,費率也將改為「累進費率」,前卅分鐘維持免費,之後三個半小時也維持每卅分鐘十元;但第四小時起至八小時以內,每卅分鐘調高為廿元;八小時以上,每卅分鐘調高為四十元。
YouBike很受歡迎,但常遭抱怨無車可借,其中很大一項原因,是因前卅分鐘免費,民眾只要趕在卅分鐘內還車、然後再借出,就可繼續免費騎乘,許多民眾會還後立刻續借,導致其他排隊民眾根本借不到。所以北市交通局表示,限制還車後十五分鐘內不得同站續借。
不過,考量民眾借車後可能因車況不佳,想換一台車騎,交通局表示,同站首次借車五分鐘內則不受限,可換台車繼續借。
根據交通局統計,使用YouBike超過四小時的人次數僅千分之五,以八月份的一百一十二萬人次來看,僅約五千六百人次的使用時間超過四小時。
(自由時報記者吳亮儀)
Publication Notes
TODAY'S WORDS 今日單字
1. implementation n.
履行;完成 (lu3 xing2; wan2 cheng2)
例: The implementation process will be quite complex.(履行過程將頗為複雜。)
2. complaint n.
抱怨;怨言 (bao4 yuan4; yuan4 yan2)
例: Customer service has been getting an increasing number of complaints about the application process. (客服部收到愈來愈多有關申請過程的客訴。)
3. statistics n.
統計 (tong3 ji4)
例: Can you verify these statistics?(你能否證實這些統計?)
Comments will be moderated. Keep comments relevant to the article. Remarks containing abusive and obscene language, personal attacks of any kind or promotion will be removed and the user banned. Final decision will be at the discretion of the Taipei Times.