Grandpa sleeps in orchard to ensure grandkids' education 阿公護孫學費 十年來天天睡果園防賊
Liu Chao-nan is a 73-year-old, one-eyed pomelo farmer hailing from Yunlin County's Douliou City. He and his two grandchildren — one in junior high school and the other in elementary school — depend on each other for their survival. Liu worries about his pomelos being stolen, which would potentionally leave his grandchildren without money to pay for school, so he sleeps in the orchard every night to protect the pomelos. Over the past decade, he has slept there every night, rain or shine, without fail. "Revenue from the pomelos pays for the two kids' education. If they are stolen, there won't be enough money for them to stay in school."
Liu, his face covered in wrinkles and skin darkly tanned, began growing pomelos 35 years ago. One day when he was cutting the grass in the orchard, a tree branch fell and pierced his eye, causing him to go entirely blind in his left eye. Liu's pomelo orchard covers approximately eight fen (7.76km2) of land. He and his wife manage everything on a daily basis, including spreading fertilizer, while his eldest son and second oldest son, who live elsewhere, come to help on the weekends.
Liu's son died more than a decade ago after contracting cancer, leaving behind a daughter and son who had not yet reached three years of age. After taking into consideration that both of his other sons already had children of their own, he decided to take on the important responsibility of raising his little granddaughter and grandson with his wife.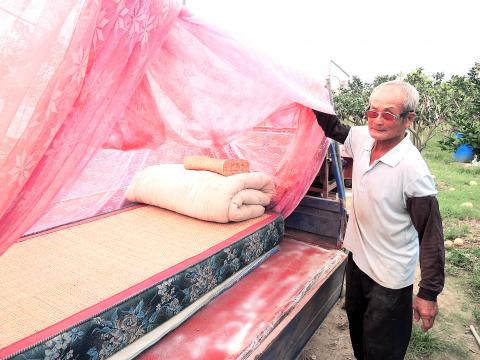 Septuagenarian pomelo farmer Liu Chao-nan poses next to the farming truck where he sleeps every night in his orchard in Yunlin County on Sept. 8. 七旬文旦農夫劉招男九月八日在雲林縣與其在文旦園工寮每天睡的農用搬運車留影。
Photo: Huang Shu-li, Liberty Times
照片:自由時報記者黃淑莉
The high quality and price of Douliou City's pomelos often make them the coveted target of thieves during harvest season, but despite the local city office and police working together to help protect local pomelos from being stolen, Liu's farming equipment was stolen once — a loss that ran in the tens of thousands of New Taiwan dollars.
To keep his business from going belly-up and subsequently not having enough money to pay for his grandkid's education because thieves stole their pomelos, Liu put a mattress on the bed of his farming truck, which he parks in the middle of the orchard — his bedroom — and for the past decade, regardless of how strong the wind or rain gets, he sleeps there.
The Douliou City Office says that farmers must make a living against the whims of nature, and income made from harvesting pomelos can vastly fluctuate. One fen (970m2) of land typically generates between NT$200,000 and NT$300,000, but when the harvest is bad that number falls to between NT$50,000 and NT$60,000. After deducting administrative fees and other costs, not much is left, making the toilsome hardship that Liu and his grandchildren endure even more apparent.(Liberty Times, Translated by Kyle Jeffcoat)
雲林縣斗六市七十三歲獨眼文旦老農劉招男,與兩名讀國中、國小的子孫相依為命;他擔心文旦遭竊,會害孫子無法讀書,天天睡在果園保護它們,十年來如一日,每天風雨無阻。「文旦的收入,就是兩個囝仔的學費,被偷了就沒錢讀冊!」
文旦老農劉招男,滿臉皺紋、皮膚黝黑,三十五年前開始種植文旦,有一次在果園除草,樹枝突然飛刺入眼睛,造成左眼受傷全盲。劉招男的文旦園約八分地,平日管理、施肥全由他和妻子包辦,住在他處的大兒子與二兒子,假日會來幫忙。
十多年前,劉招男的小兒子罹癌過世,留下當時未滿三歲的一對稚齡兒女,劉老考量另兩個兒子各有家庭,便由他與妻子一肩扛起養育小孫女與小孫子的重責大任。
由於斗六文旦質好價高,採收期常遭宵小覬覦,雖有市公所、警方共同執行護柚專案,但劉招男放在果園的機具還是曾遭竊,損失好幾萬元。
為免文旦被偷血本無歸、害孫兒學費沒著落,劉招男索性把床墊搬上農用搬運車,直接把搬運車開進工寮當房間,十年來不論刮風下雨,每天睡在果園裡。
斗六市公所表示,農民看天吃飯,文旦收成好壞落差很大,收成好時,一分地可賣兩、三十萬元,差的時候只剩五、六萬元,扣去管理成本,其實所剩無幾;劉招男照顧孫兒的艱辛可見一斑。
(法新社╱翻譯:林倩如)
Publication Notes
TODAY'S WORDS 今日單字
1. without fail adj.
肯定;一定;必定 (ken3 ding4; yi2 ding4; bi4 ding4)
例: Samuel sent her flowers every week for a year without fail.
(撒姆爾為期一年的每週必定送花給她。)
2. belly-up adj.
破產;倒閉 (po4 chan3; dao3 bi4)
例: The company went belly-up in just three weeks.
(公司三週內就倒閉了。)
3. toilsome adj.
艱辛的;勞苦的 (jian1 xin1 de5; lao2 ku3 de5)
例: She suddenly recalled the long, toilsome months she spent perfecting her creation.
(她突然想起曾為了讓創作更臻完美,而經過漫長且艱辛的幾個月。)
Comments will be moderated. Keep comments relevant to the article. Remarks containing abusive and obscene language, personal attacks of any kind or promotion will be removed and the user banned. Final decision will be at the discretion of the Taipei Times.