Hotter temperatures lead to hotter tempers 溫度越高火氣越大
A big new study says as the world gets warmer, people are more prone to get hot under the collar. Scientists found that aggressive acts like violent crimes and wars become more likely with each added degree.
The research analyzed 60 studies of such things as the historic collapses of empires, recent wars and violent crime rates in the United States. They found a common thread — extreme weather, hot or dry, means more violence.
An author of the study said that when the weather gets bad people tend to be more willing to hurt others. The team of economists even came up with a formula that predicts how much the risk of different types of violence should increase with extreme weather.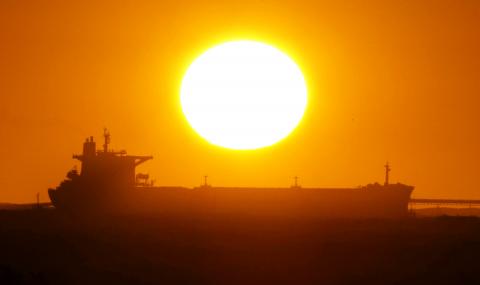 The sun sets behind an iron ore bulk carrier moored at the iron ore loading facility in Port Hedland, about 1,600km north of Perth, Australia on May 30, 2008. 二00八年五月三十日,太陽在一艘從澳洲珀斯往北一千六百公里的黑德蘭港卸貨設備停泊的鐵礦散裝貨船落下。
Photo: Rueters
照片:路透社
In war-torn parts of equatorial Africa, it says, every added degree Fahrenheit or so increases the chance of conflict between groups, rebellion, war and civil unrest by 11 percent to 14 percent.
(Liberty Times)
一份大型的新研究說,隨著世界愈來愈熱,人們也愈來愈容易生氣。科學家發現,氣溫每升高一度,暴力犯罪與戰爭等咄咄逼人的舉動的可能性也隨之增加。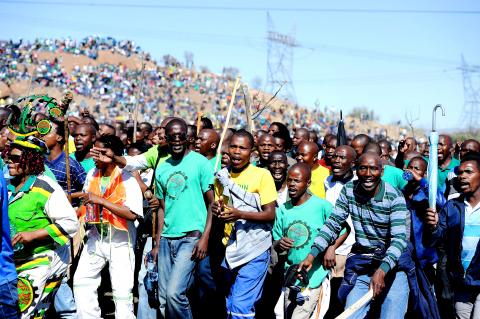 Co-workers and relatives of miners shot dead by South African police during a violent strike sing and dance as they gather in Marikana, South Africa on Aug. 16 to mark the first anniversary of their deaths. 紀念礦工被南非警察在罷工衝突中射殺一週年,其同事與親戚八月十六日於南非馬里卡納地區唱歌跳舞。
Photo: AFP
照片:法新社
這份研究分析六十份針對歷史上帝國瓦解、近代戰爭與美國暴力犯罪率等的研究成果。他們發現一個共通的線索:極端天氣,不管是極熱或極乾,都代表更多暴力。
研究作者表示,天氣讓壞人們更傾向於傷害他人。這個經濟學家團隊甚至提出一套公式,預測不同種類的暴力隨極端天氣增加的風險有多高。
研究團隊說,在赤道非洲戰亂頻仍地區,溫度每增加華氏一度左右,不同群體間的衝突——叛亂、戰爭與內亂——的機率,也會增加百分之十一到百分之十四。
(自由時報/翻譯:國際新聞中心)
Publication Notes
TODAY'S WORDS 今日單字
1. prone adj.
傾向於;易於 (qing3 xiang4 yu2; yi4 yu2)
例: I've always been prone to headaches.
(我容易頭痛。)
2. hot under the collar idiom
發怒的;尷尬的 (fa1 nu4 de5; gan1 ga4 de5)
例: When I suggested he was mistaken he got rather hot under the collar.
(當我暗示他錯了的時候,他相當生氣。)
3. come up with v. phr.
提出某種想法或計畫 (ti2 chu1 mou2 zhong3 xiang2 fa3 huo4 ji4 hua4)
例: She's come up with some amazing schemes to double her income.
(她提出一些讓自己收入倍增的驚人計畫。)
Comments will be moderated. Keep comments relevant to the article. Remarks containing abusive and obscene language, personal attacks of any kind or promotion will be removed and the user banned. Final decision will be at the discretion of the Taipei Times.