How listening to 'sad songs' heals the blues 聽「悲歌」可解憂
A new international study has found listening to sad music was the best way to recover from a relationship break-up as it had the same soothing effect as a sympathetic friend.
Researchers concluded that when consumers experienced serious emotional distress they turned to a surrogate to replace a lost personal bond and lift their mood.
Their findings appear to contradict popular opinion that upbeat music or humorous movies were a better way to beat distress.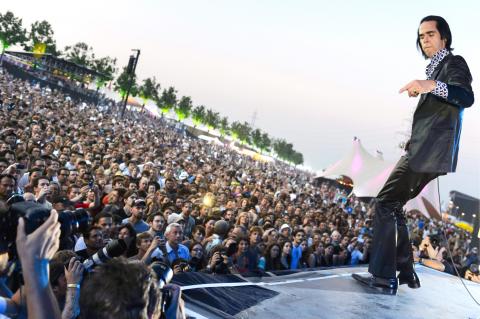 Australian singer Nick Cave performs during the Paleo Festival in Nyon, Switzerland on July 26. 澳洲歌手尼克‧凱夫七月二十六日於瑞士尼永舉辦的帕雷歐音樂節演出。
Photo: EPA
照片:歐新社
In the study, consumers were presented with various frustrating situations and asked to rate angry music, compared to joyful or relaxing music. Other volunteers were separately asked to recall experiences involving loss.
The authors found people experiencing relationship problems were more likely to prefer "sad music" or "tear-jerking dramas" that reflected their negative mood.
Preference for sad music was significantly higher when they had experienced the break-up of a personal relationship, compared to an impersonal loss such as losing a competition.
(Liberty Times)
一項新的國際研究發現,聽悲傷的音樂是從失戀中恢復的最好方式,因為它就像一名富有同情心的朋友,能發揮撫慰的作用。
研究人員結論指出,當消費者經歷了嚴重情緒困擾時,他們會尋找替代品來代替所失去的個人聯繫並提升自己的心情。
流行的觀點認為,歡樂的音樂和幽默的電影更能夠解憂,他們的發現似乎與此觀點相悖。
在研究中,消費者體驗到各種令人沮喪的情況,並把憤怒的音樂與歡樂或輕鬆的音樂進行比較,給憤怒的音樂評分。其他志願者則個別地被要求回想涉及損失的經歷。
作者們發現,經歷情感問題的人們更可能喜歡「悲傷的音樂」或「催淚的戲劇」,這些反映了他們的負面情緒。
與客觀的損失如在競爭中失利相比,當人們經歷分手這樣的問題時,會更偏愛憂傷的音樂。
(自由時報/翻譯:陳成良)
Publication Notes
TODAY'S WORDS 今日單字
1. soothing adj.
撫慰的;舒緩的 (fu3 wei4 de5; shu1 huan3 de5)
例: To experience rosemary's soothing powers, mix a few drops of oil of rosemary with virgin olive oil.
(想體驗迷迭香的舒緩功效,可將幾滴迷迭香精油與初榨橄欖油混合。)
2. surrogate n.
替代;代理(人) (ti4 dai4; dai4 li3 (ren2)
例: The presidential surrogate spoke on his behalf at the press conference.
(總統代理人在記者會上代表總統發言。)
3. impersonal adj.
非個人的;客觀的 (fei1 ge4 ren2 de5; ke4 guan1 de5)
例: He made an impersonal comment on the incident.
(他對那一事件做了客觀的評論。)
Comments will be moderated. Keep comments relevant to the article. Remarks containing abusive and obscene language, personal attacks of any kind or promotion will be removed and the user banned. Final decision will be at the discretion of the Taipei Times.