'Standing man' inspires silent protests in Turkey 「站立人」啟發土耳其靜默示威活動
A Turkish man has staged an eight-hour silent vigil on Istanbul's Taksim Square, scene of violent clashes between police and anti-government protesters in recent weeks, inspiring hundreds of others to follow his lead.
Erdem Gunduz said he wanted to take a stand against police stopping demonstrations near the square, Dogan news agency reported.
He stood silently, facing the Ataturk Cultural Centre which was draped in Turkish flags and a portrait of Turkey's founder Mustafa Kemal Ataturk, from 6pm.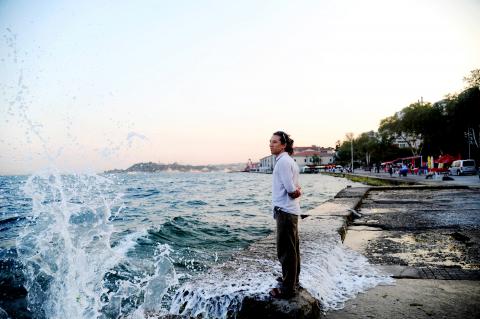 Erdem Gunduz, also known as "Standing man," stands near the Bosphorus in Istanbul, Turkey on July 25. 有「站立人」之稱的爾登‧甘杜茲,七月二十五日站在土耳其伊斯坦堡博斯普魯斯海峽附近。
Photo: AFP
照片:法新社
By 2am, when the police moved in, about 300 people had joined him. Ten people, who refused to be moved on by police, were detained.
Gunduz, swiftly dubbed "standing man" on social media in Turkey, inspired similar protests elsewhere in Istanbul as well as in the capital Ankara and the city of Izmir on the Aegean coast.
The silent protests were in stark contrast to demonstrations at the weekend, which saw some of the fiercest clashes so far when police fired tear gas and water cannon to clear thousands from Taksim Square.
(Reuters)
一名土耳其男子在伊斯坦堡的塔克席姆廣場上進行長達八小時的靜默抗議,塔克席姆廣場正是近幾週來土國警方與反政府示威者爆發暴力衝突的地點,他的行為則啟發了數百人跟進抗議。
爾登‧甘杜茲表示他想要對警方阻止群眾在廣場上示威一事表達反對立場,據杜甘新聞社報導說。
他從下午六時就面朝掛有土耳其國旗與土耳其國父凱末爾畫像的阿塔圖爾克文化中心,一語不發地站著。
到了次日凌晨二時警方終於出動時,已有約三百人加入他的行列。十名拒絕被警方移開的示威者遭到拘捕。
甘杜茲很快就在土耳其社交媒體上被暱稱為「站立人」,他的行為在伊斯坦堡其他地區,以及首都安卡拉和愛琴海濱的伊斯米爾市等地激起類似抗議。
這些靜默抗議和週末的示威形成了強烈對比,當時警方曾發射催淚瓦斯與強力水柱,強制驅離塔克席姆廣場上的數千名示威群眾,雙方爆發迄今最嚴重的衝突。
(路透/翻譯:俞智敏)
Publication Notes
TODAY'S WORDS 今日單字
1. vigil n.
守夜祈禱 (shou3 ye4 qi2 dao3)
例: The night before he was scheduled to be executed, the group held a candlelight vigil for him outside the prison.
(在他被處決前夕,該組織在監獄外徹夜替他舉行燭光祈禱儀式。)
2. follow someone's lead v .phr.
跟隨,效法某人 (gen1 sui2, xiao4 fa3 mo3 ren2)
例: John followed his father's lead and became a lawyer.
(約翰跟隨父親的腳步,成為一名律師。)
3. demonstration n.
示威 ((shi4 wei1)
例: Tens of thousands of people took part in a demonstration in Taipei last Saturday.
(成千上萬人上週六於台北參加示威活動。)
Comments will be moderated. Keep comments relevant to the article. Remarks containing abusive and obscene language, personal attacks of any kind or promotion will be removed and the user banned. Final decision will be at the discretion of the Taipei Times.