Man tries selling himself on EBay for US$1.50 男子試圖在EBay上以一點五美元出賣自己
EBay, the auction site famous for its knock-off Ray Ban sunglasses and iPhones, recently had a listing for something unique — a balding old white guy.
Steve Sewell, an unemployed 58-year-old British man, unsuccessfully tried to auction himself off on EBay in an attempt to get the attention of employers.
For the low, low price of only 99 pence (US$1.50), EBay bargain hunters could have had their very own human being, but despite the rock-bottom offer, the posting closed on Monday with no bids.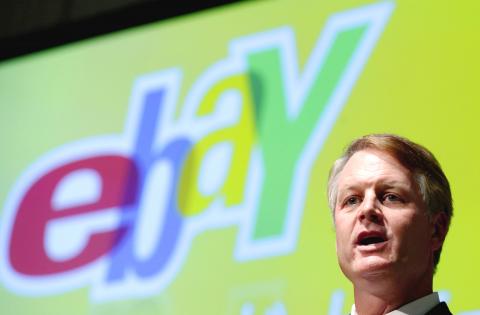 EBay Inc President and CEO John Donahoe speaks during a news conference in Tokyo on May 9 last year. EBay首席執行官與總裁約翰‧多納霍去年五月九日於東京舉辦的記者會上發言。
Photo: Reuters
照片:路透社
Sewell has a diploma in electrical and electronic engineering, is qualified as an IT technician and has worked as a mechanic. Another highlight of his long career includes working as a toilet paper tester.
In the listing, he described himself as having "some wear to moving parts," as well as being in used condition with "excellent interpersonal skills, infinite patience and an indestructible sense of humor."
According to the Daily Mail, Sewell claims ageism is the reason he cannot find a job.
He said, "My family said I'm worth more than 99 pence, but desperate times call for desperate measures…The bills are mounting up and it's getting desperate now."
(Liberty Times)
以其廉價仿冒雷朋太陽眼鏡和iPhone手機出名的拍賣網站「電子海灣」,最近出現一筆獨特的拍賣品:一名禿頭白人老頭。
五十八歲的失業英國男子史帝夫.塞威爾,試圖在EBay上拍賣自己以吸引雇主的注意,但未能成功。
以低到只要九十九便士(一點五美元)的價錢,在EBay上找便宜的人就能夠擁有屬於自己的人。但儘管這種低到谷底的價錢,這項拍賣週一仍在沒有人出價競標下結束。
塞威爾擁有電子、電機工程學歷,有資訊技術人員資格,也從事過技工。他漫長職業生涯的另一令人注目之處,就是當過廁所衛生紙試用員。
在這項拍賣上,他形容自己「可活動部件有些損耗」,有使用過,擁有「絕佳人際技巧,無限的耐心,以及無敵的幽默感。」
根據「每日郵報」報導,塞威爾宣稱年齡歧視是他無法找到工作的原因。
他說:「我家人說我不只值九十九便士,但是情況危急的時候要有孤注一擲的手段……帳單越積越多,現在已無計可施。」
(自由時報/翻譯:管淑平)
Publication Notes
TODAY'S WORDS 今日單字
1. knock-off n.
仿冒品 (fang3 mao4 pin3)
例: Those are just some cheap knock-offs.
(那些東西只不過是些便宜的假貨。。)
2. call for v. phr.
要求;需要 (yao1 qiu2; xu1 yao4)
例: Thousands of protesters called for a full and transparent investigation into the soldier's death.
(數千名示威者要求全面且公開調查這名士兵之死。)
3. mount up v. phr.
逐漸增加 (zhu2 jian4 zeng1 jia1)
例: Your daily expenses are mounting up.
(你的日常開支越來越大。)
Comments will be moderated. Keep comments relevant to the article. Remarks containing abusive and obscene language, personal attacks of any kind or promotion will be removed and the user banned. Final decision will be at the discretion of the Taipei Times.