Public majorly dissatisfied with Culture Ministry's performance one year in 文化部一年表現 民眾不滿意
Just as the Ministry of Culture was about to celebrate its one-year anniversary on May 20, National Taiwan Normal University's (NTNU) Cultural Administration and Policy Lab released "A Survey of Public Approval Regarding the Central Government's Cultural Policies" on May 14. The survey shows that despite the eminence of Culture Minister Lung Ying-tai, only 18.6 percent of the public is actually satisfied with the Ministry of Culture's overall performance, with as much as 40.5 percent feeling that the nation's cultural and artistic climate has not improved the last few years.
NTNU's Cultural Administration and Policy Lab conducted the same survey in 2002 and 2004. For this year's survey, which was conducted by telephone at the beginning of May, researchers collected a total 1,065 valid samples from people over the age of 20. The survey found that 40.2 percent of the respondents knew who Lung was, showing that she is a far more prominent figure than former Council for Cultural Affairs minister Ovid Tzeng, who had only a 19.1 percent recognition rating in the previous survey. Approximately 30 percent of people in the previous two surveys felt that the nation's cultural and artistic situation had not improved, which increased to 40.5 percent in this year's survey who felt that things had not improved in the past five years, showing an apparent spike in public disfavor.
Compared to the survey conducted in 2004, with 44.5 percent expressing satisfaction with the government's cultural policies, this year's 18.6 percent is a marked decline. The number of people dissatisfied — 34.7 percent — with the government's handling of cultural policy this year has also risen significantly from 26.4 percent in 2004, showing that despite having a celebrated minister the ministry's approval rating has still gone down.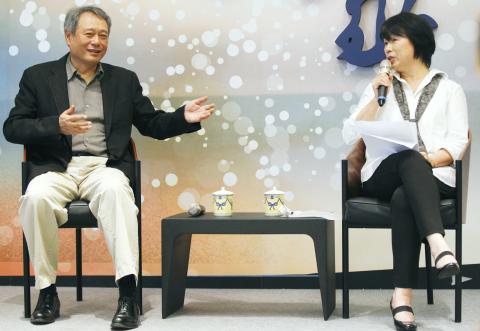 Director Ang Lee, left, speaks with Culture Minister Lung Ying-tai during a news conference in Taipei on May 9. 導演李安(左)與文化部長龍應台五月九日在記者會上對談。
Photo: Reuters
照片:路透
(Liberty Times, Translated by Kyle Jeffcoat)
文化部成立五月二十日屆滿週年,台灣師範大學文化行政暨政策研究室五月十四日公布「中央政府文化施政滿意度」調查,結果發現,雖然文化部長龍應台知名度頗高,卻僅百分之十八點六的民眾滿意文化部施政表現,高達百分之四十點五民眾認為國內近年整體文化藝術風氣並未提昇。
台師大文化行政暨政策研究室陸續於二00二年、二00四年與今年舉辦「中央政府文化施政滿意度調查」,今年五月初針對全國二十歲以上人口進行電話調查,有效回收一千六十五份樣本。結果發現,有百分之四十點二民眾知道且答對龍應台的身份,比對前任文建會主委知名度僅百分之十九點一,龍應台知名度明顯較高。但有百分之四十點五民眾認為國內近五年來整體文化藝術風氣未提昇,相較於前兩次調查約為三成,今年不滿意的民眾也明顯提高。
調查進一步詢問對於文化部成立近一年的滿意度,結果僅百分之十八點六民眾滿意,對應二00四年調查「滿意」文化施政的民眾高達百分之四十四點五,今年滿意度明顯大幅下滑。「不滿意」的民眾也從二00四年百分之二十六點四大幅提高為百分之三十四點七,顯示部長知名度雖高,但文化施政滿意度卻低。
(自由時報記者陳怡靜、凌美雪、趙靜瑜)
Publication Notes
TODAY'S WORDS 今日單字
1. prominent adj.
著名的;顯赫的
(zhu4 ming2 de5; xian3 he4 de5)
例: After more than five decades together, the Rolling Stones are one of the most prominent rock bands in the world.
(成立超過半世紀的滾石樂隊,是全球最有名的搖滾樂團之一。)
2. spike n.
劇增;大幅提高
(ju4 zeng1; da4 fu2 ti2 gao1)
例: A spike in prices has occurred because of the drought.
(價錢因旱災而大幅提高。)
3. marked adj.
顯著的;引人注目的
(xian3 zhu4 de5; yin3 ren2 zhu4 mu4 de5)
例: A marked contrast exists between the twins' personalities.
(雙胞胎的個性存在明顯差異。)
Comments will be moderated. Keep comments relevant to the article. Remarks containing abusive and obscene language, personal attacks of any kind or promotion will be removed and the user banned. Final decision will be at the discretion of the Taipei Times.