The myth of 'growing pains' 少年「成長痛」 醫生︰運動過頭
Many households with adolescents have heard complaints like, "Mom my leg is tingling and hurts again." After taking them to the hospital and finding no cause it is usually chalked up to "growing pains." Hsieh Kuo-hsiung, an orthopedic surgeon at Catholic Mercy Hospital, says that there is no medical term for growing pains, and that the pains are merely caused by too much exercise.
Hsieh says that many parents with children going through puberty ask him what growing pains are and where the pains usually occur. He usually replies that unless the child's leg pains are from frequently falling or other abnormal incidents, the pains are most likely because the child has hit puberty and their muscles, tendons, joints and ligaments are being overworked by an increase in physical activity and excessive exercise. This type of pain can occur regardless of age, he says.
After talking with one parent who brought her eighth-grade son to the hospital, Hsieh soon discovered that the boy had been playing basketball obsessively, often going with classmates after school. Another patient, a fourth grade girl, who came in because of extreme pain in her heels, had been immoderately practicing ballet for an upcoming recital — over-exercising the muscles.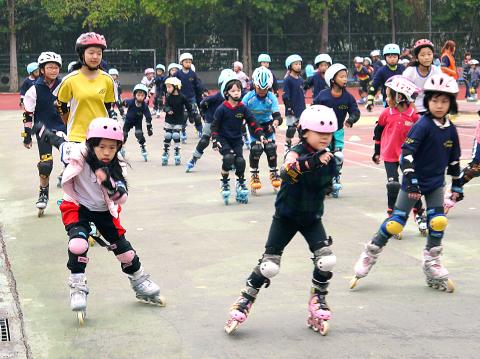 Children roller-skate at a roller rink in Hsinchu County on April 10. 小朋友四月十日於新竹縣的滑輪溜冰場溜冰。
Photo: Huang Mei-chu, Liberty Times
照片:自由時報記者黃美珠
He says that it is easiest to discover pains that a child is having during puberty, and people simply sustain the myth that pain felt during that period is some sort of "growing pain," mistakenly assuming that after the pain subsides the child will be taller than before. Hsieh says that it is a bittersweet way of dealing with the pain, and that there is no reason to worry too much or take unnecessary medication because of the pains.
The situation can be improved simply by controlling the amount of physical activity one gets, Hsieh says, adding that resting, putting heat on the troubled area, taking a hot bath or raising the hurting leg can all help alleviate the discomfort. (Liberty Times, Translated by Kyle Jeffcoat)
不少家有青少年的家長都聽過類似「媽媽,我的腳又麻麻、痛痛」等抱怨,帶去醫院又查不出原因,久了就認為是所謂的「成長痛」。仁慈醫院骨科醫師謝國雄說,醫學並沒有成長痛這名詞,只是孩子運動過了頭。
謝國雄說,很多有青春期孩子的家長們,常會問他什麼是成長痛?痛在哪些部位上?但除非孩子的腿部疼痛伴隨有經常性跌倒等異狀,不然應該都是單純孩子邁入青春期後,因為活動量增加、過度運動所造成的肌肉、肌腱、關節韌帶乃至牽動關節部位的痠疼;這種不舒服,不管多大年紀都會發生。
一名家長曾帶國二兒子來求診,經謝國雄詢問後發現,原來孩子最近半個月瘋籃球,課後常跟同學一起打球。一名小四的女生也說腳後跟等痛得不得了,原來這個小女生在跳芭蕾,那陣子為了公演拚命排練,運動過量了。
他說,由於青春期孩子的不舒服最容易被發現,大家以訛傳訛,就說這是一種成長痛,還誤以為痛過就會再抽高,以致讓家長和小朋友面對這種疼痛總是「苦樂參半」。但不必太過擔憂或因此誤用不必要的藥品偏方。
謝國雄說,其實只要稍微節制一下活動量就會改善,如果發生了就多休息、給予熱敷、或泡熱水澡,甚至是把疼痛的腿舉高,都有助緩解不適。(自由時報記者黃美珠)
Comments will be moderated. Keep comments relevant to the article. Remarks containing abusive and obscene language, personal attacks of any kind or promotion will be removed and the user banned. Final decision will be at the discretion of the Taipei Times.