Oops! Old habits die hard for Palestine's Abbas 哎喲!巴勒斯坦阿巴斯積習難改
Old habits die hard for Mahmoud Abbas. The Palestinian president almost hailed deposed Egyptian leader Hosni Mubarak during an Islamic summit in Cairo, and thanked a deceased Arab king for remarks delivered later in the meeting.
Abbas pulled himself up in mid-sentence as he began to utter Mubarak's name during a televised address to the summit chaired by President Mohamed Mursi, an Islamist jailed in the Mubarak era who was elected head of state last year.
"It pleases me, at the beginning, to offer greetings to Mr. President Mohamed Hos ... Mohamed Mursi, the president of the Arab Republic of Egypt," Abbas said, stopping himself before committing a diplomatic blunder.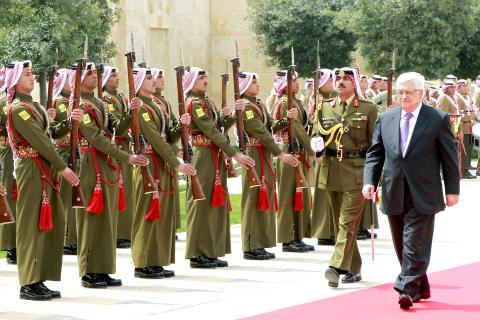 Palestinian President Mahmoud Abbas, right, reviews the Bedouin honour guards upon his arrival to meet with Jordan's King Abdullah at the Royal Palace in Amman, Jordan on March 31. 三月三十一日,巴勒斯坦主席馬哈穆德.阿巴斯(右)在貝都因儀隊的迎接下,抵達約旦安曼國王皇宮,與約旦國王阿卜杜拉會面。
Photo: Reuters
照片:路透
Chairing a later session, Abbas thanked King Mohammed V for remarks read on his behalf by the Moroccan prime minister. "Mohammed VI, Mr. President, Mohammed V has passed away," said Prime Minister Abdelilah Benkirane, correcting Abbas.
Mohammed V died in 1961.
(Reuters)
馬哈穆德.阿巴斯積習難改。這位巴勒斯坦自治政府主席在一場於開羅舉行的伊斯蘭高峰會上,差點就要向已遭罷黜的埃及領導人何西尼.穆巴拉克致意,還針對稍後在會中的發言,向一位已駕崩的阿拉伯國王致謝。
在這場由曾於穆巴拉克時代入獄的伊斯蘭主義者、去年當選埃及總統的莫哈梅德.穆希主持的高峰會上,阿巴斯在向大會發表電視轉播演說、才正要唸出穆巴拉克的大名時,話說到一半趕忙打住。
「我很高興,能在(會議)一開始時向總統先生莫哈梅德.何西…莫哈梅德.穆希,埃及阿拉伯共和國的總統致意,」阿巴斯在犯下外交疏失前及時打住。
在主持稍後的一場會議時,阿巴斯為了一段由摩洛哥總理代為宣讀的發言,向(摩洛哥國王)穆罕默德五世致謝。「穆罕默德六世,主席先生,穆罕默德五世已駕崩,」(摩洛哥)總理阿布狄力亞.班基宏如此糾正阿巴斯。
穆罕默德五世於一九六一年駕崩。
(路透/翻譯:張沛元)
Publication Notes
TODAY'S WORDS 今日單字
1. Old habits die hard. idiom
積習難改。 (ji1 xi2 nan2 gai3)
例: Old habits die hard. You'd better get rid of bad habits before they take hold.
(積習難改。你最好在壞習慣根深柢固前就改掉。)
2. pull up v. phr.
停止 (ting2 zhi3)
例: The truck pulled up suddenly.
(那輛卡車突然停車。)
3. blunder n.
大錯;紕漏 (da4 cuo4; pi1 lou4)
例: She committed a blunder during the job interview.
(她在求職面談時出了大紕漏。)
Comments will be moderated. Keep comments relevant to the article. Remarks containing abusive and obscene language, personal attacks of any kind or promotion will be removed and the user banned. Final decision will be at the discretion of the Taipei Times.