Landscape eyesores ruining historic streets: academics 學者:都更景觀突兀 破壞舊有街道形式
Urban renewal projects in New Taipei City surrounding the Bitan Bridge in Sindian Disctrict, historic streets in Sinjhuang and the Danshui Customs Officer's Residence, commonly known as the "Little White House," have all raised controversy because the projects have negatively affected the preservation of historic areas and architecture. Some academics say that although urban renewal projects are indeed meant to make areas more attractive, they should take a measured approach, taking into consideration urban renewal plans as well as future prospects, so that land development and urban development do not outweigh historical and cultural value.
Yen Liang-yi, an associate professor in the Department of Landscape Architecture at Fu Jen Catholic University, says that urban planning is not necessarily a bad thing. Urban planning can be a logical policy tool when used to deal with architecture that has fallen into disrepair or presents public safety issues, but he warns that if the government merely uses urban planning to build up fancy apartment buildings, no public space will be left once all of the public land is sold off. Neglecting the rights of local residents in this way will only ruin the overall texture of the city, effectively killing the city's lifeline, Yen says.
According to Yen, the city government was looking at urban development from the construction company's perspective in an urban renewal project surrounding a police station in Sinjhuang. The government indirectly sold public land to a private company that then built towering 20 to 30-story-tall buildings along Sinjhuang's historic streets, creating landscape eyesores that are entirely out of tune with the overall architectural style of the area and devastate the look of the old streets. Such urban monstrosities cause the historical environment and its vestiges to effectively vanish from the city, Yen says.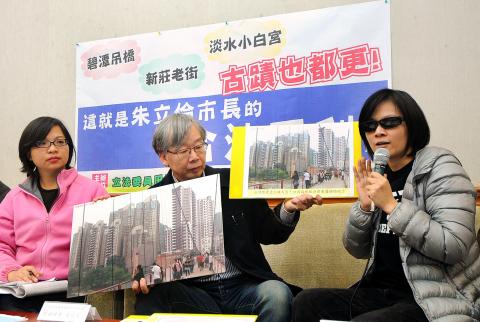 Democratic Progressive Party Legislator Lin Shu-fen, left, and Huang Jui-mao, chairman of the Organization of Urban Re-s, hold up pictures at a press conference in Taipei on Dec. 18 last year of cultural landscapes and historic sites in New Taipei City ruined by urban renewal projects. 民進黨立委林淑芬(左)與中華民國專業者都市改革組織常務理事黃瑞茂去年十二月十八日於台北召開的記者會,展示新北市因為都更案而被破壞的文化景觀和古蹟。
Photo: Liao Chen-hui, Liberty Times
照片:自由時報記者廖振輝
(Liberty Times, Translated by Kyle Jeffcoat)
新北市新店碧潭吊橋、新莊老街及淡水小白宮三地都有都市更新案,也都因與古蹟保存議題衝突引發爭議。有學者指出,都更固然能改善景觀,但必須以都市計畫角度及未來願景進行整體考量,土地開發或都市發展不該凌駕歷史文化之上。
輔仁大學景觀設計學系副教授顏亮一指出,都市更新本身未必是壞事,對於年久失修且有公共安全疑慮的建築物,都更是一種合理的政策工具,但公辦都更若只是將基地蓋滿豪宅,一味出售土地,賣掉所剩無幾的公共空間,罔顧市民權益,只會毀壞既存的「都市紋理」,讓城市中最重要的生命線消失殆盡。
顏亮一認為,以新莊派出所周邊公辦都更案為例,市府的開發思維是從建商立場出發,變相將國有地賣給民間企業,二、三十層樓高的大樓矗立新莊老街,就景觀而言不但突兀,且與整體建築風貌格格不入,破壞舊有街道形式,更會讓老街僅存的歷史氛圍與歷史痕跡消失。
(自由時報記者賴筱桐)
Publication Notes
TODAY'S WORDS 今日單字
1. eyesore n.
看不順眼的東西;難看的東西 (kan4 bu2 shun4 yan3 de5 dong1 xi1; nan2 kan4 de5 dong1 xi1)
例: That dilapidated building is quite an eyesore. When will they tear it down?
(那個破舊不堪的大樓好難看。到底什麼時候會拆?)
2. controversy n.
爭議 (zheng1 yi4)
例: The legislator's remarks have raised controversy.
(立法委員的言辭引起爭議。)
3. outweigh v.
比…重要;超過 (bi3...zhong4 yao4; chao1 guo4)
例: The disadvantages outweigh the advantages.
(不利條件多於有利條件。)
Comments will be moderated. Keep comments relevant to the article. Remarks containing abusive and obscene language, personal attacks of any kind or promotion will be removed and the user banned. Final decision will be at the discretion of the Taipei Times.