Three out of four women silent about sexual harassment at work 職場性騷擾 女性七成五沒申訴
A recent survey has found that the primary victims of sexual harassment include female divorcees and widows, as well as women working in the medical care and service industries. As many as the 75 percent of the women who said they had been sexually harassed did not report the matter. Of these, 44 percent simply dismissed it as a joke, while 23 percent were fearful of losing their job and 18 percent were afraid of becoming the subject of gossip.
The Council of Labor Affairs released the results of the survey, titled "A Survey of Gender Equality in the Workplace," on Tuesday last week, which was conducted at the end of last year. The results show that when it comes to pay raises, promotions and job allocation, women are more frequently the victims of sexual discrimination than men. Females working in the construction industry (11.4 percent) are the most likely not to receive pay raises because of their gender.
The poll found that 5.2 percent of the women who participated in the survey had been sexually harassed, compared to less than one percent for men. The younger a woman was, the more likely it was that she been sexually harassed — 7.3 percent of women between the ages of 15 and 24. Married women were the least likely to be sexually harassed, while divorcees and widows were more prone to be harassed than single women.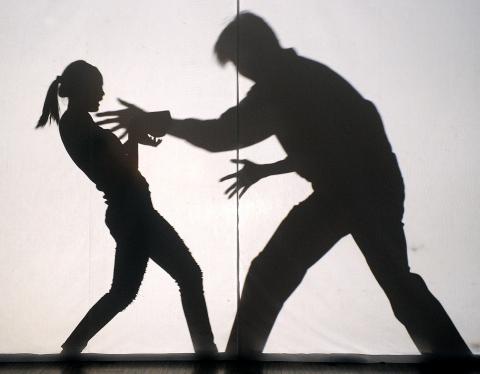 Staff from the Garden of Hope Foundation act out a skit against sexual harassment and domestic violence at a press conference in Taipei on Sept. 3 last year. 勵馨基金會工作人員去年九月三日於台北舉辦的記者會上,演出反性騷擾和家暴的小戲劇。
Photo: Liao Chen-hui, Liberty Times
照片:自由時報記者廖振輝
According to the survey, coworkers are the most common harassment offenders, followed by clients and supervisors. The majority of the 25 percent of women who did report sexual harassment, reported it to their departmental supervisor.
(Liberty Times, Translated by Kyle Jeffcoat)
最近調查發現職場性騷擾主要受害族群,以離婚喪偶或從事醫療保健、服務業的女性為主;所有受害女性中,有高達七成五沒有提出申訴,其中高達四成四把性騷擾「當成開玩笑不予理會」,其次有二成三是「怕丟工作」與一成八「怕別人閒言閒語」。
勞委會三月二十六日公布去年底「工作場所性別平等概況調查」,結果發現,女性在調薪、升遷、工作分配等職場性別歧視比率均高於男性,其中以「調薪幅度」不公平的現象較去年高出百分之三點四最嚴重,又以營造業(百分之十一點四)女性感受最明顯。
另外,曾被性騷擾的女性占百分之五點二,男性卻不到百分之一;年紀愈輕被性騷擾的比率也愈高,十五到二十四歲表示曾被性騷擾的比率達百分之七點三;離婚喪偶則比未婚者更容易被性騷擾,已婚狀態者則比率最低。
依據調查,職場中主要的性騷擾者,「同事」比率最高,其次是「客戶」、「上司」。在二成五提出申訴的女性受僱者中,申訴對象以「部門主管」最多。
(自由時報記者楊久瑩)
Publication Notes
TODAY'S WORDS 今日單字
1. widow n.
寡婦 (gua3 fu4)
例: At her husband's funeral, the veiled widow was seated next to her two children.
(在丈夫的葬禮上,戴著面紗的寡婦,坐在其兩個小孩旁邊。)
2. promotion n.
升遷;晉級 (sheng1 qian1; jin4 ji2)
例: Chris worked for the company for 10 years before finally getting a promotion.
(柯里斯在那家公司任職十年才升遷。)
3. supervisor n.
上司;管理人 (shang4 si1; guan2 li3 ren2)
例: Amanda's supervisor lambasted her for being late to the meeting.
(阿曼達上司責備她會議遲到。)
Comments will be moderated. Keep comments relevant to the article. Remarks containing abusive and obscene language, personal attacks of any kind or promotion will be removed and the user banned. Final decision will be at the discretion of the Taipei Times.