Loyal dog foils French owner's suicide bid 忠犬遏阻法國飼主自殺
A French woman's loyal German Shepherd dog saved her from committing suicide by knocking aside a rifle she tried to fire into her heart, local police said.
The 63-year-old woman had walked into her garden in the southern town of Sorgues in the Vaucluse region, fired several test shots of a 22-calibre rifle and then turned the gun on her chest.
"At the moment she pulled the trigger, her dog jumped on her and diverted the shot," a local police officer told AFP, adding that the dog "probably sensed things and knocked into her to save her."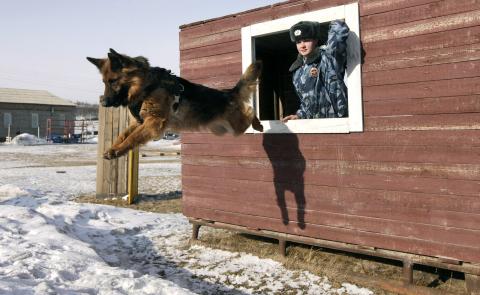 A dog handler trains with a German Shepherd dog at a police base in Krasnoyarsk, Russia on March 6. 一位訓犬師三月六日在俄羅斯克拉斯諾亞爾斯克的警署基地,訓練一隻德國牧羊犬。
Photo: Reuters
照片:路透
The woman was found by her husband, conscious but suffering from a chest wound. She was taken to hospital but her injury is not considered life-threatening.
(AFP)
當地警方表示,一名法國婦女忠實的德國牧羊犬,撞開一把女主人試圖對她自己心臟射擊的步槍,成功救回這位想不開女主人的性命。
這名六十三歲婦女,走入她位於沃克呂茲地區南部城鎮索爾克的住家庭院,試射幾發點二十二口徑步槍,然後將槍口轉向她的胸膛。
「在她扣扳機之際,她的狗撲向她,使得射擊偏移,」一名當地警官告訴法新社,他補充說,這隻狗「或許察覺事態,因而衝撞她以便救她。」
這名婦女被丈夫發現,雖有意識但胸部受傷。她被送到醫院,傷勢被認為沒有生命危險。
(法新社/翻譯:魏國金)
Publication Notes
TODAY'S WORDS 今日單字
1. foil v.
阻撓;遏阻 (zu3 nao2; e4 zu3)
例: The FBI foiled an attempted car bomb attack.
(美國聯邦調查局阻止了一件企圖進行的汽車炸彈攻擊。)
2. divert v.
轉移;改道 (zhuan3 yi2; gai3 dao4)
例: Traffic was diverted around the scene of the accident.
(事故現場周邊的交通已改道。)
3. sense v.
察覺 (cha2 jue2)
例: We could sense the tension in the conference room.
(我們察覺到會議室裡的緊張氣氛。)
Comments will be moderated. Keep comments relevant to the article. Remarks containing abusive and obscene language, personal attacks of any kind or promotion will be removed and the user banned. Final decision will be at the discretion of the Taipei Times.