What did Putin say to terrify this boy? 普廷說了啥 嚇壞小男孩?
Russian President Vladimir Putin attended an overnight Mass at a church in Sochi in honor of Orthodox Christmas. During the service at Holy Trinity St. George Monastery, Putin knelt down and whispered something to a young boy sitting on the ground near his feet — a tender moment caught by a photographer.
But a photo apparently taken shortly after the exchange shows the wide-eyed boy staring ahead, possibly in fear, shock or bewilderment.
The before-and-after images have led to gleefully sinister speculation on Reddit about what Putin said to the child.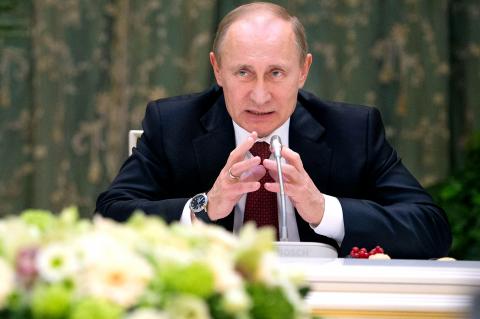 Russian president Vladimir Putin gives a speech at the Kremlin in Moscow, Russia on Feb. 28. 俄羅斯總統弗拉吉米爾‧普廷二月二十八日,在俄羅斯莫斯科的克林姆林宮,發表演說。
Photo: AFP
照片:法新社
"I'm not Vladimir Putin, the real one is dead," one Reddit user quipped.
"I killed Santa with my bare hands," Reddit user Resfad wrote.
"I am your father," several Redditors wrote.
At least one user offered a plausible explanation for the kid's trauma:
"The boy may have been unaware that the president of his country was standing behind him until he knelt down to say hello. I'd probably have the same expression on my face if I was at some random function and Obama kneels next to me."
(Liberty Times)
俄羅斯總統弗拉吉米爾‧普廷在索契一間教堂,出席一場慶祝東正教耶誕節的午夜彌撒。這場在聖三一聖喬治修道院的儀式中,普廷跪下來跟一名坐在他腳邊的小男孩耳語了幾句—這個溫馨瞬間被一名攝影師捕捉下來。
但在一張顯然是兩人交流過後不久所拍攝的照片中,小男孩可能因恐懼、震驚或迷惑而瞪大雙眼直視前方。
此一前後對照圖在推文網站Reddit上,引發網友對於普廷到底對那孩子說了什麼的各種惡搞推測。
「我不是普廷,本尊掛了,」一名Reddit推友諷刺道。
「我徒手殺了耶誕老人,」Reddit推友Resfad寫道。
「我是你爸,」還有不少Reddit推友這麼寫。
但至少有一名Reddit使用者對這孩子的苦難,提供看起來說得過去的解釋:
「這男孩可能直到普廷跪下來跟他打招呼,才察覺到該國的總統就站在他身旁。要是我在某個隨機場合上,歐巴馬在我身旁跪下,我可能也會有同樣表情。」
(自由時報/翻譯:張沛元)
Publication Notes
TODAY'S WORDS 今日單字
1. speculation n.
推測 (tui1 ce4)
例: There has been a lot of speculation about the singer's love affair.
(最近有許多關於這名歌手的緋聞。)
2. with one's bare hands idiom
徒手 (tu2 shou3)
例: The suspect strangled his wife with his bare hands.
(該嫌犯徒手勒斃自己的妻子。)
3. kneel down v. phr.
跪下 (gui4 xia4)
例: He knelt down on one knee to propose to his girlfriend.
(他單膝跪下向女友求婚。)
Comments will be moderated. Keep comments relevant to the article. Remarks containing abusive and obscene language, personal attacks of any kind or promotion will be removed and the user banned. Final decision will be at the discretion of the Taipei Times.