Ex-film star Bardot may seek Russian nationality 前影星芭杜可能會尋求俄羅斯國籍
Former French screen goddess Brigitte Bardot on Friday threatened to follow Gerard Depardieu in asking for a Russian passport, in protest not at tax hikes, but at the treatment of two circus elephants.
The animals, named Baby and Nepal and owned by a touring circus, are thought to be carrying tuberculosis and were ordered to be put down by a court in Lyon, southern France, on Jan. 4 as a precautionary measure.
Bardot's threat comes a day after fellow actor Depardieu caused a storm in France by becoming a Russian citizen in protest at high tax rates proposed by the Socialist government, which he accuses of penalizing success.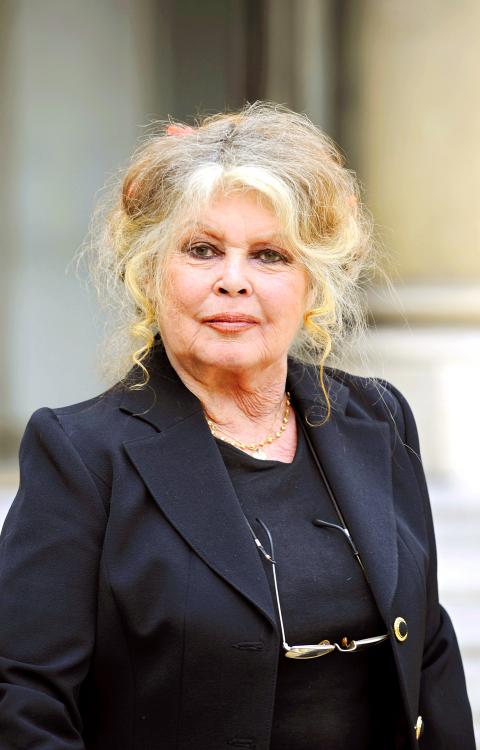 A picture taken on Sept. 27, 2007, in Paris, France shows French former actress Brigitte Bardot. 法國前影星碧姬.芭杜二○○七年九月二十七日在法國巴黎留影。
Photo: AFP
照片:法新社
"If those in power are cowardly and impudent enough to kill the elephants ... then I have decided I will ask for Russian nationality to get out of this country which has become nothing more than an animal cemetery," Bardot said in a statement.
(Reuters)
前法國大銀幕女神碧姬.芭杜週五威脅要追隨(影帝)傑哈.德巴狄厄的腳步尋求取得俄羅斯護照,但不是要抗議大增稅,而是要讓兩頭馬戲團大象獲得治療。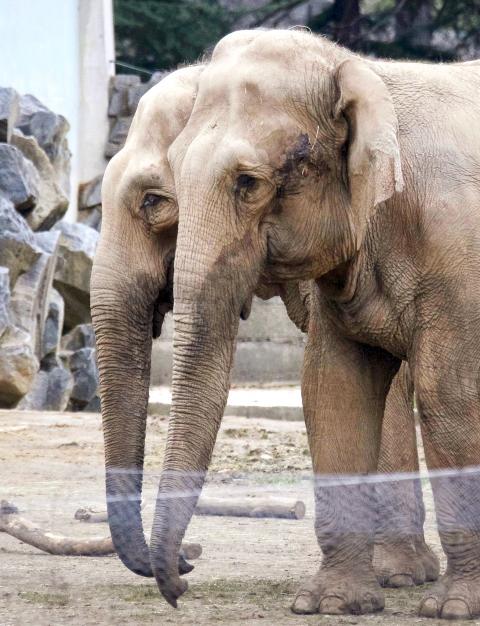 Elephants named Baby and Nepal, owned by a touring circus and thought to be carrying tuberculosis, are seen in a zoo in Lyon, France on Jan. 6. 兩隻名為「貝比」與「尼泊爾」的兩頭馬戲團大象,一月六日在法國里昂一座動物園內留影。
Photo: Reuters
照片:路透
這兩頭名喚寶貝與尼泊爾、為一家巡迴馬戲團所有的大象,據信罹患結核病,一月四日已被南法里昂的一個法庭下令安樂死,以防萬一。
芭杜語出此一威脅的前一天,男星德巴狄厄才因成為俄羅斯公民而在法國引發軒然大波。德巴狄厄此舉出於抗議社會黨政府提議的調高(富人)稅率,他指控該政策意在懲罰成功。
「倘若當權者都懦弱與厚顏無恥到要殺大象……那我決定要爭取俄羅斯國籍,以便離開這個不過是個動物墳場的國家,」芭杜在聲明中如是說。
(路透/翻譯:張沛元)
Publication Notes
TODAY'S WORDS 今日單字
1. be put down v. phr.
讓動物安樂死 (rang4 dong4 wu4 an1 le4 si3)
例: The dog is so old and can't move around anymore, so we'll probably have to put him down.
(這隻狗很老又無法行動,我們只得讓牠安樂死。)
2. precautionary adj.
預先警戒的 (yu4 xian1 jing3 jie4 de5)
例: We call on the public to take precautionary measures before natural disasters.
(我們呼籲大家在天災來襲之前,要採行預先警戒措施。)
3. nothing more than phr.
只有;不過是 (zhi2 you3; zhi3 bu2 guo4)
例: Jim Rohn says, "Success is nothing more than a few simple disciplines, practiced every day; while failure is simply a few errors in judgment, repeated every day."
(吉姆‧隆恩說:「成功只不過是一些逐日勤練的簡單紀律,失敗則只不過是一些每日重複的錯誤判斷。」)
Comments will be moderated. Keep comments relevant to the article. Remarks containing abusive and obscene language, personal attacks of any kind or promotion will be removed and the user banned. Final decision will be at the discretion of the Taipei Times.