Questions over sex change snag US divorce case 變性疑問阻礙美國離婚案
The divorce of Thomas Beatie, aka "pregnant man," from his ex-wife Nancy is trapped in legal limbo while an Arizona judge decides if their marriage was valid in the first place.
Thomas Beatie was born a woman and underwent a sex change but retained female reproductive organs and gave birth to three children.
The couple, who married in 2003, are now trying to get divorced and work out the custody issues for their three children, plus the division of property and spousal support.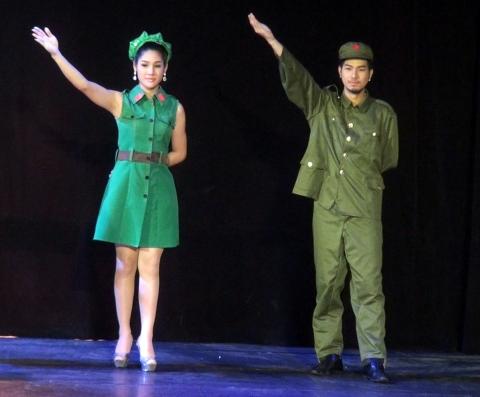 Thai cross-dressers perform a skit about the Chinese Liberation Army in Taipei on Jan. 21. 泰國變裝人士一月二十一日在台北演出一段中國解放軍片段。
Photo: Yang Hsin-han, Liberty Times
照片:自由時報記者陽昕翰
Their divorce plans were stalled when family court Judge Douglas Gerlach said in late June that he was unable to find any legal authority defining a man as someone who can give birth.
The validity of the Beatie's marriage now hangs in the balance, as same-sex marriage is forbidden in Arizona and the state does not recognize same-sex marriages performed in other states.
Thomas and Nancy agree that they should end the marriage. "If you took away the transgender part of it, it's a garden-variety divorce case," said David Higgins, Nancy's attorney.
(Liberty Times)
被稱為「懷孕男」的湯馬斯.畢提─「懷孕男」湯馬斯.畢提與其前妻南西離婚案卡在法律灰色地帶,正等待亞利桑納法官裁定他們的婚姻是否從一開始就具有效力。
畢提原本天生是女的,動了變性手術,但保留女性生殖器官,並且生了三個小孩。
這對二○○三年結婚的夫妻現在要離婚,正在處理他們三名子女的監護權,以及分財產和贍養費的問題。
但去年六月底家事法庭法官道格拉斯.葛拉克說,他無法找到任何把能生孩子的人定義為男性的法定許可權,因此耽擱了他們的離婚計畫。
由於亞利桑納州禁止同性婚姻,也不承認在其他州完成的同性婚姻,畢提這樁婚姻的有效性,現在懸而未定。
湯馬斯和南西都認同,他們應該結束這段婚姻。南西的律師大衛.希金斯說:「若你拿掉其中變性的部份,這是一樁非常普通的離婚案。」
(自由時報/翻譯:管淑平)
Publication Notes
TODAY'S WORDS 今日單字
1. limbo n.
不明狀態 (bu4 ming2 zhuang4 tai4)
例: The project has hit a snag and still remains in limbo.
(這項專案遇到阻礙,仍擱置中。)
2. hang in the balance idiom
懸而未決 (xuan2 er2 wei4 jue2)
例: Lives of those miners trapped underground still hang in the balance.
(那些受困地底礦工的生死仍未卜。)
3. garden-variety adj. phr.
非常普通的 (fei1 chang2 pu3 tong1 de5)
例: It is just a garden-variety shop.
(那只是一家非常普通的店。)
Comments will be moderated. Keep comments relevant to the article. Remarks containing abusive and obscene language, personal attacks of any kind or promotion will be removed and the user banned. Final decision will be at the discretion of the Taipei Times.