Local government agency criticized for charging handicap drivers to park 身心障礙機車位收費 社會局挨批
Parking spaces in Greater Kaohsiung for the disabled are not available to all disabled drivers and the spaces provided are not free either. Kaohsiung's Social Affairs Bureau has recently received complaints from a number of disabled drivers asking why they must pay to park and why some of them cannot even apply for disabled parking. The bureau says that the special permits for parking in handicap spaces are for parking only and are not meant to provide discounts to the disabled.
The Greater Kaohsiung Government has in recent months increased the number of parking spaces for scooters as well as parking spaces for handicap scooter drivers, but the bureau has received a number of complaints from disabled drivers about having to pay for parking, even if they have handicap parking permits.
The bureau says that according to regulations for handicap parking, spaces designated as handicap parking are meant for owners of vehicles who are wheelchair-bound, and says that government-issued parking permits for handicap parking are to be used only for identity purposes and not as IDs for getting discounts or getting things free of charge.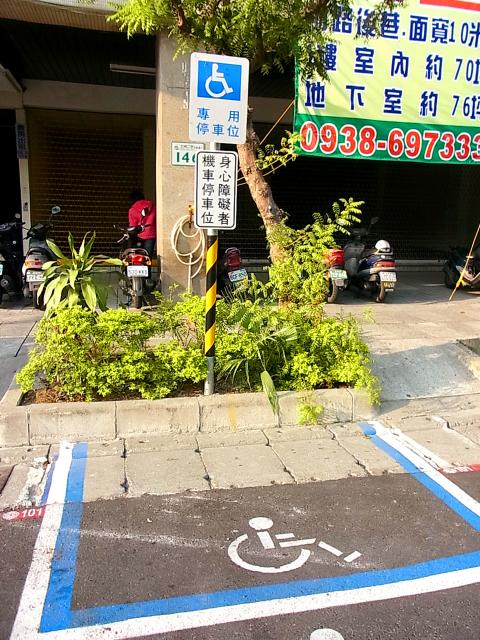 A handicap parking space for scooters in Greater Kaohsiung on Sunday. 這張照片是週日攝於高雄的身心障礙者機車停車位。
Photo: Chu Yu-ling, Liberty Times
照片:自由時報記者朱有鈴
The bureau also says that permits for handicap parking spaces for scooters are issued to disabled drivers who have passed inspections verifying that their scooter has been customized with two wheels at the back instead of one or they have a mobility scooter, adding that drivers who own regular two-wheel scooters are not eligible to apply for special parking permits.
Since regulations regarding discounts for parking are stipulated by local governments, the amount of discounts and the methods of inspection differ from city to city. Discounts on parking for disabled drivers in Kaohsiung are currently available for car owners only, without having to display a permit. The Kaohsiung Transportation Bureau is still in the process of reviewing whether similar discounts will be offered to handicap scooter owners in the future.
(Liberty Times, Translated by Kyle Jeffcoat)
路旁的身心障礙者機車停車位並非每位身心障礙者都可停,且目前並非免費!近來社會局接獲多位身障者反映為何停在專用機車停車位要收費,以及無法申請專用識別證等問題,社會局強調目前的身心障礙者機車停車證只為識別用,並非優惠證件。
近來高市街頭增加許多機車停車格,還有身心障礙者專用機車停車位,但社會局也接獲多位身心障礙者反映,不滿有身心障礙識別證、停在身障專用停車格內,卻仍收到繳費單。
社會局表示,依據「身心障礙者專用停車位設置管理辦法」規定,身心障礙者專用停車位主要是提供給「行動不便」的身心障礙者停放汽車或是機車,政府核發身心障礙者專用停車位識別證用途在於識別,並非免費或優惠證件。
社會局並強調,專用「機車」停車位識別證,僅核發給騎乘「經監理單位檢驗合格加裝輔助後兩輪或輪椅直上式特製機車」的身障者,騎乘一般二輪機車的身障市民並不符識別證申領資格。
由於停車優惠是各縣市自辦措施,優惠額度及查驗方式不盡相同,高雄市籍身障民眾完成車籍資料登記,即可享有停車優惠,免再放置任何證件,但目前對象僅開放汽車申請,未來是否擴及機車,交通局研議評估中。
(自由時報記者朱有鈴)
Publication Notes
TODAY'S WORDS 今日單字
1. eligible adj.
法律上合格的 (fa3 lu4 shang4 he2 ge2 de5)
例: Your donation makes you eligible for a tax deduction.
(你的捐款可以扣抵稅。)
2. stipulate v.
規定 (gui1 ding4)
例: The law stipulates that cars should be parked in the same direction as the flow of traffic.
(法律規定車子停車需要順著開車方向。)
3. inspection v.
檢查 (jian3 cha2)
例: The restaurant was forced to shut down after not passing the health inspection.
(餐廳在未通過衛生檢查後,被勒令歇業。)
Comments will be moderated. Keep comments relevant to the article. Remarks containing abusive and obscene language, personal attacks of any kind or promotion will be removed and the user banned. Final decision will be at the discretion of the Taipei Times.