Texas company: Microwave keeps bread mold at bay 德州公司:微波可防止麵包發霉
A Texas company could have the answer to some consumers' unwelcome discovery that just-purchased loaves contain mold.
MicroZap Inc claims its technology allows bread to stay mold-free for 60 days. The bread is bombarded with microwaves for about 10 seconds, which kills the mold spores, said chief executive officer Don Stull.
The process could eliminate bakers' need for preservatives, and for ingredients used to mask preservatives' flavor, as well as reduce food waste and increase bread's shelf life, he said.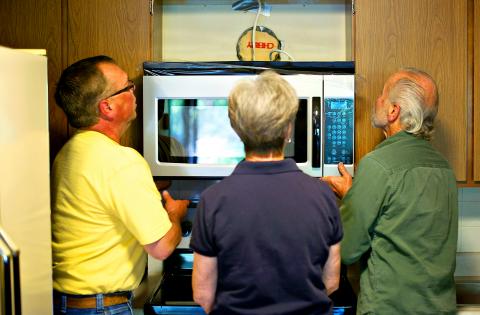 Two men hold a microwave oven at an appliance shop as a woman looks on in Princeton, Illinois on May 23 last year. 兩名男子去年五月二十三日在伊利諾州普林斯頓的一家電器用品店內,托著一位婦女看著的微波爐。
Photo: Bloomberg
照片:彭博社
Researchers at Texas Tech University also foresee using the technology in bread made in developing countries, where there are fewer food safety standards and spoilage is a problem.
After 60 days, researchers found that the treated bread that remained packaged had the same mold content when compared to a freshly baked loaf, Stull said. In the end, though, he knows it comes down to consumers' palates.
"The consumers saw no discernible quality difference in the breads," Stull said of testers who found the treated bread's taste and texture unchanged.
(AP)
麵包剛買就發霉,讓消費者不開心,一家德州公司或許有辦法解決。
MicroZap公司聲稱握有技術可讓麵包六十天不發霉。執行長東‧斯特表示,麵包經過微波十秒後,就能殺光黴菌孢子。
斯特表示,這個過程或許可以讓麵包師傅不再需要防腐劑,或使用其他材料來掩蓋防腐劑的味道,也能減少食物浪費,延長麵包的保存期限。
德州科技大學的研究人員也認為可在開發中國家使用這項技術。開發中國家食物安全標準規範較少,食物腐爛是個問題。
斯特表示,研究人員發現,經過六十天後,放在包裝裡經過微波後的麵包,含有的黴菌數量與剛出爐麵包相同。但他知道,最重要的還是消費者的味覺。
「消費者認為麵包並沒有明顯差異。」斯特說,試驗員認為經過處理的麵包在味道與口感上並未改變。
(美聯社/翻譯:陳維真)
Publication Notes
TODAY'S WORDS 今日單字
1. freshly adv.
新鮮地 (xin1 xian1 de5)
例: The dishes were freshly made.
(這幾道菜皆以新鮮食材現做。)
2. come down to v. phr.
最重要的還是 (zui4 zhong4 yao4 de5 hai2 shi4)
例: The problem comes down to money.
(追根究柢,問題還是在錢。)
3. discernible adj.
可識別的;明顯的 (ke3 shi4 bie2 de5; ming2 xian3 de5)
例: The scandal had no discernible effect on his career.
(醜聞對他的事業沒有明顯影響。)
Comments will be moderated. Keep comments relevant to the article. Remarks containing abusive and obscene language, personal attacks of any kind or promotion will be removed and the user banned. Final decision will be at the discretion of the Taipei Times.