Indian MP says girls should be banned from owning cellphones 印度國會議員稱 應禁止女孩擁有手機
Girls should be banned from owning mobile phones to stop them eloping, an Indian MP has said.
His comments come amid growing fears of "talibanization" in parts of Northern India, where social conservatism in both Hindu and Muslim communities has been blamed for honor killings, kidnappings to enforce child marriages, and a rash of controversial fatwas and village council rulings. Earlier this month a feudal leader said child marriage should be encouraged to halt an increase in rapes.
In a televised speech in Muzzafarnagar, Rajpal Singh Saini told his audience of a father who had sought his help when his daughter eloped.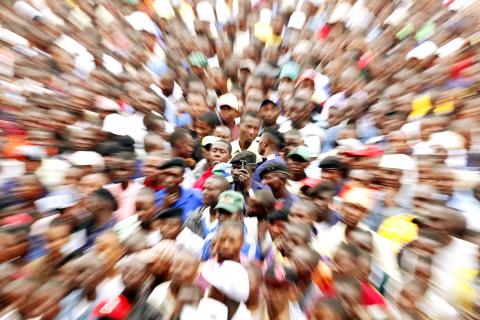 A man, center, takes a picture with his cellphone at a stadium in Goma, Democratic Republic of Congo on Nov. 21 last year. 一位男子(中)去年十一月二十一日在剛果民主共和國果瑪市,用手機拍照。
Photo: Reuters
照片:路透
"I asked him if he had given a mobile phone to his daughter. The person said yes," he said.
"Don't give mobile phones to children, especially girls. I say this at all the places where I make my speeches. And if any of those kids have a mobile, take it away. What are they missing anyway? Our mothers, sisters, did they die without mobiles during their time?" he asked.
The MP, who serves in India's upper house, later denied his televised remarks and said they had been misinterpreted by his opponents.
(Liberty Times)
印度一位國會議員說,應該禁止女孩擁有手機,以免她們私奔。
他發表上述言論之際,印度北部部分地區出現的「神學士化」現象越來越令人擔憂。當地印度教和穆斯林社群民風保守,以致榮譽謀殺、誘拐並強迫童婚、多起有爭議的教令,以及村莊委員會裁決的狀況層出不窮。
日前在穆扎法爾納格爾發表電視演說時,拉帕.辛格.賽尼如此告訴觀眾。當時觀眾中有一位父親為女兒私奔一事,尋求他的幫助。
「我問他是否給女兒手機,他回答說是」,議員說。
「不要給孩子手機,尤其是女孩。我到哪裡演說都會這麼說。如果孩子有了手機,就把它拿走。沒了手機她們有失去什麼嗎?我們的母親和姊妹原來都沒有手機,她們那個年代有因為沒手機而失去什麼嗎?」他反問說。
這位國會議員來自印度上議院,稍後他否認自己在電視談話中發表過上述言論,稱自己的發言被對手曲解了。
(自由時報/翻譯:陳成良)
Publication Notes
TODAY'S WORDS 今日單字
1. elope v.
私奔;出走 (si1 ben1; chu1 zou3)
例: She eloped with her lover last week.
(她上週和情人私奔了。)
2. rash n.
大量出現 (da4 liang4 chu1 xian4)
例: In spite of the recent rash of problems she had experienced, she looked as if she didn't have a care in the world.
(儘管最近遭遇許多問題,但她看起來像是不食人間煙火一般。)
3. misinterpret v.
曲解;誤解 (qu1 jie3; wu4 jie3)
例: My girlfriend misinterpreted my words and left me.
(我女朋友誤解我的話,並離我而去。)
Comments will be moderated. Keep comments relevant to the article. Remarks containing abusive and obscene language, personal attacks of any kind or promotion will be removed and the user banned. Final decision will be at the discretion of the Taipei Times.