Mobile devices causing more people to see the doctor 低頭族眼痛肩酸 求診病患增三成
With the growing popularity of smartphones and tablet computers, the number of people keeping their heads down all the time is also on the rise, and one doctor in particular has found that the number of patients coming to see him for eye-related problems has increased by 30 to 40 percent in recent months. Some of his patients are also complaining about neck and shoulder pain and soreness in their wrists.
Liu Ching-chih, an ophthamologist at the Chi Mei Medical Center, says that people frequently using smartphones or tablet computers should pay more attention to their health. Try to avoid bowing your head or staying hunched over for extended periods of time, and be sure to rest five to 10 minutes every 30 to 40 minutes, he says. Liu also says that blinking more can allow moisture in the eyes to stay more balanced, and he warns people not to use cellphones or computers while riding in moving vehicles.
Liu says that the number of people coming in to see him due to discomfort in the eyes over the past six months has increased between 30 and 40 percent, and 90 percent of the patients, including both children and adults, frequently have their heads bowed down to look at mobile devices. Symptoms seen in adults include distension, soreness, and dryness in the eyes, as well as blurry vision and lacrimation. Some patients are also suffering from sore necks, shoulders, backs and wrists, and even experiencing headaches and elevated blood pressure. The prevalence of worsening nearsightedness in children has increased quite a lot as well, he says.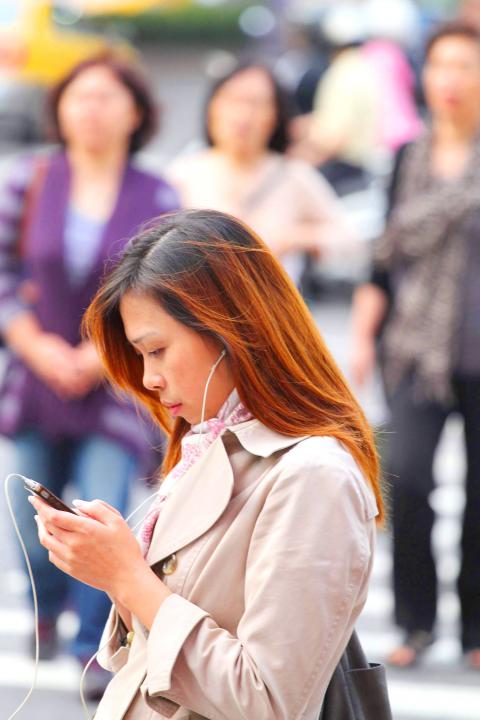 A woman looks at her cell phone while waiting to cross a street in Taipei on Oct. 29. 一位女士十月二十九日於台北等待過馬路時查看手機。
Photo: Weng Yu-huang, Liberty Times
照片:自由時報記者翁聿煌
Staring at a computer screen for an extended period of time keeps the eye's ciliary muscle from relaxing, the number of times you blink decreases, and moisture in the eyes becomes less balanced, all of which causes discomfort in the eyes and exacerbates nearsightedness.
Liu says that when people are operating smartphones or tablet computers they usually lower their head and stay hunched over, which can cause tension in the muscles in the neck, shoulders, waist and back, and subsequently lead to discomfort and soreness. Problems with the wrists often occur because both hands are typically left in the air when operating mobile devices. Strain on muscles in the neck and shoulders increases when starting and stopping for the many people using the gadgets while riding in moving vehicles. Some people even get to the point where they have to get help from a physical therapist and wear a neck brace to keep the damage from getting worse.
Liu says that lowering your head, hunching over, keeping your hands in the air, and your fingers constantly moving and on clicking things, means that pretty much the entire body is in a continual state of tension, which can affect the automatic nervous system, causing headaches, constriction of blood vessels and a rise in blood pressure.
(Liberty Times, Translated by Kyle Jeffcoat)
智慧型手機、平板電腦普及,低頭族愈來愈多,眼科醫師發現,近來眼睛不適的求診者增加約三、四成,有的還伴隨肩頸酸、腕部疼痛等問題。
奇美醫院眼科醫師柳景豒呼籲經常使用智慧型手機、平板電腦者要注意保健,盡量不要長時間低頭或彎腰駝背操作,每三十、四十分鐘要休息五到十分鐘,多眨眼讓淚水分布較均衡,也不要在行動中的交通工具上使用手機電腦。
柳景豒表示,近半年來因眼睛不適來求診的患者平均增加三、四成,九成是低頭族;小朋友到中壯年都有,大人的症狀包括眼睛脹痛、酸澀、乾燥、視力模糊、流眼淚,有的還伴隨頸肩、腰背、腕部疼痛,甚至有人頭痛、血壓升高等;小朋友則以近視度數暴增較多。
柳景豒指出,長時間注視小螢幕,導致睫狀肌無法放鬆,眨眼次數減少、淚液分泌不平衡、結果就是眼睛不適、近視加深。
柳景豒說,使用智慧型手機、平板電腦時都是低頭操作,也常常彎著腰,造成頸、肩、腰、背肌肉緊繃,酸痛不適跟著發生,操作時雙手又多懸空,也容易引發腕部問題;很多人在搭交通工具時操作平板或智慧型手機,起步、煞車時都會加重頸、肩部肌肉的負擔,已知有人向復健科醫師求助,戴起頸圈保護以免不適惡化。
柳景豒表示,低頭、彎腰、手懸空,手指一再的點、滑動,幾乎全身的肌肉都處在緊張的狀態,有可能影響自律神經系統,帶來頭痛、血管收縮、血壓升高。
(自由時報記者孟慶慈)
Publication Notes
TODAY'S WORDS今日單字
1. blink v. 眨眼 (zha2 yan3)
例: The average person blinks 15 times per minute.
(一般人平均每分鐘眨眼十五次。)
2. blurry adj. 模糊的 (mo2 hu2 de5)
例: Why are all of the pictures you took yesterday so blurry?
(為什麼你昨天拍的照片都很模糊?)
3. elevated adj. 升高的;提高的 (sheng1 gao1 de5; ti2 gao1 de5)
例: The elevated level of toxic chemicals in your body was caused by eating too much of the fish.
(吃太多這種魚導致你體內毒性增加。)
Comments will be moderated. Keep comments relevant to the article. Remarks containing abusive and obscene language, personal attacks of any kind or promotion will be removed and the user banned. Final decision will be at the discretion of the Taipei Times.