Academics say Constitution safeguards same-sex marriage 同志結婚權 學者︰憲法應保障
The Taipei High Administrative Court reviewed a same-sex marriage case on Nov. 29. A litigant in the case, surnamed Chen, said that he and his partner want to get married because they are truly in love, and they hope that Taiwan legalizes gay marriage. Bruce Liao, an associate professor of law at National Chengchi University and an expert witness, and Chang Hung-cheng, a part-time lecturer at National Taipei University of Technology who served as another expert witness at the hearing, both support gay couples getting married because it is a right guaranteed in the Constitution. The court is scheduled to hand down its ruling on Dec. 20.
Chen and his partner, surnamed Kao, held a public wedding banquet in 2006, but their application to register their marriage in August last year was rejected by the Zhongshan District's Household Registration Office. They took their case to the Taipei City Government, which also rejected their appeal late last year, prompting them to take legal action. Both Chen and Kao's mothers accompanied them, showing their support in court, when the couple filed a complaint with the Taipei High Administrative Court in February.
(Liberty Times, Translated by Kyle Jeffcoat)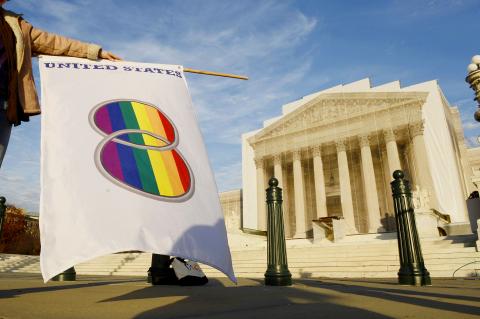 A supporter of same-sex marriage holds a flag depicting two wedding bands outside the Supreme Court in Washington on Nov. 30. 同志婚姻支持者十一月三十日於美國華府最高法院,手拿畫有兩只婚戒的旗幟。
Photo: EPA
照片:歐新社
台北高等行政法院十一月二十九日審理同志婚姻案,陳姓當事人說二人結婚是出於真愛,希望台灣成為同志婚姻合法化國家。政治大學法學院副教授廖元豪與台灣科技大學講師張宏誠出庭擔任鑑定人,都支持同志伴侶有憲法保障的結婚權。此案已訂十二月二十日宣判。
陳和高姓伴侶二00六年舉辦公開婚禮後,去年八月十八日前往台北市政府中山戶政事務所申請結婚登記遭拒絕,二人去年底提起訴願遭駁回後,向台北高等行政法院提起行政訴訟。今年二月,陳、高二人的母親亦陪同出庭表示支持。
(自由時報記者楊國文)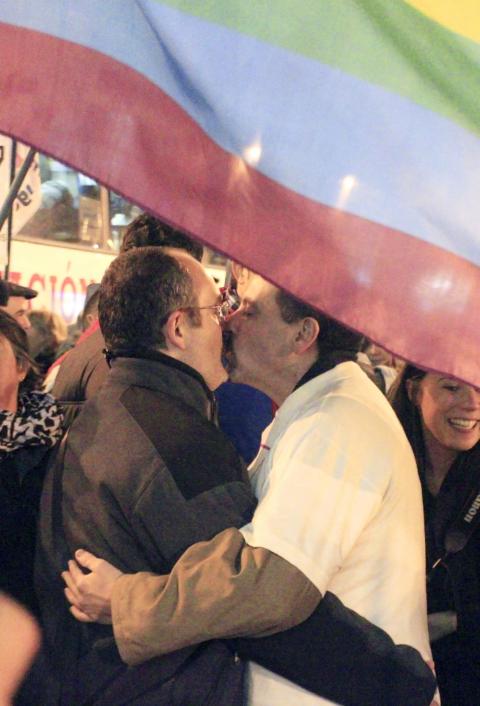 Two men kiss under a rainbow flag during a celebration, after the Spanish Constitutional Court decided to guarantee gay marriages, on Puerta del Sol square, Madrid, Spain on Nov. 6. 兩位男士十一月六日在西班牙馬德里太陽門廣場,於彩虹旗幟下親吻,西班牙憲法法院宣判保障同志婚姻。
Photo: EPA
照片:歐新社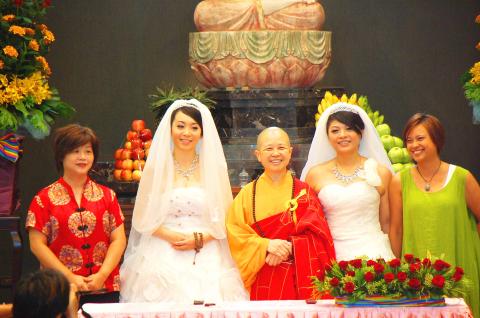 Huang Mei-yu, right, and her partner, Yu Ya-ting, left, pose with Buddhist Master Shih in the prayer hall of a monastery in Taoyuan County Chao-hwei after getting married in Taiwan's first same-sex Buddhist wedding on Aug. 11. 台灣首對女同志黃美瑜(右)、游雅婷(左)八月十一日於桃園縣一間寺院以佛教儀式舉行婚禮,並在釋昭慧法師領導下,完成婚禮後合影。
Photo: Shen Chi-chang, Liberty Times
照片:自由時報記者沈繼昌
Publication Notes
TODAY'S WORDS 今日單字
1. ruling n.
裁決 (cai2 jue2)
例: The court's ruling says that the defendant is guilty.
(法院裁示被告有罪。)
2. appeal n.
上訴 (shang4 su4)
例: The case was finally won after the third appeal.
(三度上訴終於打贏這個官司。)
3. take legal action v. phr.
起訴;採取法律行動 (qi3 su4; cai2 qu3 fa3 lu4 xing2 dong4)
例: Be ready to take legal action when any of your constitutional rights have been violated.
(任何憲法保障的權力被侵犯時,就該採取法律行動。)
Comments will be moderated. Keep comments relevant to the article. Remarks containing abusive and obscene language, personal attacks of any kind or promotion will be removed and the user banned. Final decision will be at the discretion of the Taipei Times.