70% of people willing to spend more for brand-name drugs 七成民眾願花錢吃原廠藥 醫:藥效才是重點
A recent national survey of people with serious illnesses and the way they think when seeking medical help and choosing medicine shows that when faced with serious illness, 25.1 percent of people would give priority to brand-name drugs, followed by 24.2 percent, who would consider the brand of a drug first, and 18.4 percent, who would consider a doctor's advice over anything else.
Eva Teng, a spokeswoman for the National Health Insurance Civic Surveillance Alliance, says that she was shocked when she saw the results of the survey. She believes that people should consider how effective a drug is instead of choosing only brand-name pharmaceuticals.
The survey showed that 70.4 percent of people were willing to spend extra money for brand-name drugs. Of all the respondents, 43.4 percent said they would not be willing to switch to generic drugs after initially taking brand-name drugs, while only 30.1 percent said that they would consider switching.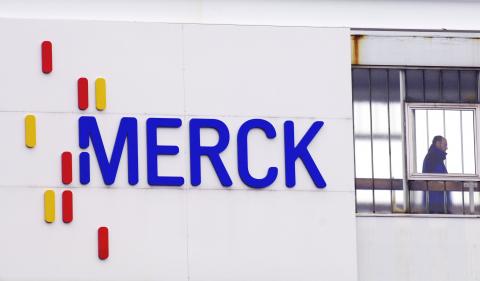 A man walks past the logo of German chemicals and pharmaceutical group Merck KGaA at the company's plant in Darmstadt, western Germany on Feb. 17. 一名男士二月十七日於德國西部的達姆施塔特,行經德國化工製藥公司默克集團的商標。
Photo: AFP
照片:法新社
Teng says that the survey exemplifies how people still believe in the myth that brand-name drugs are better than generic ones. Brand-name pharmaceuticals are actually developed by specific companies, and after a patent expires, other eligible pharmaceutical companies can manufacture products using the same chemical ingredients that the band-name company used when applying for the patent. The effects, quality and medical effectiveness of a generic drug have to be exactly the same as the brand-name drug, Teng says.
(Liberty Times, Translated by Kyle Jeffcoat)
一項針對國人「重大疾病民眾就醫與用藥認知」調查發現,在面對重大疾病時,有百分之二十五點一的民眾會考量是否是「原廠藥」,其次有百分之二十四點二的民眾會考量藥廠品牌,有百分之十八點四會考量醫師建議。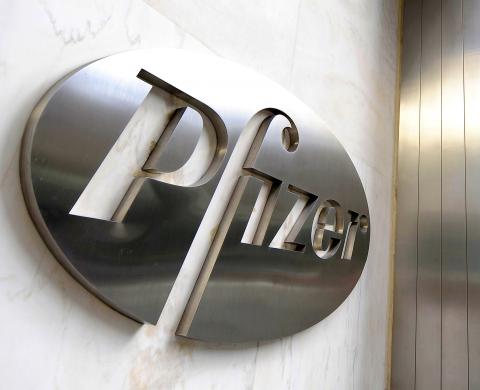 A sign for pharmaceutical company Pfizer Incorporated headquarters is displayed in New York on Oct. 20, 2009. 這張二00九年十月二十日攝於紐約的照片,是輝瑞製藥有限公司總部的商標。
Photo: AFP
照片:法新社
民間監督健保聯盟發言人滕西華對於這樣的調查結果感到很意外。她認為,民眾應先看藥效如何,而不是選藥廠品牌,或考量是否為原廠藥。
調查也指出,百分之七十點四的民眾願意自己額外負擔部分費用,選用原廠藥;對於罹病之初,若是先使用「原廠藥」,之後再改為同成份的「學名藥」,則有百分之四十三點四的民眾表示不願意,僅有百分之三十點一的民眾願意。
滕西華指出,調查結果充分反映出民眾對「原廠藥」仍存有迷思。事實上,「原廠藥」是原廠商開發的藥品,過了專利期之後,其他合格藥廠依原廠藥申請專利時公開的資訊,產製相同化學成分藥品(即「學名藥」),且其效果、品質及療效與「原廠藥」相同。
(自由時報記者魏怡嘉)
Publication Notes
TODAY'S WORDS
今日單字
1. brand-name adj.
商標的;牌子的 (shang1 biao1 de5; pai2 zi3 de5)
例: Are brand-name clothes really worth the money?
(名牌衣服真的值得花那麼多錢嗎?)
2. advice n.
建議;勸告 (jian4 yi4; quan4 gao4)
例: You should listen to your uncle's advice. He knows what he's talking about.
(你該聽你叔叔的建議,他說得對。)
3. exemplify v.
例示 (li4 shi4)
例: She exemplifies everything that a good student should be.
(她展現所有好學生該有的典範。)
Comments will be moderated. Keep comments relevant to the article. Remarks containing abusive and obscene language, personal attacks of any kind or promotion will be removed and the user banned. Final decision will be at the discretion of the Taipei Times.