ABBA museum to open in Sweden 阿巴合唱團在瑞典開設展覽館
A traveling ABBA exhibit is to get a permanent home in a new museum dedicated mostly to the Swedish quartet that has sold nearly 400 million records since its heyday in the 1970s.
Former band member Bjoern Ulvaeus said that "ABBA The Museum" will be part of a Swedish music hall of fame to be inaugurated in Stockholm next spring.
The museum will feature some of the band's glitzy stage costumes, instruments and other mementos that were displayed in the ABBAWORLD exhibition that toured Europe and Australia in 2009-2011.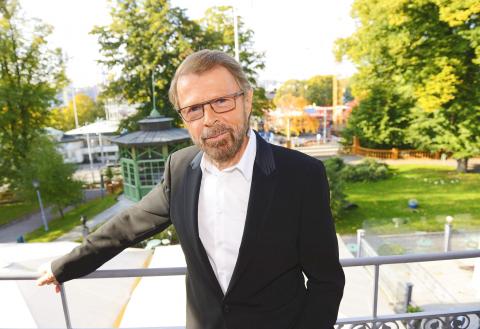 Former ABBA band member Bjorn Ulvaeus poses for photographers in front of a construction site for the ABBA museum in Stockholm, Sweden on Oct. 3. 阿巴合唱團前團員畢約恩‧奧瓦爾斯十月三日在瑞典斯德哥爾摩的「阿巴展覽館」預定地留影。
Photo: Reuters
照片:路透
Ulvaeus said he hoped all four former ABBA members would attend the opening, set for April or May, but ruled out any chance of a stage comeback.
The other band members were Benny Andersson, Agnetha Faltskog and Anni-Frid Lyngstad. They started the band as two married couples, consistently topping charts in the English-speaking world after winning the 1974 Eurovision Song Contest with "Waterloo." They continued performing after both couples divorced, but drifted apart in the early 1980s.
(AP)
阿巴合唱團的巡迴展,將以一座獻給這個唱片銷售量自一九七0年代當紅之際起,高達近四億張的瑞典四人組合的展覽館,做為永久的落腳地。
前團員畢約恩.奧瓦爾斯表示,「阿巴展覽館」會是一座明年春天於(瑞典首都)斯德哥爾摩揭幕的瑞典音樂名人堂的一部分。
該展館的收藏品包括該合唱團誇張的舞台裝、樂器與其他曾在二00九年到二0一一年巡迴歐洲與澳洲的「阿巴世界」展中展示過的紀念品。
奧瓦爾斯說,他希望阿巴的四名前團員都能出席預定明年四或五月舉行的展館開幕儀式,但排除四人有任何復出機會。
該團其他成員是班尼.安德森、安妮塔.費爾特斯科格與安妮—弗瑞德.林斯塔德。他們在創團時是兩對夫妻,自一九七四年在歐洲歌唱大賽中以一曲「滑鐵盧」奪冠後,持續在英語世界稱霸流行音樂榜。這兩對夫妻離婚後仍持續演出,但在一九八0年代初漸行漸遠。
(美聯社/翻譯:張沛元)
Publication Notes
TODAY'S WORDS 今日單字
1. inaugurate v.
開幕;就職 (kai1 mu4; jiu4 zhi2)
例: The new president will be inaugurated next January.
(新總統將於明年一月宣誓就職。)
2. rule out v. phr.
排除 (pai2 chu2)
例: We can't rule out the possibility of his showing up suddenly.
(我們不能排除他突然出現的可能性。)
3. drift apart v. phr.
漸行漸遠 (jian4 xing2 jian4 yuan3)
例: As the years went by, she drifted apart from all her friends.
(隨著時光流逝,她與所有的朋友漸行漸遠。)
Comments will be moderated. Keep comments relevant to the article. Remarks containing abusive and obscene language, personal attacks of any kind or promotion will be removed and the user banned. Final decision will be at the discretion of the Taipei Times.