DOH moves to make black soy sauce a thing of the past 醬油不再黑色? 衛署擬禁添焦糖色素
Since concern arose that 4-Methylimidazole (4-MEI), which is present in some soft drinks, may be a carcinogen, the Department of Health (DOH) has decided to classify caramel coloring as a coloring agent and will be enforcing strict regulations against it. In the future all caramel coloring will have to pass tests, be registered, and meet production standards before being added to foods or drinks, and adding it to soy sauce, tea, laver, kelp or fresh produce will be prohibited.
However, some companies are opposed to the new standards, which have yet to be defined, because some soy sauces currently on the market still use caramel coloring to alter the color, and they are worried that consumers may not accept "white soy sauce" if the food coloring ingredient is eventually prohibited.
Lin Chieh-liang, head of the Clinical Toxicology Division at Chang Gung Memorial Hospital in Linkou, says that the amount of soy sauce people usually consume is relatively minimal since soy sauce is only used for dipping and not consumed as a beverage. On the other hand, he still says that the less people use something that is bad for them the better, and that avoiding it entirely would be best.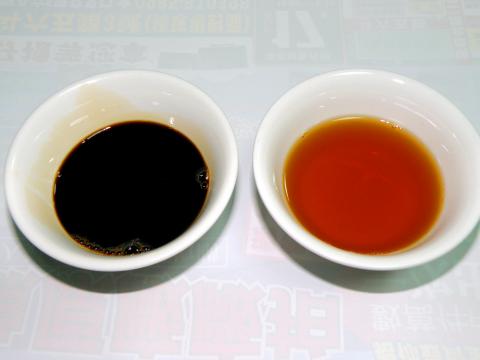 Soy sauce without coloring, right, and soy sauce with food coloring. 未經調色的白醬油(右)與一般醬油。
Photo: Chan Shih-hung, Liberty Times
照片:自由時報記者詹士弘
In the past, caramel coloring was considered to be a natural food coloring and there were not any strict regulations against it. According to regulations against other coloring agents, once caramel coloring is considered to be a coloring agent, aside from not being allowed in fresh meats, fish, shellfish, beans and vegetables, it would also not be allowed in miso, soy sauce, kelp, laver or tea. Products on the market that would be most affected by the new regulations would be soy sauce and black tea beverages.
DOH officials are saying that the new standards have still not gone into effect, and that currently they are only offering precautionary warnings while they are still in the process of soliciting suggestions. The reason for not allowing food coloring to be added to fresh meats is so that they do not influence the consumer's ability to determine freshness, but several companies have already expressed differing opinions when it comes to soy sauce. Typically the amount of coloring in soy sauce is minimal, so if it is only used for manufacturing, there are no other alternatives, and it does not affect consumer safety, continuing to allow caramel coloring may be considered, the DOH says.
Chen Lu-hung, deputy director general at the Food Industry Research and Development Institute, says that there are many natural alternatives that could be used to replace caramel coloring, including malt extract. Even Coca-Cola changed their recipe to resolve the issue, and if the DOH does indeed enforce restrictions against caramel coloring, the degree to which it would affect companies is minimal. Uni-President Enterprises Corp and Wei Chuan Foods Corp have both said they would merely have to alter their recipes and that it would not be a heavy blow.
Bottles of soy sauce with caramel coloring marked on the bottles. 標示有「焦糖色素」的瓶裝醬油。
Photo: George Tsorng, Liberty Times
照片:自由時報記者叢昌瑾
(Liberty Times, Translated by Kyle Jeffcoat)
可樂添加的焦糖色素內含4-MEI成分引發致癌疑慮後,衛生署決定將焦糖色素改列為「著色劑」、嚴加看管!未來要加進食品的焦糖色素,不僅一律要經過查驗登記、符合製程標準方可放行,也將不能使用在醬油、茶、海苔、海帶以及所有生鮮食品。
不過,部分業者對這項未定案的新標準有異議,因為市售醬油仍有部分添加焦糖色素來調整商品色澤,未來若禁止使用,那麼民眾是否能夠接受這些「白醬油」?
林口長庚醫院臨床毒物科主任林杰樑表示,其實醬油只是用來沾著食物吃,不會直接拿來喝,所以食用量有限;但是不好的東西自然是越少越好,能夠不用當然很好。
過去焦糖色素被列為天然色素,使用範圍並沒有嚴格限制,未來列為著色劑後,比照其他著色劑管理規定,不得使用在生鮮肉類、魚貝類、豆類以及蔬果類之外,味噌、醬油、海帶、海苔以及茶也都不得使用。據指出,其中可能受到最大影響的市售產品,包括目前可能使用到焦糖色素的醬油及紅茶飲料。
衛生署官員表示,這項標準尚未正式公告,目前仍在預告、徵求各方意見中。其中,生鮮食物不許添加著色劑主要是為了避免影響民眾購買時對新鮮度的判斷,至於醬油部分,確實已經有廠商反映不同意見。若確實是製造所必須、且無其他可行替代方式,一般來說,著色劑使用量不高,在不影響民眾食用安全前提考量下,不排除維持繼續使用。
食品工業發展研究所副所長陳陸宏表示,焦糖色素替代品不少,如天然的麥精黑粉等,且連可口可樂都已改變配方解決這問題,就算衛生署列管,對廠商衝擊也有限;統一及味全也表示,只要改變配方即可,衝擊並不大。
(自由時報記者洪素卿、高嘉和)
Publication Notes
TODAY'S WORDS 今日單字
1. soft drink n. phr.
軟性飲料 (ruan3 xing4 yin3 liao4)
例: Drinking sugar-sweetened soft drinks may be associated with Type 2 diabetes and obesity.
(喝加糖軟性飲料可能導致第二型糖尿病以及肥胖病。)
2. laver n.
海苔 (hai3 tai2)
例: Laver bread is a traditional Welsh delicacy.
(海苔麵包是威爾斯的傳統特產。)
3. shellfish n.
貝類 (bei4 lei4)
例: Clams, mussels and oysters are all shellfish.
(蛤蜊、貽貝與蠔都屬於貝類。)
Comments will be moderated. Keep comments relevant to the article. Remarks containing abusive and obscene language, personal attacks of any kind or promotion will be removed and the user banned. Final decision will be at the discretion of the Taipei Times.