Man 'swallows a diamond' at Sri Lanka gem exhibition 斯里蘭卡寶石展 男子吞下鑽石
Sri Lankan police arrested a Chinese tourist suspected of swallowing a diamond worth 1.8 million rupees (US$13,600) on Sept. 5 at the island nation's biggest international gem and jewellery exhibition.
Chow Cheng, 32, is believed to have swallowed the diamond as he inspected it at the exhibition, attended by buyers from China, Hong Kong, Thailand, India and Europe, police said.
"His intention was to steal it," Police spokesman Ajith Rohana told Reuters. "The x-ray shows the diamond is in his throat."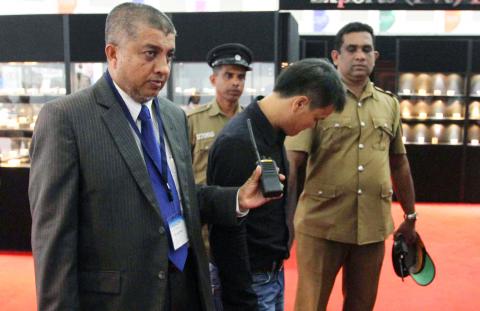 A Sri Lankan security official, left, and uniformed police escort a Chinese national, center, who was accused of stealing a diamond by swallowing it while pretending to appraise the stone at Sri Lanka's main gem and jewelry exhibition in Colombo, Sri Lanka on Sept. 5. 一位斯里蘭卡保全人員(左)與身著制服員警於九月五日於斯里蘭卡可倫坡,移送企圖在斯里蘭卡的大型寶石展吞下鑽石的中國男子(中)。
Photo: AFP
照片:法新社
Suresh Christopher Wijekoon, owner of the exhibition stall, said Chow had tried to switch the original diamond with a synthetic one.
"He realized that I noticed it. Then he immediately swallowed it," Wijekoon told Reuters.
The Indian Ocean island is famed for its blue sapphires, diamonds and a jewelry industry that accounted for US$532 million of its export revenue in 2011.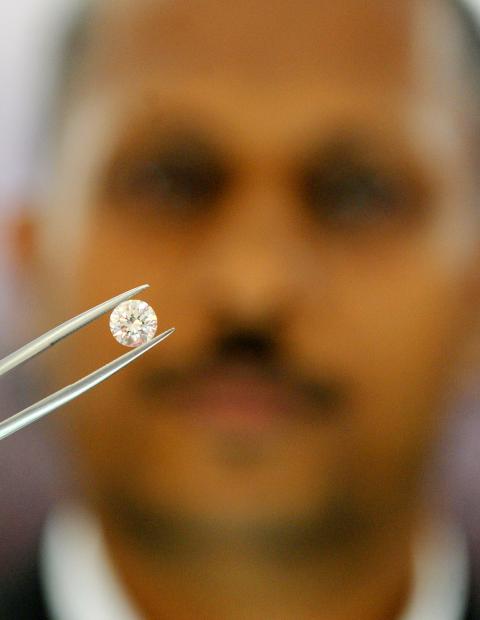 A Sri Lankan stall owner shows a 1.5 carat diamond which is similar to a stone a Chinese man stole from him at the start of a gem and jewelry exhibition in Colombo, Sri Lanka on Sept. 5. 一位斯里蘭卡珠寶攤商九月五日在斯里蘭卡可倫坡,展示一顆一點五克拉的鑽石。這顆鑽石與中國男子企圖在斯里蘭卡的大型寶石展吞下的鑽石雷同。
Photo: AFP
照片:法新社
(Reuters)
斯里蘭卡警方九月五日逮捕一名涉嫌在該島國最大規模的國際珠寶展上,吞下一顆價值一百八十萬盧比(一萬三千六百美元)的鑽石的中國觀光客。
警方表示,據信三十二歲的周靖(譯音)在這場吸引來自中國、香港、泰國、印度與歐洲買家的會場上檢視這顆鑽石時,一口將之吞下。
「他原本的盤算是要偷,」警方發言人羅哈納告訴路透。「X光顯示鑽石卡在他喉嚨裡。」
鑽石被人吞掉的珠寶展攤位負責人維傑肯說,周姓男子企圖拿合成鑽來掉包真鑽。
維傑肯告訴路透:「他知道我發現了。然後他就馬上吞下真鑽石。」
這個印度洋上的島國以其翡翠、鑽石與珠寶業聞名,二○一一年該產業出口營收達五億三千兩百萬美元。
(路透/翻譯:張沛元)
Publication Notes
TODAY'S WORDS 今日單字
1. swallow v.
吞 (tun1)
例: Dogs usually swallow their food without chewing.
(狗兒通常沒有嚼食就直接將牠們的食物吞下了。)
2. inspect v.
檢視 (jian3 shi4)
例: The general inspected the troops.
(將軍檢閱部隊。)
3. be famed for phr.
以…知名 (yi3 ... zhi1 ming2)
例: The island nation is famed for its hospitality.
(這個島國以好客知名。)
Comments will be moderated. Keep comments relevant to the article. Remarks containing abusive and obscene language, personal attacks of any kind or promotion will be removed and the user banned. Final decision will be at the discretion of the Taipei Times.