Author Murakami wades into Japan-China island row 作家村上春樹涉入日中島嶼爭議
Haruki Murakami, one of the world's foremost novelists, waded into the territorial row between China and Japan recently, warning of the peril of politicians offering the "cheap liquor" of nationalism.
The Japanese author of Norwegian Wood said cool heads should prevail.
Writing in the liberal-leaning Asahi Shimbun, Murakami, who has been tipped as a future Nobel laureate, said disputes over land existed because of the unfortunate system of dividing humanity into countries with national borders.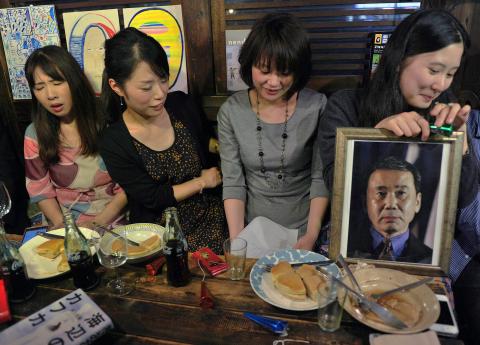 Fans of Japanese author Haruki Murakami, portrait pictured right, react in a cafe in Tokyo, Japan last Thursday after learning that Murakami did not win the Nobel literature prize. 村上春樹(右方肖像)的書迷們於上週四,在日本東京得知他沒有得到諾貝爾獎時,難掩失落情緒。
Photo: AFP
照片:法新社
"When a territorial issue ceases to be a practical matter and enters the realm of 'national emotions,' it creates a dangerous situation with no exit.
"It is like cheap liquor. Cheap liquor gets you drunk after only a few shots and makes you hysterical. It makes you speak loudly and act rudely ... But after your drunken rampage you are left with nothing but an awful headache the next morning.
"We must be careful about politicians and polemicists who lavish us with this cheap liquor and fan this kind of rampage," he wrote.
"You soon sober up after the buzz of cheap liquor passes," he said. "But the path for souls to come and go must not be blocked."
Murakami has never shied away from controversy. When he received the 2009 Jerusalem Prize, Israel's highest literary honor for foreign writers, he obliquely criticized the Middle East conflict.
"If there is a hard, high wall and an egg that breaks against it, no matter how right the wall or how wrong the egg, I will stand on the side of the egg," he said at the ceremony in Jerusalem.
(AFP)
全球最知名的小說家之一村上春樹最近也涉入中國與日本之間的領土爭議,警告政客們提供民族主義「廉價劣酒」可能引發的風險。
這位曾寫過小說《挪威森林》的日本作家表示,在爭議中理智應該佔上風。
多次被視為諾貝爾文學獎可能得主的村上投書給自由派的《朝日新聞》寫道,有關釣魚台的爭議之所以存在,是因為把人類用國界分為不同國家的不幸系統所導致。
「當領土議題不再是實際問題,而成為『民族情感』的問題時,就會製造出無路可走的危險情勢。」
「這就像是喝劣酒。廉價的劣酒只要幾杯就能讓你喝醉,變得歇斯底里。喝劣酒讓你說話大聲,舉止粗魯…但當你發完酒瘋後,第二天早上除了頭痛欲裂外一無所有。」
他寫道:「我們必須提防這些拚命給我們倒劣酒、煽起暴動的政客和好辯人士。」
「劣酒帶來的宿醉過後,你很快就會清醒過來,」他說。「但靈魂的交流道路不該被堵住。」
村上過去從不畏懼涉入爭議話題。當他於二○○九年獲得以色列頒給外國作家的最高文學獎項耶路撒冷獎時,就曾間接批評過中東衝突。
他在耶路撒冷的頒獎儀式上表示:「假如有一堵堅固的高牆,和一顆投擲在牆上的雞蛋,不論那堵高牆有多正確,或雞蛋有多錯誤,我都會站在雞蛋那邊。」
(法新社/翻譯:俞智敏)
Publication Notes
TODAY'S WORDS 今日單字
1. cool head n. phr.
理智 (li3 zhi4)
例: This is a stressful situation and you have to keep a cool head.
(這是個高壓情況,你必須保持理智。)
2. sober up v. phr.
使清醒 (shi3 qing1 xing3)
例: The harsh reality of what had happened sobered him up immediately.
(事情發生的殘酷現實讓他立刻清醒過來。)
3. obliquely adv.
間接地 (jian4 jie1 de5)
例: She obliquely referred to a sordid affair from her past.
(她間接地提到她過去發生的一樁難堪事件。)
Comments will be moderated. Keep comments relevant to the article. Remarks containing abusive and obscene language, personal attacks of any kind or promotion will be removed and the user banned. Final decision will be at the discretion of the Taipei Times.