Softer restaurant music, lighting can help cut calories: study 餐廳輕音樂搭配柔和燈光 有助減少卡路里攝取
Just as music and lighting can influence what shoppers buy, toning down the tunes and dimming the lights in a fast food restaurant can help diners enjoy their meal more and eat less, according to a US study.
After transforming part of a fast food restaurant in Illinois with milder music and lighting, researchers found that customers ate 18 percent fewer calories than other people in the unmodified part of the restaurant.
"When we softened the lights and softened the music in the restaurant it did not change what people ordered, but what it did do was lead them to eat less and made them more satisfied and happier," said Brian Wansink, a professor of marketing and consumer behavior at Cornell University in New York.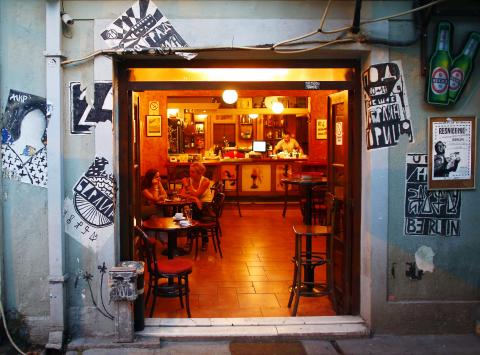 People enjoy drinks in a cafe in Podgorica, Montenegro on Oct. 2. 人們十月二日在蒙特尼格羅共和國波德戈里察的一間咖啡廳享受飲品。
Photo: Reuters
照片:路透
Wansink and his co-author Koert Van Ittersum, of the Georgia Institute of Technology, said the bright lights, stimulating colors, and loud music in fast food restaurants are not designed to be relaxing.
So they improved the mood in a section of a restaurant for the study, adding plants, paintings, indirect lights, tablecloths, candles and instrumental music.
After seating customers in both the original and restyled sections of the restaurant, they timed how long their meal lasted and how many calories they consumed. Customers in the modified section ate longer than those in the main dining area, consumed fewer calories and rated the food as more enjoyable.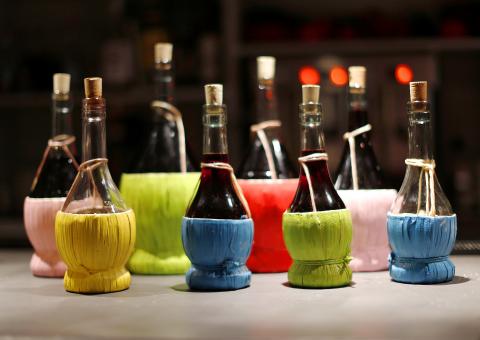 Traditional fiascos (bottles) of chianti wine are seen at the restaurant called L'e'Maiala in Florence, Italy on Oct. 6. 這張十月六日攝於義大利佛羅倫斯一間名為L'e'Maiala餐廳的照片,是傳統吉安地酒瓶。
Photo: Reuters
照片:路透
(Reuters)
根據美國研究,就像是音樂與燈光可以影響購物者買東西一樣,在速食餐廳調低音量並調暗燈光,有助用餐者更享受餐點,還會吃得比較少。
改造伊利諾州一家速食餐廳的一部份,讓音樂與燈光都較為柔和後,研究人員發現顧客吃下的卡路里,比在餐廳未改造部分用餐者減少百分之十八。
紐約康乃爾大研究行銷與消費者行為的教授汪辛克表示:「當我們把餐廳的燈光與音樂變柔和,不會改變人們點餐的內容,但會讓他們吃得比較少,也更容易滿意、比較開心。」
汪辛克與研究共同撰文者、喬治亞科技學院的伊特桑表示,速食餐廳明亮的燈光、刺激性的顏色與嘈雜的音樂,並不是為了讓人放鬆。
因此,他們改善一間餐廳某區域的氛圍,加入植物、畫作、間接燈光、桌巾,蠟燭,以及器樂音樂。
在分別將顧客帶位至餐廳未改造區與已改造區域後,他們開始計算顧客用餐時間與攝取卡路里。結果發現,在已改造區用餐的顧客,其用餐時間比在主要用餐區的顧客來得長、其卡路里攝取較少,且認為食物更為美味。
(路透/翻譯:自由時報國際新聞中心、台北時報林亞蒂)
Publication Notes
TODAY'S WORDS 今日單字
1. tone down v. phr.
調低;緩和 (tiao2 di1; huan3 he2)
例: Some of the language in the original play has been toned down for the television version.
(這部原創戲劇中的部份語言,在轉換成電視版本時經過修改和調整。)
2. dim v.
調暗 (tiao2 an4)
例: Our hopes dimmed as the hours passed.
(我們的希望隨著時間過去越來越渺茫。)
3. unmodified adj.
未改造的 (wei4 gai3 zao4 de5)
例: Instead of simply punishing them, the system encourages offenders to modify their behavior.
(這套系統不單只是懲罰他們,而是鼓勵犯錯的人改正他們的行為。)
Comments will be moderated. Keep comments relevant to the article. Remarks containing abusive and obscene language, personal attacks of any kind or promotion will be removed and the user banned. Final decision will be at the discretion of the Taipei Times.