NTUE set to open new art museum next week 照見北師美術館 林曼麗打造當代藝術空間
After serving as the National Palace Museum's (NPM) first female director, Lin Man-li went back to being a professor at National Taipei University of Education (NTUE). In August last year, she obtained access to a newly constructed building which was to serve as the Museum of National Taipei University of Education (MoNTUE), with herself serving as director of planning and chief engineer for construction of the museum. After half a year of indoor construction, Lin recruited Japanese architect Toyoda Keisuke to help out with the project, turning the building into a veritable contemporary art venue, which will be open to the public and hold its first exhibition at the end of this month.
The museum building includes a basement floor with three stories above it, including areas for exhibitions, performances, a cafe and a small art boutique. It is located to the right of the school's main gate off of Heping East Road, giving it a great central location in Taipei. Architect Chiang Chih-hao's main design contribution for the museum has three sides of the building made entirely of glass, allowing plenty of light to penetrate inside to create a bright ambience. Looking at the museum from Heping, you can see the campus greenery through the building, and standing on the second or third floor of the museum, you can observe the MRT line running along Heping and the rhythms of the city. These distinct qualities that Toyoda and his team of architects have given the building combine the indoor space and public art in such a way that make it the epitome of a modern fine arts museum.
Lin does not mince words in talking about the expenditures incurred when building an art museum on a university campus. Some people asked her why she did not rent out the space to a company and simply rake in the profits, but she was convinced that it was the perfect space to build a museum. It will be one of the most unique museums on a university campus and also serve as a platform to connect the university and the city, Lin says. For this costly artistic vision, Lin once again put her fundraising skills to the test, working very hard to find sponsors. She hopes the museum will also become a place for people to gain professional experience and training, and give students a chance to see how an art museum is run.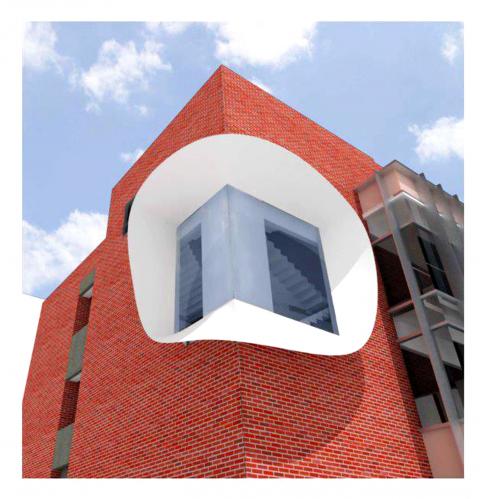 One corner of the MONTUE building. 北師美術館大樓一角。
Photo courtesy of MONTUE
照片由北師美術館提供
The museum's debut exhibit, "Still a Vanguard of Education and a Pioneer in the Arts," which begins on Sept. 25, is a look at the art of modern Taiwanese artists and the development of art education in Taiwan when Taiwan was under Japanese rule (1895-1945), displaying the works of artists who first studied at NTUE and then went to further their studies in Japan, including renowned artists Lee Shih-chiao, Liao Chi-chun, Huang Tu-shui, and Chen Cheng-po. They have also invited film maestro Tsai Ming-liang to create a unique film commemorating these venerable artists, providing a contemporary artist's response to history.
Lin hopes that the museum will serve as more than a venue to house and display art, but as a place for a variety of artistic creations and diverse exhibitions and performances, making it a spot for all of these energies to converge. It is expected that MoNTUE will give free rein to the imagination and inspire interdisciplinary works and people working in different fields to come together, connect and share, Lin says.
(Liberty Times, Translated by Kyle Jeffcoat)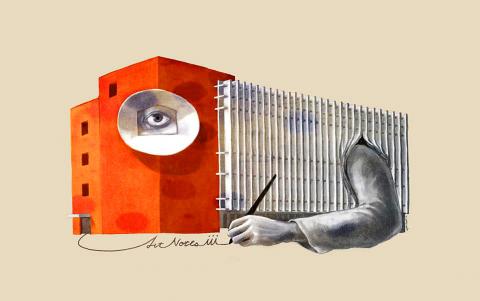 A promotional poster for the design of MoNTUE. 北師美術館設計的宣傳海報。
Photo courtesy of MONTUE
照片由北師美術館提供
自國立故宮博物院首位女性院長職卸任後,林曼麗回到國立台北教育大學任教,去年八月爭取到在校園新建空間成立北師美術館(MoNTUE),林曼麗擔任統籌與策畫,經歷半年的室內裝修工程,找來日本建築師豐田啟介,打造成一當代藝術空間,終於將在這個月底陸續推出各項展演。
這棟建築包含地下一樓及地面三個樓層,規畫出展覽、展演、咖啡館及小型的藝術商品店等空間,位於北教大和平東路大門右側,可說是在台北市中心相當好的地點,建築師江之豪將主體建築設計成一三面都有玻璃引光而具通透特質的美術館,站在和平東路上就可透視校園內的綠地,在二、三樓挑高的展演空間裡,又可直接欣賞和平東路上捷運律動的城市風景,豐田啟介與後來的日本設計團隊,掌握此一建築特色,進一步將室內空間與公共藝術打造成當代感十足的美術館。
在學校蓋一個美術館是花錢的事,林曼麗不諱言,有人認為何不外租給商店賺錢?「但我覺得這裡很有建美術館的條件,可塑造成一絕無僅有的大學美術館,發揮大學與城市之間更開放的平台功能。」為了這個「花錢的美麗願景」,林曼麗再度發揮她的「找錢」能力,努力尋求贊助,希望將來也能成為人才培育的地方,讓學生有機會參與學習美術館的運作。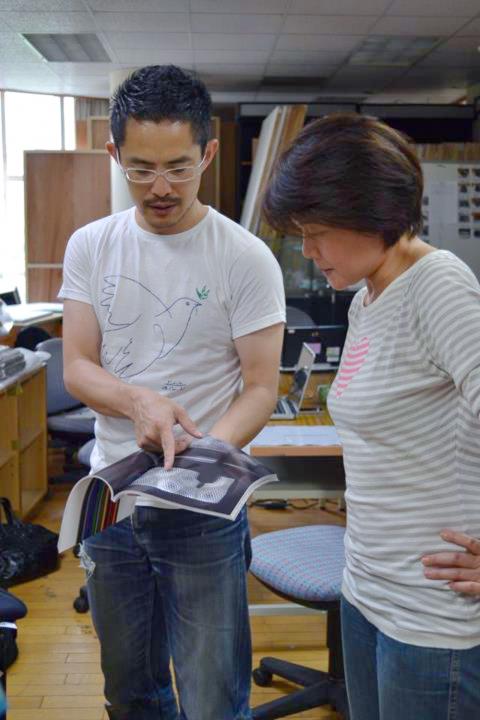 Japanese architect Toyoda Keisuke, left, and National Taipei University of Education professor Lin Man-li talk about the design of MONTUE. 日本建築師豐田啟介(左)與國立台北教育大學教授林曼麗討論北師美術館的設計。
Photo courtesy of MONTUE
照片由北師美術館提供
將於九月二十五日登場的開幕序曲展「依然是教育的先鋒,藝術的前衛」,探討日治時期台灣近代藝術與美術教育發展,取北教大自一八九六年創立以來,多位於該校養成後赴日深造有成的台灣前輩藝術家,如李石樵、廖繼春、黃土水、陳澄波等人的作品為開展,並邀請當代影像創作導演蔡明亮,以獨特影像創作向前輩藝術家致敬,也呈現當代創作者對歷史的回應。
但林曼麗也期待將來在這個美術館裡不只有展覽,而是有更多創新、多元的各種藝術展演,使它成為一個能量的匯聚所,可以進行跨域創作的想像與激盪、異業結盟的連結與分享等。
(自由時報記者凌美雪)
Comments will be moderated. Keep comments relevant to the article. Remarks containing abusive and obscene language, personal attacks of any kind or promotion will be removed and the user banned. Final decision will be at the discretion of the Taipei Times.