Chile backs off removing 'dictatorship' from texts 智利撤回自教科書中移除「獨裁政府」字眼政策
Chile is backing off a controversial plan to remove the word "dictatorship" from school textbooks in reference to the military government of General Augusto Pinochet.
President Sebastian Pinera's new Education Minister Harald Beyer sparked a political uproar when he discussed the plan recently. He suggested grade-school students be taught a more "general" term by calling the 1973-1990 rule of Pinochet a "military regime."
Senator Isabel Allende, whose father Salvador Allende was ousted in Pinochet's coup, called the change "unacceptable." "It goes against common sense, because the entire world knows that during 17 years what Chile had was a ferocious dictatorship with the most serious human rights violations, where there was no parliament, where there was no liberty, where there was persecution, murders and disappearances," Isabel Allende said.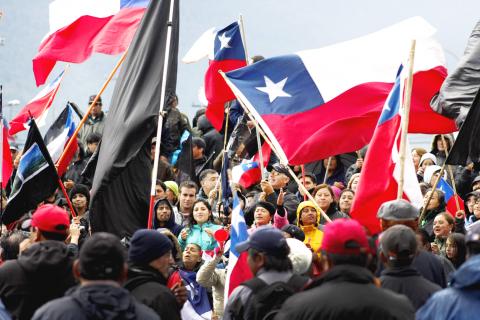 Workers shout slogans against the government of Chilean President Sebastian Pinera, during a protest in Puerto Aysen, Chilean Patagonia on March 4. 工人們三月四日在智利帕塔哥尼亞高喊口號,反對智利總統塞瓦斯蒂安‧皮涅拉政府。
Photo: AFP
照片:法新社
Chile's Socialist Party leader, Osvaldo Andrade, put it more colorfully: "It has the ears of a cat, the body of a cat, meows like a cat and some people want to call it a dog."
Beyer later decided to back off.
The ministry "never meant to deny the undemocratic nature of the military regime, nor the human rights violations that resulted," Beyer said, explaining that the guidelines are generally meant to foster a healthy debate. "They open a broader and richer discussion, and that's the objective: to develop critical thinking."
(AP)
智利政府決定撤回一項自學校教科書中移除「獨裁政府」字眼的爭議性計畫,這個字是用來指由皮諾契特將軍所主掌的軍事政府。
皮奈拉總統的新教育部長拜爾,最近因為討論這項計畫而在政壇引發騷動。他建議學校在教導中小學學生時,應使用「軍事政權」這種更「一般性」的字眼來形容皮諾契特在一九七三年至一九九○年間的統治。
父親阿葉德遭皮諾契特發動政變推翻政權的參議員伊莎貝‧阿葉德稱這項改變「令人無法接受」。「這悖離了常識,因為舉世皆知智利在這十七年的無情獨裁統治期間,發生了最嚴重的違反人權案件,也沒有國會與自由,只有迫害、謀殺與失蹤,」阿葉德說。
智利社會黨領袖安德拉德則以更生動方式形容此事:「它有著貓的耳朵,貓的身體,也像貓一樣喵喵叫,但有些人卻想把它稱作狗。」
拜爾後來決定讓步。
教育部「從未企圖否定軍事政權的不民主本質,或其所造成的違反人權罪行,」拜爾說,他解釋這些綱要只是想促進辯論。「它們開啟更廣泛、更豐富的討論,而這正是目的所在:開發批評性思考。」
(美聯社/翻譯:俞智敏)
Publication Notes
TODAY'S WORDS 今日單字
1. dictatorship n.
獨裁政府 (du2 cai2 zheng4 fu3)
例: The dictatorship of General Franco lasted for nearly 40 years.
(佛朗哥將軍的獨裁政權維持了近四十年之久。)
2. regime n.
政權 (zheng4 quan2)
例: The old corrupt, totalitarian regime was overthrown.
(舊有的貪腐、極權政府已遭到推翻。)
3. foster v.
促進 (cu4 jin4)
例: They were discussing the best way to foster democracy and prosperity in former communist countries.
(他們正在討論促進前共黨國家發展民主與繁榮的最佳途徑。)
Comments will be moderated. Keep comments relevant to the article. Remarks containing abusive and obscene language, personal attacks of any kind or promotion will be removed and the user banned. Final decision will be at the discretion of the Taipei Times.