Strawberry season is time for berry-picking fun in Neihu 草莓紅了 來內湖享受採果樂
For Taipei residents who feel like going for an early spring outing to pick strawberries, there is no need to travel all the way to Dahu Township in Miaoli County. Strawberries are also in season along Bishan Road in Taipei's Neihu District. People in Taipei can just hop on the MRT or bus to enjoy picking strawberries without going out of town.
According to the Taipei City Government's Department of Economic Development (DOED), strawberries have been planted in Neihu District for nearly three decades. The strawberry season lasts from December until the end of May. Unlike farms in Miaoli County's Duhu Township, where strawberries are planted out in the open, most of the strawberry orchards in Neihu grow fruit in greenhouses or under cold frames, so people can still experience the enjoyment of picking fruit even when it rains. A good number of farmers have chosen to diversify their operations so that a variety of other fruits and vegetables, such as carrots and cherry tomatoes, are also available for harvesting. There are several tourism and leisure-oriented strawberry orchards located in areas along Bishan Road and Dahu Street.
Hsu San-chi, the owner of Fresh Farm in Neihu, says his strawberry yield is down by 30 percent to 40 percent compared to the same period in past years, having been affected by the overcast, wet, cold, and gloomy weather in Taipei this winter. Nevertheless, the quality of the strawberries has not been affected, and neither has the price, which, at NT$250 a catty (600g), is also similar to previous years. Organic strawberries are more precious, however, selling for as much as NT$340 a catty. For more information, visit the DOED's Web site at www.doed.taipei.gov.tw.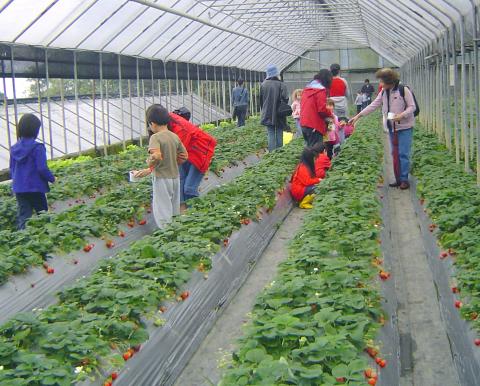 People pick strawberries from sheltered beds on a farm on Bishan Road in Taipei's Neihu District on Jan. 20. 人們一月二十日在台北市內湖區碧山路上的一處果園,從覆蓋的苗床上採草莓。
Photo: Liu Jung, Liberty Times
照片:自由時報記者劉榮
(Liberty Times, Translated by Lin Ya-ti)
想在早春到戶外踏青採草莓,台北人不用大老遠跑到苗栗大湖,內湖碧山路的草莓進入盛產季,台北居民只要搭捷運轉公車,不用出城,就可以享受採果樂。
台北市政府產業發展局表示,內湖區種植草莓已有近三十年歷史,每年十二月至隔年五月下旬,都是草莓產季,不同於苗栗大湖的露天栽種,內湖的草莓園多採用溫室、棚架栽培,即使碰到天雨也可採果。不少農家都採複合式經營,園內還有蘿蔔、小番茄等果菜可供現採。內湖有多家觀光草莓園,分布在碧山路及大湖街一帶。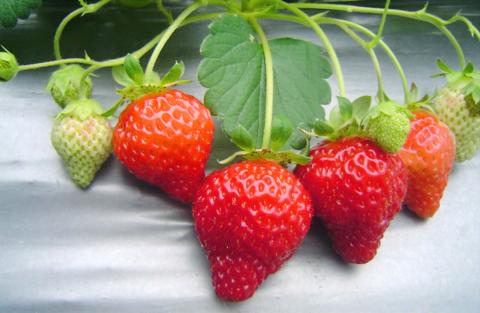 Strawberries ripen on a planting bed in an orchard in Neihu District, Taipei on Jan. 20. 這張一月二十日攝於台北市內湖區的一處果園的照片,是熟成的草莓。
Photo: Liu Jung, Liberty Times
照片:自由時報記者劉榮
內湖清香農場園主許三奇說,受台北今年冬天陰雨濕冷,陽光照射少等氣候影響,草莓產量較以往同期少了三到四成,但草莓質量沒有受到太大影響,價格也與往年相同,一斤(六百公克)約新台幣兩百五十元。部分以有機栽種的草莓,每斤價格更上看新台幣三百四十元。相關資訊可上產發局網站查詢(www.doed.taipei.gov.tw)
(自由時報記者劉榮)
Publication Notes
TODAY'S WORDS 今日單字
1. hop v.
跳上 (tiao4 shang4)
例: You can just hop on a ferry to travel between England and France or Belgium in about an hour and a half.
(你可以直接跳上渡輪,在一個半小時內到英國、法國或比利時旅遊。)
2. yield n.
產量 (chan3 liang4)
例: Favorable weather has produced a good yield of fine-quality tea in Sri Lanka this year.
(今年斯里蘭卡的好天氣讓上等紅茶有好產量。)
3. precious adj.
高價的 (kao1 jia4 de5)
例: Watermelons are very precious in Finland because they have to be shipped in from warmer countries.
(西瓜在芬蘭價格高,因為該水果要從較暖和的國家運送過去。)
Comments will be moderated. Keep comments relevant to the article. Remarks containing abusive and obscene language, personal attacks of any kind or promotion will be removed and the user banned. Final decision will be at the discretion of the Taipei Times.