Cesium found in milk powder made by Japan's Meiji 日本明治出產的奶粉發現銫
Japan's Meiji Holdings said on Dec. 6 that radioactive cesium was found in infant milk powder made by the food and dairy firm, in the latest food scare to grip the country nearly nine months after the Fukushima nuclear disaster.
Worries over the safety of food supplies have shaken the public after the March 11 earthquake and tsunami crippled the Fukushima Daiichi plant in the worst nuclear accident in 25 years, spreading radiation over a large swathe of northern and eastern Japan.
Cases of excessive radiation in vegetables, tea, milk, seafood and water have stoked anxiety despite assurance from public officials that the levels detected are not dangerous.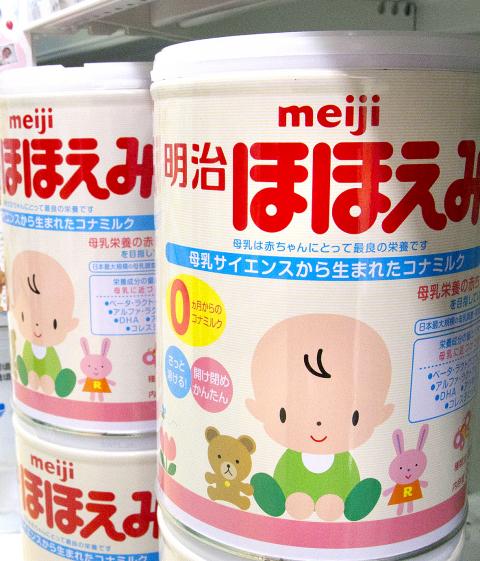 Cans of Meiji Step powdered milk is seen in a supermarket in Chiba prefecture in Japan on Dec. 7. 這張十二月七日攝於日本千葉縣一家賣場的照片,是一罐罐「Meiji Step」嬰兒奶粉。
Photo: EPA
照片:歐新社
Meiji said it is unsure exactly how the cesium got into the powdered milk, but it suspects radioactive substances emitted from the Fukushima accident may have been the source. A company spokesman told Reuters hot air used in the drying process may have contained cesium.
Tests by Meiji showed that up to 30.8 becquerels of cesium was found per kilogram of the powdered milk. That is below the government-set permissible limit, but the firm will nevertheless conduct a voluntary recall of the product, called "Meiji Step."
The limit set by Japan's health ministry is 200 becquerels per kilogram for powdered milk, an official at the ministry's department of food safety said.
(Reuters)
日本的「明治控股」十二月六日表示,該食物與乳品公司製造的嬰兒奶粉中含有輻射物質銫,這是福島核災發生近九個月後,最新一起影響日本的食物恐慌。
自從三月十一日強震海嘯癱瘓福島第一核電廠,讓核電廠身陷二十五年最嚴重的核災,在日本北部和東部大範圍土地散布輻射後,一般民眾擔憂食品供應安全。
蔬菜、茶、牛奶、海鮮、水的輻射物質過量的案例,引起民眾焦慮,儘管官員保證偵測到的輻射物質劑量並不危險。
明治表示,還不清楚銫是如何進入奶粉,但懷疑福島核災排出的輻射物質就是源頭。公司發言人向路透表示,乾燥過程中使用的熱風可能含有銫。
明治的檢測顯示每公斤奶粉中有三十點八貝克的銫,低於政府規定的允許標準,但該公司仍將主動回收名為「Meiji Step」的產品。
食品安全部官員表示,日本厚生勞動省規定奶粉輻射含量上限為每公斤兩百貝克。
(路透/翻譯:陳維真)
Publication Notes
TODAY'S WORDS 今日單字
1. stoke v.
激起 (ji1 qi3)
例: His composure had the effect of stoking her anger.
(他的鎮定沉著激起她的怒火。)
2. voluntary adj.
主動的 (zhu3 dong4 de5)
例: It was voluntary on my part. I didn't have to do it.
(我是主動的。我不必這麼做。)
3. recall v.
召回 (zhao4 hui2)
例: The automaker recalled a lot of the unsafe cars.
(車廠召回許多不安全的汽車。)
Comments will be moderated. Keep comments relevant to the article. Remarks containing abusive and obscene language, personal attacks of any kind or promotion will be removed and the user banned. Final decision will be at the discretion of the Taipei Times.