Taiwan student paints mural at Munich's Olympic Village 慕尼黑奧運選手村牆面美化 台生彭宣穎添光彩
Taiwanese architectural design student Peng Hsuan-ying is a man of many talents. Not only was he granted scholarships for the four semesters he has studied at the Technical University of Munich (TUM) as an architect major, Peng's work was also selected as one of the winners at his university's photography competition, which is to be printed in 4,000 copies of a 2012 calendar. His work was also accepted as part of the Munich Olympic Village "Beautify the Walls Competition," giving Taiwanese art local exposure in Germany.
The Olympic Village was constructed for the 1972 Summer Olympics in Munich, but eventually became the location of student housing for university students as well as a major scenic spot in Munich. After more than 30 years of usage, however, it has gradually become dilapidated. Thus, it was decided that a competition open to the public would be held to beautify its walls. The winners of the competition each received 500 euros and their art will remain on the walls for people to appreciate. Peng was selected to paint the "Front wall, back wall mural"— a 75-square-meter painting which has already been completed.
(LIBERTY TIMES, KYLE JEFFCOAT)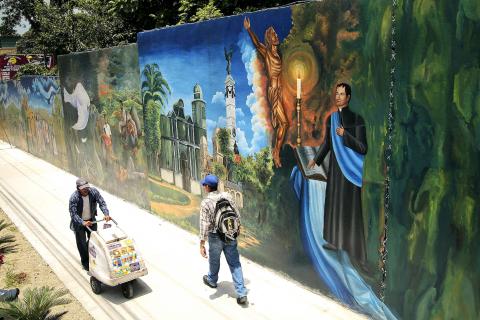 A mural of the bicentenary of San Salvador, the first movement of the Central America independence, is seen in San Salvador, El Salvador, on Nov. 4. 聖薩爾瓦多的兩百年慶祝壁畫,第一個中美洲獨立運動,十一月四日在薩爾瓦多的聖薩爾瓦多。
Photo: EPA
照片: 歐新社
來自台灣的彭宣穎在建築設計上屢展長才,不僅獲得慕尼黑工業大學建築系四個學期獎學金赴德深造,他在慕尼黑工業大學攝影比賽也入選,作品被製成四千本二0一二年的月曆刊印。此外,他的作品又獲選「慕尼黑奧運選手村牆面美化競圖」,讓台灣的藝術創作在當地很露臉。
慕尼黑奧運選手村是為一九七二年奧運所建,之後轉成大學學生宿舍,也成為慕尼黑景點之一。但在經過三十多年的使用後,逐漸老舊沒落,因此,對外公開招募牆面美化藝術競賽,獲選作品可以各得五百歐元(新台幣一萬九千七百九十一元)獎勵外,還可將作品留在牆面上供人欣賞。彭宣穎獲選的「前牆後牆畫」是七十五平方公尺油漆牆面作品,已施工完成。
(自由時報記者胡蕙寧)
Publication Notes
TODAY'S WORDS 今日單字
1. beautify v.
美化 (mei3 hua4)
例: The government will fund a new program for beautifying the nation's highways.
(政府將補助一項美化國內高速公路的新計畫。)
2. scenic spot n. phr.
景點 (jing2 dian3)
例: Sun Moon Lake is a major scenic spot in Taiwan.
(日月潭是台灣一個重要的景觀點。)
3. dilapidated adj.
老舊沒落的 (lao3 jiu4 mo4 luo4 de5)
例: The company is planning to renovate the dilapidated building and turn it into a shopping mall.
(公司打算將該棟老舊沒落大樓改建為購物商場。)
Comments will be moderated. Keep comments relevant to the article. Remarks containing abusive and obscene language, personal attacks of any kind or promotion will be removed and the user banned. Final decision will be at the discretion of the Taipei Times.