Women more vulnerable to 'broken hearts' 女人更容易「心碎」
Women are more vulnerable to suffering from a "broken heart" than men, researchers say. The good news is that it probably will not kill you.
In the first national study of its kind, researchers at the University of Arkansas looked at rates of "broken heart syndrome" — when a sudden shock or prolonged stress causes heart attack-like symptoms or heart failure — and found that it overwhelmingly affects women.
Women are at least seven times more likely than men to suffer the syndrome, and older women are at greater risk than younger ones, according to data presented at the American Heart Association conference in Orlando on Dec. 7.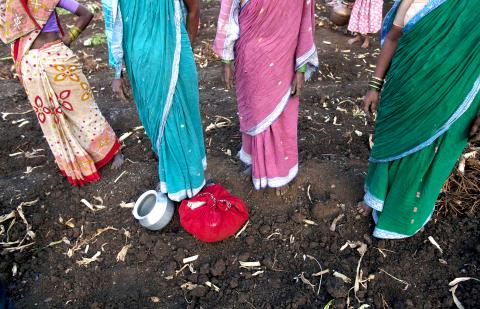 Women agricultural laborers stand in a turmeric field at the end of the work day outside Sangli, about 380km south of Mumbai, India on Dec. 5. 農業勞動女士們十二月五日在印度孟買南方三百八十公里桑里,於一天工作結束後,站在薑黃田裡。
Photo: Reuters
照片:路透
"It's the only cardiac condition where there's such a female preponderance," Dr. Abhiram Prasad, a Mayo Clinic cardiologist who was not associated with the study, told the AP. Heart attack and heart disease, of course, strike men more often and earlier in life than women.
Broken heart syndrome can happen in response to shocking or suddenly emotional events — both positive ones like winning the lottery, or negative ones like a car accident or the unexpected death of a loved one.
(AP)
研究人員稱,女性比男性更容易心碎,好消息是這可能不致命。
這是第一項針對類似問題展開的全國性研究,阿肯色州大學的研究人員分析「心碎症候群」的發病率後發現,女性發生這種症狀的機率遠遠超過男性。所謂心碎症候群,是指突如其來的重大刺激或長時間壓力引起類似心臟病發作的症狀或心臟衰竭。
女性罹患心碎症候群症的可能性至少比男性高七倍,年長女性比年輕女性的發病風險更高,據美國心臟協會十二月七日在奧蘭多舉行的會議所公布的資料指出。
「這是唯一一種女性比男性更易罹患的心臟病」,梅約診所的心臟病專家、未參與這次研究的阿布希拉姆‧普拉薩德博士告訴美聯社記者說。無疑,相較於女性,男性更頻繁、也更早受到心臟病發作和心臟病的困擾。
心碎症候群可以由震驚或突發情緒事件引起,包括彩票中獎等正面情緒事件,或車禍、親人意外死亡等負面情緒事件。
(美聯社/翻譯:陳成良)
Publication Notes
TODAY'S WORDS 今日單字
1. vulnerable adj.
易受害的 (yi4 shou4 hai4 de5)
例: Polar bears are vulnerable to global warming because of the increasingly shrinking Arctic ice.
(全球暖化導致北極冰層日漸縮小,讓北極熊的生存受到威脅。)
2. preponderance n.
優勢;多數 (you1 shi4; duo1 shu4)
例: There is a preponderance of tigers in the forest.
(森林裡老虎數量眾多。)
3. response n.
回應 (hui2 ying4)
例: People are up in arms after hearing the president's response to the crisis.
(聽了總統對這場危機的回應後,人民都非常惱火。)
Comments will be moderated. Keep comments relevant to the article. Remarks containing abusive and obscene language, personal attacks of any kind or promotion will be removed and the user banned. Final decision will be at the discretion of the Taipei Times.