Paris launches electric car sharing program 巴黎即將開辦電動汽車共享計畫
Paris has launched an electric car-sharing program to cut air and noise pollution in the city.
Autolib, a project building on the success of the city's bike-rental scheme, made its debut last Monday and officials want the self-service e-cars to be as much a part of Parisian life as the Eiffel Tower or Notre Dame Cathedral.
While many world cities have been developing greener alternatives to carbon-emitting vehicles, Paris says its program is the biggest of its kind: 250 vehicles hit the road last Monday, 2,000 are expected by next summer and 3,000 are planned within the next two years.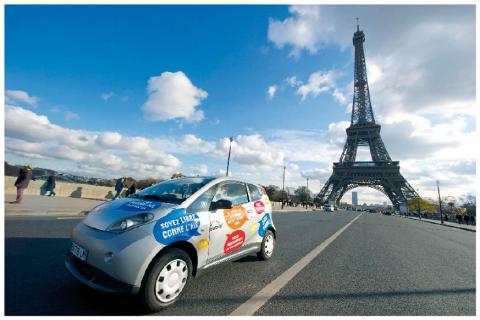 A Paris Autolib electric car is driven near the Eiffel tower during a presentation ride in Paris on Dec. 2. 一輛巴黎Autolib電動汽車十二月二日在一場於巴黎舉行的試駕活動中,行經艾菲爾鐵塔附近。
Photo: Reuters
照片:路透
The four-seat compact Bluecar — so called even though it is really gray — is a collaboration between Italian car designer Pininfarina and French conglomerate Groupe Bollore, which hopes to showcase the Lithium Metal Polymer battery that powers the car.
Prospective users will need a valid ID, driver's license and credit card before signing up online or via a videoconference with a customer service representative. Standard subscriptions cost 10 euros (NT$400) a day, 15 euros a week, and 144 euros a year. Beyond that, the hourly fees run from 4 euros to 9 euros based on the rental plan.
(AP)
巴黎已開辦電動汽車共享計畫,以減少這座城市的空氣與噪音污染。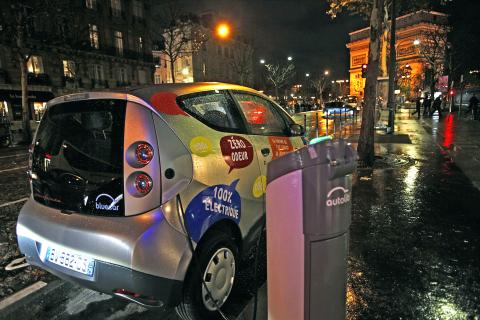 An Autolib electric car is seen parked at its dedicated recharging station on Avenue de Friendland, near the Arc de Triomphe in Paris on Dec. 4. 這張十二月四日攝於巴黎凱旋門附近的弗里德蘭街的專屬充電站,是一輛Autolib電動汽車。
Photo: Reuters
照片:路透
該市繼自行車出租計畫成功之後推出的Autolib,在上週一首度登場,官員希望這種自助的電動汽車將如同艾菲爾鐵塔或聖母院,成為巴黎生活的一部分。
當世界許多城市開發較環保的車輛來取代碳排放車輛的同時,巴黎稱其計畫是這類企圖中最宏大的︰上週一有兩百五十輛汽車上路,明年夏天預定兩千輛,未來兩年內計畫有三千輛。
四人座小車「藍車」—雖然實際上是灰色的—是義大利汽車設計公司賓尼法利納與法國波洛黑企業集團的合作結晶,該集團希望藉此展現其用來驅動藍車的鋰聚合物電池。
打算使用藍車者,透過網路或視訊與客服代表完成簽約之前,必須有一份合法的身分證明、駕照與信用卡。標準會員一天費用十歐元(新台幣四百元)、一週十五歐元、一年一百四十四歐元。此外,依據租賃計畫,每小時租車費用從四歐元到九歐元不等。
(美聯社/翻譯:魏國金)
Publication Notes
TODAY'S WORDS 今日單字
1. debut n.
首度登場 (shou3 du4 deng1 chang3)
例: Two different models of cars made their debut.
(兩種不同款的汽車首次投入市場。)
2. as much ... as ... adv. phr.
一樣多地 (yi2 yang4 duo1 de5)
例: It is as much your responsibility as ours.
(你我都有一樣的責任。)
3. hit the road v. phr.
上路 (shang4 lu4)
例: We'd better hit the road.
(我們最好上路了。)
Comments will be moderated. Keep comments relevant to the article. Remarks containing abusive and obscene language, personal attacks of any kind or promotion will be removed and the user banned. Final decision will be at the discretion of the Taipei Times.