Ministry releases results for Aboriginal civil service exam 原民特考放榜 錄取率百分之四點三七
As firecrackers went off in the background, the results of this year's Civil Service Special Examinations for the Indigenous Peoples were released. The Ministry of Examination put on a curtain-raiser on Dec. 9 with lively Aboriginal dancing and music to celebrate the announcement of the test results, and then continued with the main ceremony, during which the Examination Yuan's Civil Service Protection and Training Commission Chairwoman Chang Ming-chu announced the names. A total of 139 applicants were accepted this year, or 4.37 percent of all Aboriginal test takers. The majority of them were from the Amis tribe at 28.78 percent of those accepted. The average age of those accepted was 29 years old, while the youngest person was 20 years old and the oldest 47 years old. The list was posted at the national testing location and on the ministry Web site.
Ministry of Examination Minister Lai Feng-wei said 5,190 Aborigines signed up to take the exam this year, 3,182 of whom actually showed up to take the exam. Around 80 percent of those accepted had at least a college-level education, while 10 percent had master's degrees. As of the end of September, the nation had 6,833 civil service workers who identify themselves as Aborigines, accounting for two percent of all civil service personnel in Taiwan.
(LIBERTY TIMES, TRANSLATED BY KYLE JEFFCOAT)
鞭炮聲中,原住民族特考放榜了!考選部十二月九日以最熱鬧的原住民歌舞為放榜揭開序幕,緊接著典試委員長張明珠為榜單點榜。今年共錄取了一百三十九人,錄取率為百分之四點三七,其中以阿美族最多,占百分之二十八點七八;錄取人員平均年齡二十九歲,年紀最小二十歲,年紀最長四十七歲。榜單已貼在國家考場,並於考選部網站上公告。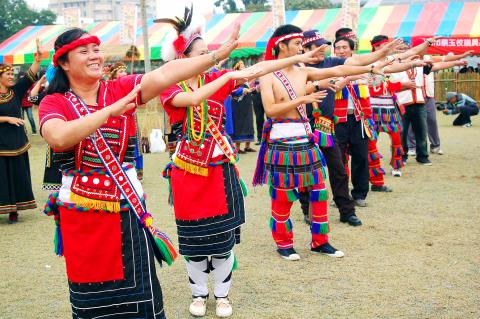 Aborigines in dance at a traditional sports carnival and competition in Greater Tainan's Hsinying District on Nov. 11. 原住民十一月十一日在台南市新營區舉行的原住民嘉年華會暨傳統競技比賽上跳舞。
Photo: Yang Chin-cheng, Taipei Times
照片: 照片:自由時報記者楊金城
考選部長賴峰偉表示,今年原住民族特考總計有五千一百九十人報考,全程到考三千一百八十二人,錄取者大專院校以上學歷達八成,碩士近一成。截至九月底,國內具有原住民身分的公務人員已有六千八百三十三人,占公務人員總人數的百分之二。
(自由時報記者楊久瑩)
Publication Notes
TODAY'S WORDS 今日單字
1. firecracker n.
鞭炮 (bian1 pao4)
例: They were setting off firecrackers all night, so I didn't sleep a wink.
(他們徹夜放鞭炮,害我整晚睡不著。)
2. curtain-raiser n.
序幕 (xu4 mu4)
例: The curtain-raiser was most entertaining.
(序幕演出非常精采。)
3. average adj.
平均的 (ping2 jun1 de5)
例: The average time I spend commuting to and from work every day is about two hours.
(我每天上下班的路程平均花兩個鐘頭的時間。)
Comments will be moderated. Keep comments relevant to the article. Remarks containing abusive and obscene language, personal attacks of any kind or promotion will be removed and the user banned. Final decision will be at the discretion of the Taipei Times.