Gezaixi opera troupe adapts Goethe's Faust 改編《浮士德》 《狂魂》挑戰歌仔戲新視野
A Taiwanese gezaixi opera troupe has devoted itself to adapting Goethe's renowned literary classic Faust for gezaixi, or Taiwanese opera, and are calling the adaptation Kuang Hun (Wild Soul). The piece allows them to tackle diverse subjects in hopes of revamping the art form. The play tells the story of a man who signs a contract with the devil to give his soul in exchange for 24 years to fulfill any desire he has. In thinking of unique ways to represent the original work, this drama has altered the original theme of the Western pursuit of knowledge and the desire to replace God with the individual, and instead narrates a desire to transform oneself into an immortal through spiritual cultivation and devotion, giving the entire plot an Eastern twist.
Sun Shih-pei will play the role of the man making the deal with the devil and who gradually goes insane. Acting out this psychological drama will be quite a challenge for her. Sun will also play the roles of a wise old man, a spiritual practitioner, an affectionate man, and a tyrant. Sun Shih-yung will be simultaneously playing both the devil and an angel. Acting out the rapid switch between these personalities will give her plenty of room to show off her acting skills. The Ming Hwa Yuan Arts & Cultural Group's Chen Chao-ting, daughter of Sun Tsui-feng, who usually plays the main young male roles known as xiaosheng, will play the main female role of Gretchen, and gradually transform a lively bright young princess into a mature older woman. The three of them are actually cousins. The work will let audiences see gezaixi as a new force to be reckoned with.
The Ming Hwa Yuan Arts & Cultural Group will be performing Wild Soul tonight and tomorrow afternoon at the Metropolitan Hall in Taipei.
(LIBERTY TIMES, TRANSLATED BY KYLE JEFFCOAT)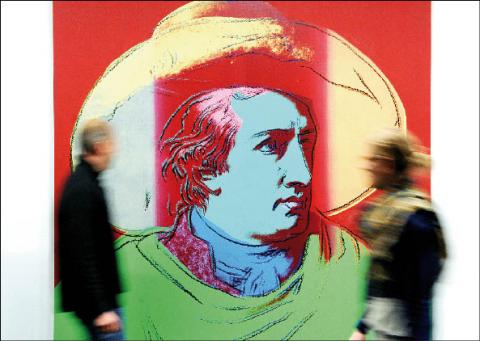 Visitors to the Museum fur Neue Kunst walk past Andy Warhol's Portrait Johann Wolfgang von Goethe in Karlsruhe, Germany on Oct. 19. 參觀者十月十九日在德國卡爾斯魯厄的新美術博物館經過安迪·沃荷的約翰·沃爾夫岡·馮·歌德肖像。
Photo: AFP
照片:法新社
挑戰多元題材,希望開創歌仔戲新視野,一心戲劇團推出改編自歌德的文學名著《浮士德》的歌仔戲《狂魂》,述說一個和魔鬼簽訂契約的男人,獻出自己的靈魂和魔鬼交換二十四年隨心所欲的光陰。考慮到呈現方式殊異,該劇把西方追求人類知識與取代上帝的個人終極目標,改為對修道成仙的想望,劇情更有東方味。
和魔鬼簽訂契約的男人,逐漸變成一個瘋狂的人,由孫詩珮飾演,挑戰高難度的內心戲,也詮釋智慧老叟、修道人、深情男人與暴君。孫詩詠則同時扮演「魔鬼」與「天使」,利用表演快速轉換性格,在演技有很大的發揮空間。明華園小生孫翠鳳的千金陳昭婷擔任女主角梅蝶君,從活潑聰穎的公主慢慢的蛻變為成熟女人。三人私底下可是表姊妹,也讓外界看見歌仔戲的新生力軍。
明華園今天下午與明天在台北市城市舞台演出。
(自由時報記者趙靜瑜)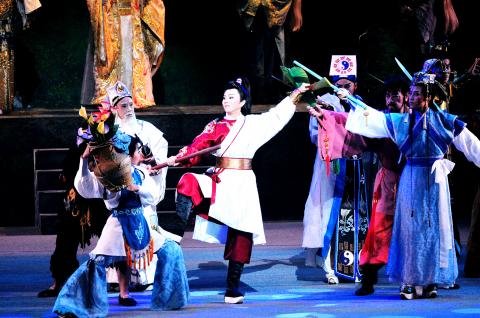 Performers from the Ming Hwa Yuan Arts & Cultural Group perform part of the Eight Immortal Fairies Series on July 11. 明華園總團七月十一日八仙傳奇系列。
Photo: Chen Chien-chih, Taipei Times
照片: 自由時報記者陳建志
Publication Notes
TODAY'S WORDS 今日單字
1. adapt v.
改編 (gai3 bian1)
例: The author of the novel asked the director if he would like to adapt his work into a play.
(小說作者問導演是否有意將他的作品改編成齣劇。)
2. represent v.
呈現 (cheng2 xian4)
例: Sometimes it is difficult to use words to represent the emotions that humans feel when listening to music.
(人聽音樂時的感受有時難以言表。)
3. plot n.
劇情 (ju4 qing2)
例: I found the plot banal and lacking any original thought.
(我覺得這個劇情陳腐,了無新意。)
Comments will be moderated. Keep comments relevant to the article. Remarks containing abusive and obscene language, personal attacks of any kind or promotion will be removed and the user banned. Final decision will be at the discretion of the Taipei Times.