Overweight people eat less often: study 體重過重者用餐次數較少
Overweight adults eat less often than people in the normal body weight range, but still take in more calories and are less active over the course of the day, according to a US study.
By contrast, normal weight adults, including those who had lost a lot of weight and kept it off, ate more often.
"Most of the research has shown that people who eat more frequently have a lower weight. But no one knows why," said lead researcher Jessica Bachman, an assistant professor in the department of Nutrition and Dietetics at Marywood University in Scranton, Pennsylvania.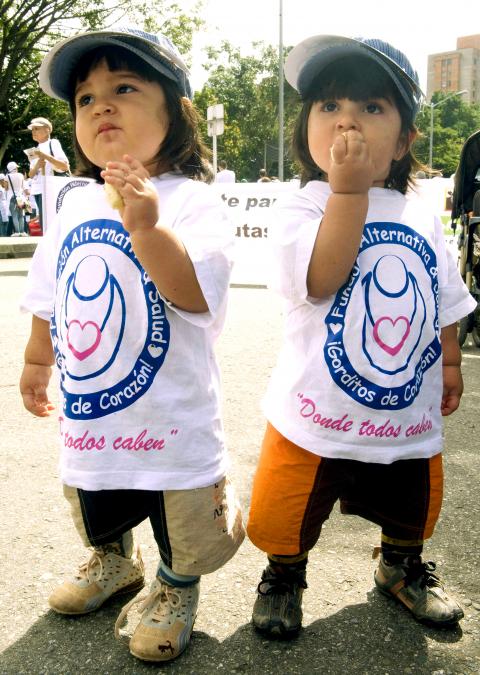 Colombian twins eat fruit during a march against infant obesity in Medellin, Antioquia department, Colombia on Sept. 24. 一對雙胞胎九月二十四日於哥倫比亞安蒂奧基亞省的麥德林,在防治嬰兒肥胖的遊行上,吃著水果。
Photo: AFP
照片:法新社
More than 60 percent of US residents are obese or overweight, but the relationship between the number of meals people eat each day and the ability to maintain weight loss has remained unclear, she said.
Bachman and her team followed about 250 people for a year, analyzing data collected in two large studies sponsored by the National Institutes of Health. One looked at the eating habits of people with a body mass index (BMI) between 25 to 47. On average, the normal weight subjects ate three meals and a little over two snacks each day, whereas the overweight group averaged three meals and just over one snack a day.
(Reuters)
根據美國研究,過重成年人的用餐次數,通常比體重在正常範圍的人少,但仍攝取較多卡路里,在一天中也較不活躍。
相較之下,正常體重的成年人,包括曾減去很多體重而且保持下去者,通常用餐次數較頻繁。
主要研究者、賓州斯克蘭頓的馬利伍德大學營養膳食學系助理教授潔西卡.巴克曼表示:「多數研究顯示,吃東西次數較頻繁者,體重較輕,但沒人知道為什麼。」
她說,美國超過六成居民過胖或過重,但還不清楚用餐次數與維持減重能力之間的關聯。
巴克曼與團隊追蹤約兩百五十人一年,分析從國家衛生研究院所贊助的兩份大型研究取得的數據,其中一份觀察身體質量指數(BMI)在二十五到四十七之間的人的飲食習慣。正常體重的樣本,平均每天吃三餐,吃兩份多一點的零食,過重族群則是平均每天三餐,外加一份多的零食。
(路透/翻譯:國際新聞中心)
Publication Notes
TODAY'S WORDS 今日單字
1. take in v. phr.
攝取;了解 (she4 qu3; liao2 jie3)
例: I had to read the letter twice before I could take it all in.
(這封信我讀兩次才完全了解意思。)
2. course n.
期間 (qi2 jian1)
例: During the course of the interview it became clear that he was not suitable for the job.
(面談過程中明顯看出他不適合這份工作。)
3. average v.
平均 (ping2 jun1)
例: Enquiries to our office average 1000 calls a month.
(打到我們辦公室的詢問電話,平均一個月一千通。)
Comments will be moderated. Keep comments relevant to the article. Remarks containing abusive and obscene language, personal attacks of any kind or promotion will be removed and the user banned. Final decision will be at the discretion of the Taipei Times.