Charges lifted for speeding to save friend's life 超速送友就醫 法官判免罰
Even though he saved his friend's life in the end, Peng Jung-kui was still issued a speeding ticket while rushing his friend to the hospital. The Banciao District Court was in a dilemma when they had to handle the case, but after weighing the pros and cons of Peng's actions, the judge eventually acquitted him because he believed Peng had no other option but to break the speed limit and that he had made a logical decision.
The incident occurred at 8:24pm on the night of July 2. When the 65-year-old Peng passed Shenkeng District's 106 Route and the Fu An Residence on his way to Taipei, the radar clocked him at 77kph at a section of road where the speed limit is 50kph; thus, he was 27kph over the speed limit, the fine of which is NT$1,600.
Peng said he did not think he should be charged, adding that his friend Liu had a worsening condition and Liu's mother was unable to take care of him. He had no choice but to drive his friend and his mother in his car because he was unaware of the exact state of his friend's condition, so he had to get to National Taiwan University Hospital as fast as possible.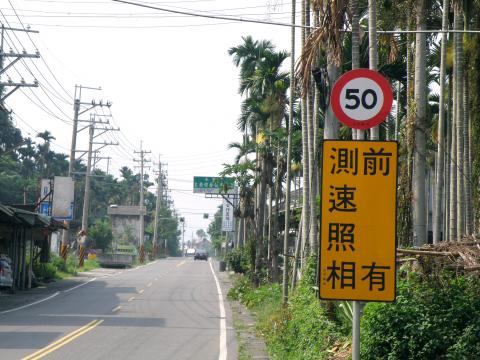 A roadside sign with a speed limit of 50kph is seen in this undated photo. 圖片為速限時速五十公里的時限牌。
Photo: Chen Hsin-jen, Taipei Times
照片:自由時報記者陳信仁
After Liu recovered, he went to court to testify for the man who saved his life, saying his mom indeed could not drive because she is already quite old – 76 years old. Therefore, Peng had to drive him to the hospital.
The hospital determined that Liu was suffering from low pituitary hormone levels. The judge therefore felt Peng's saving his friend's life outweighed the risks involved in neglecting traffic safety, and that in doing so he had acted in an emergency to avert life-threatening danger, which he felt had been necessary and proportionate. Therefore, Peng was acquitted in line with Article 13 of the Administrative Penalty Act as he was averting danger.
(LIBERTY TIMES, TRANSLATED BY KYLE JEFFCOAT)
男子彭榮貴為救友,超速急奔醫院,雖救了好友一命卻吃上罰單,板橋地院法官審理時也著實兩難,經兩相權衡,法官認為,彭某當時是不得已才違規超速,並做出合理的裁定,改為不罰彭某!
本案發生在七月二日晚間八時二十四分許,六十五歲的彭某開車行經深坑區一0六乙線與福安居旁往台北方向,被雷達測定其行車速度時速七十七公里,該道路速限為五十公里,已超過規定的最高時速二十七公里,處罰鍰新台幣一千六百元。
彭某喊冤指出,劉姓友人病情發作,劉母無法照顧,他只好與劉母等人將劉強壓上車,因不知道劉某病情如何,只能儘量開快一點,儘速抵達台大醫院。
劉某復元後也到法院替「救命恩人」作證指出,母親不會開車且已高齡七十六歲,才由彭某載送他去醫院。
醫院診斷劉某為腦下垂體功能低下;法官因而認為,彭某救助的生命、健康法益高於被犧牲的交通秩序法益,所實施的避難行為也符合必要性及相當性原則,故援用行政罰法第十三條緊急避難要件,不予處罰。
(自由時報記者王定傳)
Publication Notes
TODAY'S WORDS 今日單字
1. dilemma n.
兩難 (liang3 nan2)
例: I'm afraid life is rife with these sorts of dilemmas, but you must make a decision.
(人生恐怕是充斥著這類兩難的情形,不過你總得做個決定。)
2. acquit v.
免除 (mian3 chu2)
例:The suspect was eventually acquitted of all charges.
(最終嫌犯被免除所有罪名。)
3. testify v.
作證 (zuo4 zheng4)
例: We will need you to testify in court since you were a witness to the crime.
(因為你目睹該犯罪,我們將需要你到法庭作證。)
Comments will be moderated. Keep comments relevant to the article. Remarks containing abusive and obscene language, personal attacks of any kind or promotion will be removed and the user banned. Final decision will be at the discretion of the Taipei Times.