Hong Kong's pampered pooches take yoga classes 香港嬌狗 上瑜珈課沉澱心靈
Hong Kong's pampered canines may have their own spas complete with jacuzzis and massage, but it can still be difficult for a dog to find inner peace. Help is now at hand in the shape of yoga instructor Suzette Ackermann and her yoga class — for dogs.
Each Saturday morning in the city's Sheung Wan district, owners massage their pets before bringing them into postures such as the cobra pose, in which the hind legs are stretched out to the rear, as soothing music plays.
"You want to try and calm the dog down, so just touch along either side of the spine, then the rib cage, then the belly," Ackermann — a South African dance and yoga teacher who started the sessions a year ago — tells the class.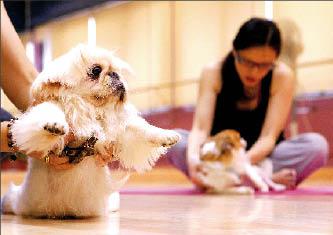 Snowball is put through a stretching exercise during a doga class at a studio in Hong Kong on Oct. 8. 雪球十月八日在香港的一處狗瑜珈教室,做出延展動作。
Photo: AFP
照片:法新社
She leads the class in tandem with her seven-year-old Pekinese, Snowball, who, Ackermann told AFP, has been her inspiration.
The one-eyed, utterly relaxed animal with fluffy white fur has become a local celebrity through dog yoga, and is often recognized in the street from her TV appearances.
"Snowball's like a Zen Buddha," Ackermann says. "She goes into all the poses ... She just doesn't care, which is perfect in the yoga sense that she has no ego, no attachment, she's just present."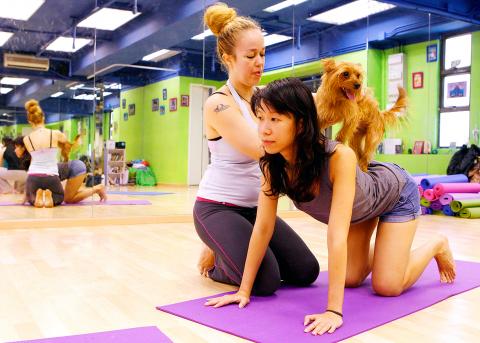 Yoga instructor Suzette Ackermann, left, assists Pauline Kang and Kopi during a doga class at a studio in Hong Kong on Oct. 8. 瑜珈教師蘇塞特‧艾克曼(左)十月八日在香港的一處狗瑜珈教室課堂上,協助學員寶琳‧康(音譯)。
Photo: AFP
照片:法新社
"When I practice [yoga] at home, she will just come up to the mat with me. She does it naturally."
Ackermann and Snowball have been doing yoga together at home for years, but the idea of teaching classes in dog yoga, or "doga," was suggested by a Japanese groomer at Pawette, the "deluxe pet boutique, salon and spa" that organizes the classes with Ackermann.
Doga has made inroads in pet-loving Japan, as well as in the US, where teachers Suzi Teitelman and Amy Stevens have both issued doga DVDs. But Ackermann has developed her own routine to suit her clients and their canine friends.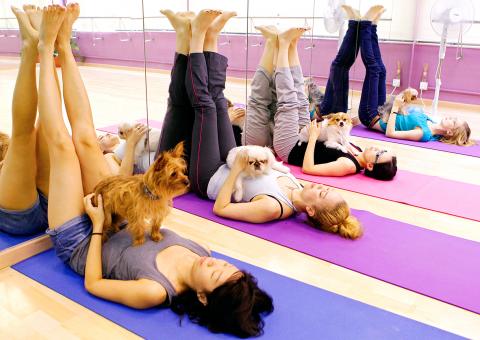 Yoga instructor Suzette Ackermann, second left, and students take part in a doga class at a studio in Hong Kong on Oct. 8. 瑜珈教師蘇塞特‧艾克曼(左二)十月八日,與學員一同在香港的一處狗瑜珈教室練習瑜珈。
Photo: AFP
照片:法新社
In standing stances such as the warrior pose, the owner holds the dog with one arm. "The smaller the dog, the easier," says Ackermann, whose class is aimed mainly at the toy dogs popular in overcrowded Hong Kong.
(AFP)
香港備受寵愛的狗兒們可能有專屬包含按摩浴缸與按摩的水療設備,但是這樣可能還不足以讓狗兒尋獲內心平靜。現在坊間已有幫助解決的方法,而這是由瑜珈教師蘇塞特‧艾克曼一手打造、專為狗兒設計的瑜珈課程。
飼主每週六上午帶家中狗兒到市區上環一帶的瑜珈教室,在跟隨放鬆身心音樂做出雙後腿向後方延展的眼鏡蛇式之前,先為他們的狗兒按摩。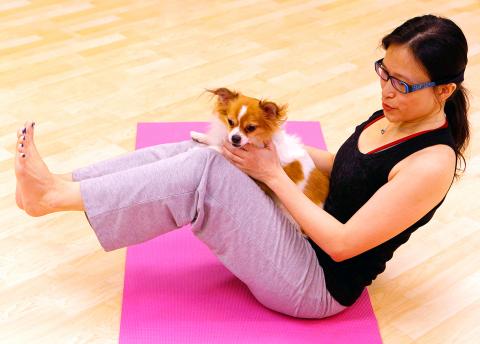 Jackie Lee and Sambucca take part in a doga class at a studio in Hong Kong on Oct. 8. 賈姬‧李與Sambucca十月八日在香港的一處狗瑜珈教室上課。
Photo: AFP
照片:法新社
艾克曼在課堂上告訴學員說:「你要試圖安撫這隻狗兒,就碰觸牠脊椎兩側,然後是肋骨部位,接下來是腹部。」艾克曼是一位南非舞與瑜珈教師,並在一年前開始教授狗瑜珈課程。
她與七歲大的北京狗愛犬雪球搭配,一起引導課程進行。她告訴法新社說,雪球一直都是鼓舞人心的狗兒。
這支獨眼且徹底放鬆的毛茸茸白毛動物,已因為狗瑜珈課程讓牠在電視媒體前曝光後,成為當地狗明星,經常在街上被認出。
艾克曼說:「雪球就好比一位具有禪性的佛陀。」她說:「牠做出所有的動作…牠就是無為,這也是瑜珈思想中完美的境界,牠沒有自我、沒有牽掛,而牠就是現在的牠。」
她說:「當我在家練習(瑜珈)時,牠就會湊合,與我一同到瑜珈墊上。牠很自然地這麼做。」
艾克曼與雪球已在家練習瑜珈多年,但是教授狗瑜珈的想法,則是由Pawette寵物美容店的一位日籍美容師所建議。這是一間「奢華的寵物用品、沙龍與水療的商店」,店內規劃有艾克曼的課程。
狗瑜珈在愛狗聞名的日本以及美國,已頗具規模。美國狗瑜珈老師蘇西‧泰特曼與艾米‧史蒂文斯都有發行狗瑜珈的DVD。而艾克曼則是為她的學員以及狗兒量身打造,發展出一套規律教材。
飼主以一隻手扶著愛犬,做出像是戰士式等站立姿勢。艾克曼表示:「體型愈小的狗兒,做起動作愈容易。」因此,她的課程主要是針對在香港暴增的玩具型狗兒所設計的。
(法新社/翻譯:林亞蒂)
Comments will be moderated. Keep comments relevant to the article. Remarks containing abusive and obscene language, personal attacks of any kind or promotion will be removed and the user banned. Final decision will be at the discretion of the Taipei Times.