In Chile, an iPad for every lawmaker 智利眾議員 人手一台iPad
Chile's Congress will bestow an iPad2 on each and every one of its 120 lower house lawmakers to improve their efficiency and remote access to legislative proceedings.
A four-member lower house panel on administration decided to hand out the high-selling Apple tablets "to support legislative operations," the daily La Segunda reported.
Speaker Patricio Melero said the goal was to make it possible for lawmakers to remotely access their work, do research and follow legislation.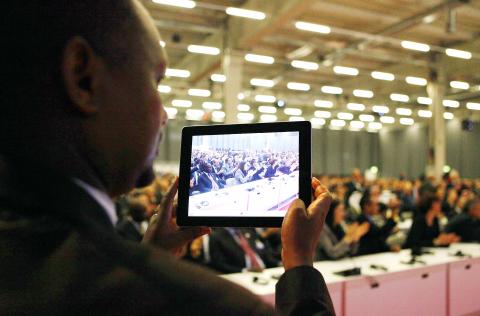 A man uses an iPad to film the opening ceremony of the 125th Assembly of the Inter-Parliamentary Union (IPU) in Bern, Switzerland on Oct. 16. 一位男子十月十六日在瑞士伯恩舉行的第一百二十五屆各國議會聯盟上,使用iPad錄影。
Photo: Reuters
照片:路透
But some lawmakers, who were asked to pick their iPad in black or white, had their doubts about whether they needed such a freebie.
"I think that our Congress absolutely should invest our money as best we can. People who want to get one of these things should get it with their own money. We make enough," said legislator Rene Alinco.
Legislators are supposed to turn in their iPads when their terms end.
(AFP)
智利國會將給予眾議院一百二十位議員,每人一台iPad2,讓議員們便於遠距參與議院會議,以及改善他們的工作效率。
《第二日報》報導,眾議院四人監督小組為了「維持立法運作」,決定發放蘋果熱賣的平板電腦。
眾議院長派翠奇歐‧梅勒羅表示,此舉是要讓議員們從遠端也能處理公務、執行研究,以及跟上立法進度。
但被通知選擇白色還是黑色iPad的部分議員們,則對於他們是否需要這個免費好康,提出質疑。
議員雷內‧阿林克表示:「我認為國會絕對有必要將金錢做最有效的投資。想要這些東西的人應該要自掏腰包購買。我們所得是買得起的。」
議員任期結束後應當將iPad歸還。
(法新社/翻譯:林亞蒂)
Publication Notes
TODAY'S WORDS 今日單字
1. bestow v.
給予 (ge2 yu3)
例: The director bestowed all of the awards upon the winners of each category before toasting everyone.
(該導演在舉杯祝賀前,將所有獎項給予每個獎項的得獎者。)
2. efficiency n.
效率 (xiao4 lu4)
例: Companies use computer software to boost their business' efficiency.
(公司用電腦軟體提升營業效率。)
3. freebie n.
免費好康 (mian3 fei4 hao3 kang1)
例: Why are you paying? This was supposed to be a freebie.
(你為何付錢?這理應是免費好康。)
Comments will be moderated. Keep comments relevant to the article. Remarks containing abusive and obscene language, personal attacks of any kind or promotion will be removed and the user banned. Final decision will be at the discretion of the Taipei Times.