Summer or Winter, Green Island is the Best Holiday Resort 觀光綠島 冬夏皆宜
Green Island is a vacation Mecca for many Taiwanese. It perennially fascinates the visitors who go there and makes them want to stay forever. Joyce, Serena and Tania are three close friends who had all previously fallen in love with the island. They decided to spend both New Year's Eve and the Mid-Autumn Festival together there.
Taitung is a mandatory transit stop on your way to Green Island. From there you can either choose to take a plane or jump on a boat. Although Tania loves traveling by boat, she suggests taking a plane. She said "The winds and waves on the ocean are very strong in the winter, so taking a boat feels a bit like being on a roller coaster. People get seasick very easily. There was one boy who used a vomit bag every 10 minutes. Both Joyce and Serena got seasick as well."
Tania said Green Island is about the size of one's palm when you look down at it from the plane, and riding slowly on a motorcycle around the island only takes half an hour. Picturesque views can be seen around the island all along its coast.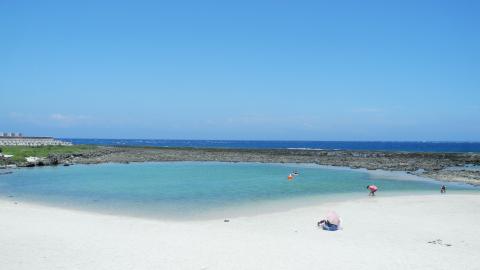 A white sand beach aside of the American-built light house in Green Island. 綠島上美國人建造燈塔旁邊的白色沙灘。
Photo: courtesy of Tania
照片:Tania提供
There are three things a person visiting Green Island must experience and should not miss for anything. The most indelible experiences for these three ladies was the taste of algae which is customarily added to so many foods there, the sensation of dipping their toes in the Jhaorih Hot Springs, and the stunning view of the white shell beach. Algae is a natural food that grows in the ocean around Green Island. It can be added to fried eggs, pancakes and shaved ice, which is enjoyed by many in the summer months.
Serena, who loves shaved ice, said she likes the Jhaorih Hot Springs the most. The hot springs face the Pacific Ocean to the east, hence called "jhaorih" in Chinese, which means "rising sun." The water in the hot springs is clear, while the average temperature of the water is 53 degrees Celsius. The water at the exit of the hot spring, however, gets as hot as 90 degrees Celsius.
This trio of friends recommends the white shell beach the most, where all you see is white. Shells and corals form the beach. Green Island is the result of volcanic activity; thus, there are not any sandy beaches. Tania said there are too many interesting things to do there, but she mostly regrets not having enough time for snorkeling. But then again there is always next time.
(By Taijing Wu, Taipei Times)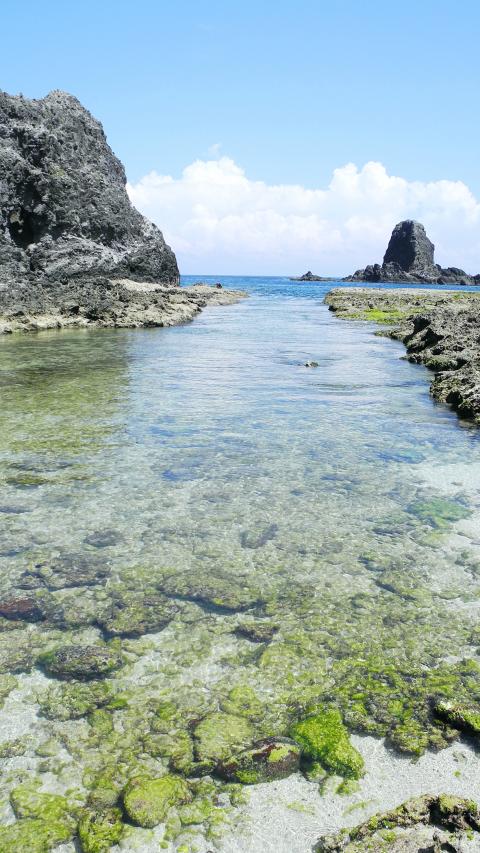 A view over Youzi Lake of Green Island. 綠島柚子湖一景。
Photo: courtesy of Tania
照片:Tania提供
綠島是許多台灣人熟悉的渡假勝地。無論冬天或夏天,綠島總有令人著迷之處,使人流連忘返。今年一月跨年與九月中秋假期,愛上綠島的Joyce,Serena與Tania三位好友,便利用機會在綠島享受歡樂時光。
台東是到達綠島的前哨站,從那邊可以選擇坐飛機或搭船。雖然Tania喜歡搭船旅遊,但她建議搭飛機。她說:「冬天海上風浪大,在船上有如坐雲霄飛車,非常容易暈船。有個小男生每隔十分鐘就拿一個新的嘔吐袋用。Joyce跟Serena也未倖免。」
Tania說,從飛機上往下看,綠島只有手掌大,坐著機車慢慢的騎,繞行一圈只要半個小時,不過沿著海岸的每個角度,都看得到漂亮的風景。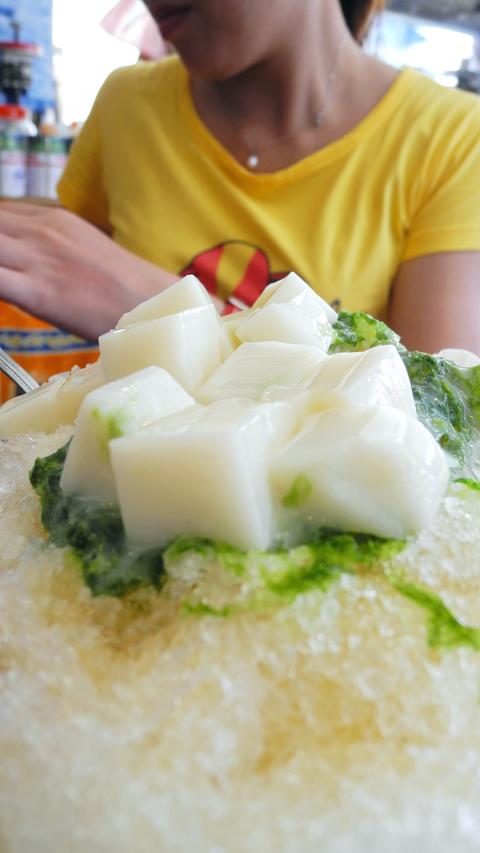 A plate of shaved ice with almond tofu and algae. 一盤杏仁豆腐海藻刨冰。
Photo: courtesy of Tania
照片:Tania提供
在綠島有三個新體驗,是任何來玩的人不可錯過的。讓這三位女生印象最深刻的,莫過於海藻製品食物的滋味、腳趾浸入朝日溫泉的開心,以及大白沙貝殼海灘的美不勝收。海藻是綠島附近海底摘取的天然食物,可以加在煎蛋、煎餅,還有夏天人人愛吃的刨冰。
朝日溫泉則是最愛吃刨冰的Serena最喜歡的地方。因為面向太平洋朝向東方,因此得名朝日溫泉。溫泉的水質透明,溫度約攝氏五十三度,但是湧出口的水溫可達攝氏九十度。
綠島是因火山的活動形成的,原應沒有沙灘。但三位女生最推薦的,就是望眼潔白的大白沙海灘,這是由貝殼跟珊瑚沖刷成的一個海岸。Tania說,綠島有太多好玩的事情可以做,這次最遺憾的就是沒有時間浮潛,只能等到下次來才能體驗。
(台北時報記者吳岱璟)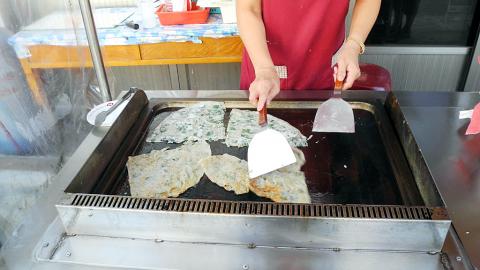 A vendor makes rice omelet added with algae. 一個攤販正在煎芡粿。
Photo: courtesy of Tania
照片:Tania提供
Comments will be moderated. Keep comments relevant to the article. Remarks containing abusive and obscene language, personal attacks of any kind or promotion will be removed and the user banned. Final decision will be at the discretion of the Taipei Times.