Belgium officials ordered to clock in and out for smoke 比利時政府令員工抽菸要打卡扣薪
Trade unions Monday kicked up a storm in Belgium over a rule ordering 10,000 French-speaking civil servants to clock out whenever they stop work for a smoke, with each minute sliced off their wages.
"The rule is that when you go out or come back into a building you clock in," Hugo Poliart, the spokesman for the administration of the French-speaking Wallonia region, told AFP.
But unions say the rule discriminated against smokers.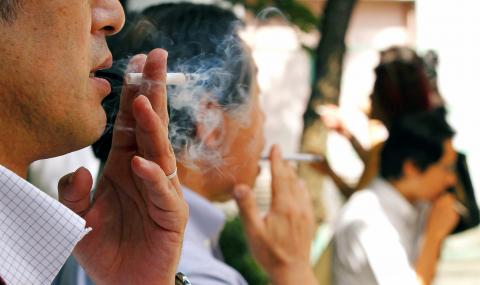 People smoke cigarettes at a smoking area in Tokyo on Sept. 16. 民眾九月十六日在東京的一處吸菸區抽菸。
Photo: Reuters
照片:路透
The order dates back to 2009 but has resurfaced following a request for clarification from one of Wallonia's 400 administrative centers, in charge notably of transport and the environment.
Poliart said it did not target smokers, but anyone leaving the premises, such as "a person who's gone out to buy an apple."
"This stigmatizes smokers, and doesn't help combat smoking," said trade unionist Xavier Lorent in the daily Le Soir. "Will they next start harassing people who go out for a coffee or to the toilet?"
(AFP)
比利時工會組織週一對於一項要求一萬名法語區公務員,在丟下手邊工作抽菸時要打卡刷退的規定,抱怨連連,而且根據這項規定,外出每一分鐘都會扣薪。
說法語的瓦隆尼亞區政府發言人雨果‧波里亞告訴法新社說:「該規定就是當你外出或回到辦公大樓時都要打卡。」
但是工會組織說這項規定歧視吸菸者。
這項政令可追溯到二○○九年,在瓦隆尼亞四百個其中有一個負責交通與環境衛生的行政中心,提出法令解釋的要求後,這項政令又再度浮上檯面。
波里亞說,此政令並非衝著吸菸者來,同樣適用於像是「到外頭買一粒蘋果的人」,以及任何離開辦公室的人。
工會會員賽維爾‧羅杭在每晚出刊的《大晚報》上表示:「此舉使吸菸者蒙羞,且無助戒菸。」他表示:「他們下一步該不會是開始騷擾出去買杯咖啡或是去上廁所的員工吧?」
(法新社/翻譯:林亞蒂)
Publication Notes
TODAY'S WORDS 今日單字
1. kick up a storm idiom
抱怨連連 (bao4 yuan4 lian2 lian2)
例: The customer kicked up such a storm that the manager gave him the meal on the house.
(該顧客抱怨連連,店裡經理同意給他餐點免費的優惠。)
2. discriminate against v. phr.
歧視 (qi2 shi4)
例: Many companies discriminate against people with disabilities.
(許多公司歧視殘障人士。)
3. stigmatize v.
使…蒙羞 (shi3...meng2 xiu1)
例: Shouldn't the legal system work to rehabilitate criminals instead of stigmatizing them?
(法律系統不是應該用來改造罪犯,而非使他們蒙羞?)
Comments will be moderated. Keep comments relevant to the article. Remarks containing abusive and obscene language, personal attacks of any kind or promotion will be removed and the user banned. Final decision will be at the discretion of the Taipei Times.