Customer leaves one million NT dollars in taxi 搭小黃掉一百萬現鈔 三天後物歸原主
Hsieh Kuan-wei borrowed a million NT dollars from his company to pay off his credit card debt. But when he got out of a taxi on Aug. 30, he left the money inside the car. The driver was notified, but could not find it. It was not until he was washing his car on Sept. 2 that he suddenly found the bag of cash under the driver's seat. With the help of the taxi company and the police, he managed to return the money to its rightful owner, much to the delight of Hsieh.
The driver who found the bag of cash, Ku Cheng-teh, works for Taiwan Taxi Co. Hsieh initially wanted to give Ku, the taxi company and the police NT$200,000 to show his gratitude, but none of them would accept the gesture. Hsieh said he now feels as though he has found NT$800,000, and would like to donate NT$200,000 to public welfare groups in order to help more people.
The police said that Hsieh had gone to New Taipei City to withdraw NT$1,000,000 from a Cosmos Bank on Aug. 30. At around 7pm that day he got into Ku's cab at the intersection of Jinshan North Road and Bade Road in Taipei City. When he alighted from the taxi at Songzhi Road in Taipei, he was busy talking on his mobile phone and forgot to take the paper bag. Hsieh immediately alerted the police after he realized he had forgotten the money.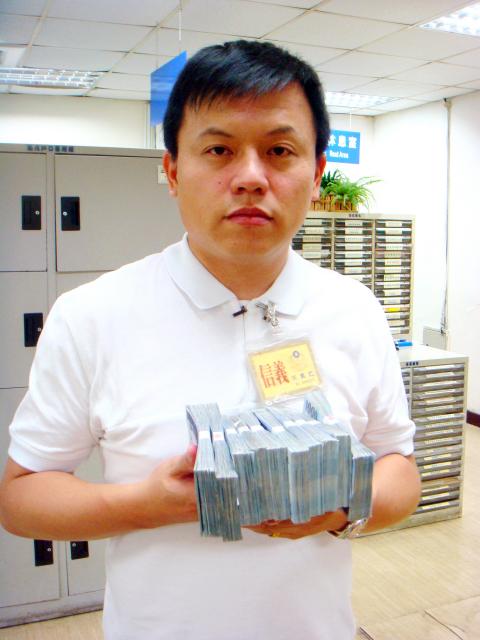 Hsieh Kuan-wei holds the one million NT dollars he left in a taxi on Sept. 2. 謝寬緯九月二日拿著遺失計程車失而復得的新台幣一百萬元。
Photo: Chiu Chun-fu, Taipei Times照片:自由時報記者邱俊福
After the police were notified, they found the driver by contacting the taxi company; however, the driver told them he did not see the bag, and supposed that another customer probably took it. After the driver found the bag under the driver's seat when he was washing his car, he told his company and immediately took it to the police station.
(Liberty Times, Translated by Taijing Wu)
謝寬緯向公司借款新台幣一百萬元還卡債,八月三十日晚間卻掉在計程車內,司機接獲通知未找到現金,但於九月二日洗車時,赫見現金袋掉在駕駛座下,透過計程車公司及警方物歸原主,讓謝某欣喜若狂。
拾獲的司機古成德在台灣大車隊服務,謝某原本欲致贈新台幣二十萬元對古某、車隊及警方表示感謝,但都被婉拒;他說,現在的心情好像是撿到新台幣八十萬元,他要把新台幣二十萬元捐給公益團體,救助更多的人。
警方說,謝某八月三十日赴新北市萬泰銀行提領新台幣一百萬元現金。晚間七時許於台北市金山北路、八德路口攔搭古某的計程車。在台北市松智路下車時邊講手機,便將紙袋遺忘車內,發現後立即報案。
警方獲報,透過車隊找到司機,但當時他回應沒有見到該紙袋,認為可能被其他乘客取走。九月二日上午古某洗車時,於駕駛座下赫見該紙袋,馬上通報公司,並送至派出所。
(自由時報記者邱俊福、蔡偉祺)
Publication Notes
TODAY'S WORDS 今日單字
1. delight n.
欣喜 (xin1 xi3)
例: It was such a delight seeing you here.
(在這裡看到妳我很欣喜。)
2. gratitude n.
感謝 (gan3 xie4)
例: Please accept this as a token of my gratitude.
(請接受以此代表的感謝。)
3. realize v.
發現 (fa1 xian4)
例: She didn't realize he was standing there until he suddenly coughed.
(直到他咳了一下,她並未發現他就站在旁邊。)
Comments will be moderated. Keep comments relevant to the article. Remarks containing abusive and obscene language, personal attacks of any kind or promotion will be removed and the user banned. Final decision will be at the discretion of the Taipei Times.