Smoking orangutan goes cold turkey in Malaysia 馬來西亞紅毛猩猩被下戒菸最後通牒
An orangutan that amused visitors to her Malaysian zoo by smoking cigarette butts thrown into her cage is being forced to go cold turkey, a keeper said last Monday.
Authorities seized the orangutan, named Shirley, along with a tiger and other animals from a state-run zoo in Johor Bahru two weeks ago after they were found to have been kept in poor conditions.
Shirley, believed to be more than 20 years old, has been transferred to Malacca Zoo where she will be forced to kick the habit, said the institution's director Ahmad Azhar Mohammed.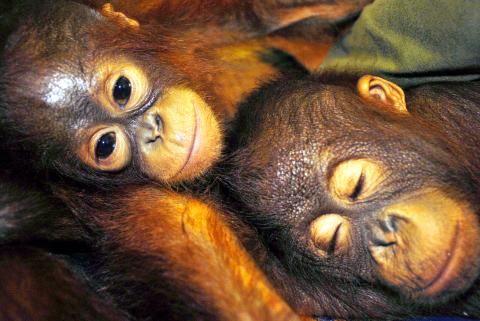 Orangutans rest in Palangkaraya in the province of Central Kalimantan, Indonesia in May 2007. 紅毛猩猩二OO七年五月在印尼加里曼丹省中部的帕朗卡拉雅休息。
Photo: Reuters
照片:路透
"When we brought Shirley here, she is just like a normal orangutan... But orangutans are very smart animals. They will follow what people do," he told AFP.
He said "irresponsible visitors" would throw lit cigarette butts into Shirley's cage at the Johor Zoo, which she would pick up and smoke.
Ahmad Azhar said Shirley was expected to stay at the Malacca Zoo for about a month before being transferred to a rehabilitation center in Sarawak state on Borneo island, where orangutans still live in the wild.
Malaysia has pledged to better protect animals from abuse and illegal trade, which critics say still flourishes in the Southeast Asian country.
Earlier this month, police rescued about 300 cats from a pet-boarding business after its operators left them without adequate food and water and in filthy cages for days.
(AFP)
馬來西亞動物園管理員上週一表示,因園內一隻紅毛猩猩會抽人們丟進籠內的菸蒂,而為園內遊客津津樂道,但這回牠已被強制要徹底戒菸。
當局兩週前在柔佛巴魯的國營新山動物園內,發現這隻名為雪莉的紅毛猩猩,以及一隻老虎與其他動物,被圈養在惡劣的環境後,將牠們捉住。
該機構負責人阿瑪德‧阿札‧穆罕默德表示,年齡估算超過二十歲的雪莉,已被送往馬拉加動物園,牠將在那裡被強制戒菸。
他告訴法新社說:「當我們帶雪莉至此時,牠就與一隻正常的紅毛猩猩沒兩樣…但紅毛猩猩是很聰明的動物。牠們會模仿人類的所作所為。」
他說「不守園區規則的遊客」會把還在燃燒的菸蒂,丟到雪莉在新山動物園的籠內,因而養成牠抽菸的習慣。
阿瑪德‧阿札說,在雪莉於馬拉加動物園住約一個月後,牠將被轉介到婆羅洲沙拉瓦克的一處勒戒所,當地紅毛猩猩仍住在野外。
馬來西亞已保證要給受虐與淪為非法交易品的動物更好的保護,但當地評論者表示,非法交易仍猖獗於東南亞國家。
本月初,警方調查一間留貓咪在店內不聞不問數日的寵物住宿業者,並救出大約三百隻生活在骯髒籠內且無足夠食物及水的貓咪。
(法新社/翻譯:林亞蒂)
Publication Notes
TODAY'S WORDS 今日單字
1. cold turkey adv.
徹底戒除 (che4 di3 jie4 chu2)
例: She quit drinking cold turkey.
(她徹底戒酒。)
2. adequate adj.
足夠的 (zu2 gou4 de5)
例: Make sure you take an adequate amount of water with you when you go trekking across the desert.
(在你橫越沙漠時,確保攜帶足夠的水。)
3. filthy adj.
骯髒的 (ang1 zang1 de5)
例: Your room is so filthy. Clean it up at once!
(你的房間真是骯髒。馬上把它清乾淨!)
Comments will be moderated. Keep comments relevant to the article. Remarks containing abusive and obscene language, personal attacks of any kind or promotion will be removed and the user banned. Final decision will be at the discretion of the Taipei Times.