Exercising 15 minutes a day adds three years to life 每天運動十五分鐘 能多活三年
Exercising for 15 minutes a day adds three years to a person's life expectancy, according to the first study to show there's a health benefit from even low levels of physical activity.
In a study involving more than 400,000 people, those who exercised for 90 minutes a week were also 14 percent less likely to have died after eight years than those who were inactive, researchers at Taiwan's National Health Research Institutes (NHRI) wrote in The Lancet medical journal last Tuesday. Every extra 15 minutes of exercise reduced the risk by a further 4 percent.
The WHO recommends adults aged 18 to 64 years exercise for at least 150 minutes a week. While one-third of American adults meet that goal, less than one-fifth of the population in East Asian nations such as China, Japan and Taiwan do, the authors wrote. The study shows that even a small amount of exercise can lower an individual's risk of death and disease, and a nation's health costs, they said.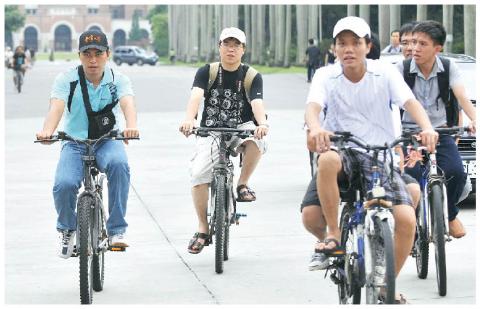 Students ride bicycles on campus at National Taiwan University in Taipei last Monday. 學生上週一在台灣大學校區騎乘腳踏車。
Photo: AFP
照片:法新社
"This advice is very simple and probably easily achievable," Anil Nigam and Martin Juneau, researchers at the Montreal Heart Institute, wrote in an editorial accompanying the study. "Governments and health professionals both have major roles to play to spread this good news story and convince people of the importance of being at least minimally active."
Researchers led by Wen Chi-pang at Taiwan's Institute of Population Science studied 416,175 healthy volunteers aged 20 years or older who participated in a medical screening program in Taipei from 1996 to 2008, with an average follow-up of eight years. Participants were classed in one of five categories of exercise, from "inactive" to "very high" activity.
More than half of all participants were classed as "inactive," and a further 22 percent as "low volume" active. Compared with the inactive group, those in the "low volume" category had a 14 percent reduction in their risk of death over the course of the study, Wen and colleagues wrote. At age 30, they also had a life expectancy that was 2.6 years longer for men and 3.1 years longer for women.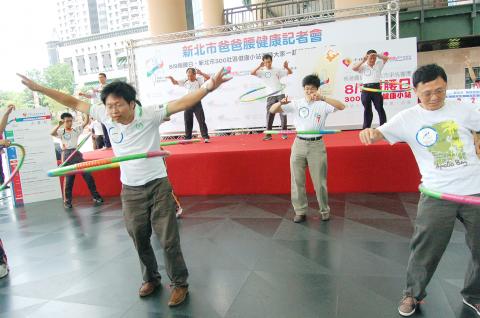 Participants play with hula hoops at an event organized by New Taipei City's Public Health Department calling on the public to control their waistlines on Aug. 8. 民眾八月八日參加新北市衛生局主辦的搖呼拉圈活動,呼籲大眾保持健康的腰圍。
Photo: He Yu-hua, Liberty Times
照片:自由時報記者何玉華
Every extra 15 minutes of exercise reduced the risk by an additional 4 percent up to 100 minutes a day, after which there was no additional benefit. The reduction was as high as 40 percent for those who exercised most often and most vigorously.
"If the minimum amount of exercise we suggest is adhered to, mortality from heart disease, diabetes, and cancer could be reduced," Wen and colleagues wrote. "This low volume of physical activity could play a central part in the global war against non-communicable diseases, reducing medical costs and health disparities."
The study was funded by Taiwan's Department of Health, the Clinical Trial and Research Center of Excellence and the NHRI.
(BLOOMBERG)
根據首度發現即使少量體能運動也能對健康有益的研究,每天運動十五分鐘,每人平均壽命就能增加三年。
台灣國家衛生研究院上周二在《刺胳針》醫學期刊上寫道,四十萬名參加此研究的受試者中,每週運動九十分鐘比沒有運動的受試者,多出百分之十四的機率,較不易在八年後死亡。
研究者指出,世界衛生組織建議十八歲至六十四歲的成年人,每週至少要運動一百五十分鐘。美國成年人有三分之一達到這個目標,但中國、日本、台灣等東亞國家則不到五分之一的人有做到。他們說,研究顯示即使是少量運動,也能降低個人死亡與罹患疾病的風險,並且減少國家醫療開銷。
蒙特婁心臟醫學研究中心研究員艾尼爾‧尼戈姆與馬丁‧朱諾在該研究的評論上寫道:「此忠告非常簡單,且有可能易於達成。」他說:「政府與醫療專家皆有重要角色要扮演,就是散播這項有益的新聞消息,並且說服民眾多少也要稍微運動一下的重要。」
溫啟邦帶領台灣群體健康科學研究所研究員,在一九九六年至二00八年於台北進行的一項醫療檢測計畫中,研究四十一萬六千一百七十五名年齡大於二十歲的自願受試者,平均每人追蹤三年。受試者被分到從「不活動」到「非常大量」活動等五個運動等級。
溫與其同事寫道,一半以上的受試者皆被歸入「不活動」組,而另外有百分之二十二的受試者是「低量」活動組。相較於「不活動」組,「低量」活動組在全程研究中,死亡危險減少百分之十四。而三十歲的受試者中,男性能多活二點六年,而女性則是三點一年。
只要多十五分鐘的運動,並且一天不超過一百分鐘,就能額外降低百分之四的風險。對於做最大量與最激烈運動的受試者,風險的降幅能達百分之四十。
溫與其同事寫道:「若遵照我們建議進行最少量運動,心臟病、糖尿病與癌症的死亡率就可能降低。」他們寫道:「低量的體能運動,可能在世界對抗非傳染性疾病、減少醫療支出與消弭健康差距上,扮演一個重要的角色。」
這項研究經費來自台灣衛生署、國家級卓越臨床試驗與研究中心,以及國家衛生研究院的補助。
(彭博社/翻譯:林亞蒂)
Publication Notes
TODAY'S WORDS 今日單字
1. vigorously adv.
激烈地 (ji1 lie4 de5)
例: He defended himself so vigorously that I had to believe him.
(他如此激烈地自我辯護,讓我必須相信他。)
2. adhere to v.
遵照 (zun1 chao4)
例: The government is fining manufacturers for not adhering to regulations.
(政府正對未能遵照規定的製造商開罰。)
3. disparity n.
差距 (cha1 ju4)
例: Tax exemptions for the rich only exacerbate the economic disparity between the rich and the poor.
(給富人免稅只會加大經濟上的貧富差距。)
Comments will be moderated. Keep comments relevant to the article. Remarks containing abusive and obscene language, personal attacks of any kind or promotion will be removed and the user banned. Final decision will be at the discretion of the Taipei Times.