7.3kg Texas baby breaks hospital weight record 逾七公斤重量級寶寶誕生 破德州醫院紀錄
A newborn who tipped the scales at more than 7.3kg broke the local hospital's weight records in Longview, Texas, press reported last Monday.
The baby boy, named JaMichael, delivered by Caesarean section to parents Janet Johnson and Michael Brown on July 8, exceeded doctors' weight predictions by some 1.8kg.
"We're just amazed," Johnson told the Longview News-Journal.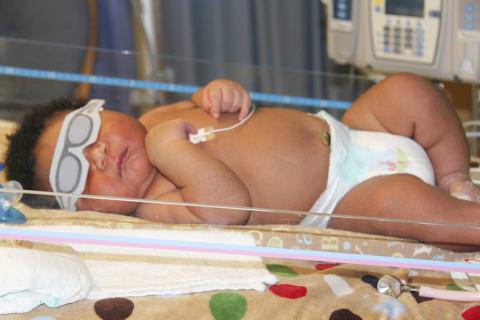 Newborn JaMichael Brown lays in Good Shepherd Medical Center in Longview, Texas in this handout photo released to Reuters last Monday. 這張上週一提供給路透的照片,是新生兒賈麥可‧布朗,躺在德州遠野善牧醫學中心。
Photo: Reuters
照片:路透
"I can't believe he's that big. A lot of the baby clothes we bought for him will have to be returned. They're already too small for him to wear."
The hospital also had trouble outfitting such a large baby: the newborn nursery did not have diapers big enough to fit him, the mother said.
According to local news reports, Johnson suffered from gestational diabetes during her pregnancy, which contributed to her baby's large size.
The condition causes a pregnant woman to become resistant to her body's own insulin and to pass higher than normal amounts of sugar to her baby, who stores the extra calories as fat.
JaMichael reportedly will be spending his first few days of life in the Neonatal Intensive Care Unit to regulate his blood sugar.
(AFP)
根據媒體報導,德州遠野一名重量超過七點三公斤的新生兒,創下當地醫院新生兒體重最重的紀錄。
名為賈麥可的男寶寶,父母為是麥可‧布朗與珍妮‧強森,七月八日經由母親剖腹產呱呱墜地,出生體重比醫師預期的還重一點八公斤。
強森告訴《遠野新聞報》說:「我們簡直難以置信。」
她表示:「我不敢相信他竟然如此巨大。我們之前買給他穿的許多嬰兒服,都得退貨,因為些衣服都太小,他根本穿不下。」
男嬰母親說,院方對於提供合適衣物給如此巨大的寶寶,也大傷腦筋:例如新生兒室就沒有夠大的尿布讓他穿。
據當地媒體報導,強生懷孕時罹患妊娠糖尿病,因此促成他產下巨嬰。
妊娠糖尿病造成孕婦出現自體胰島素的抗阻性,母體透過臍帶輸送比正常值更高的糖分給胎兒,而胎兒則將這些額外的熱量轉化為脂肪。
據報導,賈麥可出生後的頭幾天,會留在新生兒加護病房,以控制其血糖。
(法新社/翻譯:林亞蒂)
Publication Notes
TODAY'S WORDS 今日單字
1. deliver v.
接生 (jie1 sheng1)
例: The doctor delivered the baby.
(醫師接生這名嬰兒。)
2. contribute to v. phr.
促成 (cu4 cheng2)
例: The disease contributed to her early death, but was definitely not the only cause.
(此病促成她早逝,不過此非造成她死亡的唯一原因。)
3. regulate v.
控制 (kong4 zhi4)
例: He takes blood pressure medicine to regulate his blood pressure.
(他服用降血壓藥控制血壓。)
Comments will be moderated. Keep comments relevant to the article. Remarks containing abusive and obscene language, personal attacks of any kind or promotion will be removed and the user banned. Final decision will be at the discretion of the Taipei Times.