'Wife-carrying' champion wins again 芬蘭搭檔「扛老婆」障礙賽三連霸
A Finnish pair have won the country's annual wife-carrying competition for the third year in a row, organizers said on Saturday.
Taisto Miettinen and Kristiina Haapanen defended their title in front of 6,500 spectators who turned out to watch the celebrated event in Sonkajarvi.
The 46-year-old lawyer, his partner's legs wrapped around his head, sprinted 253m, leaping hurdles and negotiating a water pool along the way, all in a time of one minute.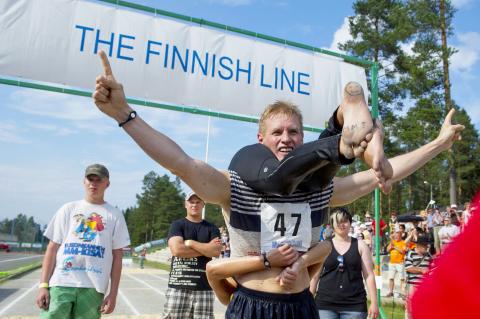 Winners for the third time in a row Taisto Miettinen and Kristina Haapanen of Finland at the finish line of the 16th Wife Carrying World Championship in Sonkajaervi, Finland on Saturday. 三連冠芬蘭搭檔泰斯托‧米耶第寧與克里斯提娜‧哈帕寧,上週六在芬蘭桑卡耶爾維鎮舉辦的第十六屆「扛老婆」比賽中,抵達終點。
Photo: EPA
照片:歐新社
The competition has its roots in the legend of local bandit Herkko Rosvo-Ronkainen who lived in the forest at the end of the 19th century and stole food — and sometimes girls — from nearby villages.
"The course was trickier this year due to the water obstacle, which was deeper," said Miettinen in a telephone call.
"The weather conditions were also particularly tough, 30 degrees Celsius is too much for me," he said.
The secret of his success? Miettinen, who has taken part in the competition 13 times, likes to practice the course wearing ski boots to build up his leg muscles.
He and his "wife" — for Haapanen is just a friend — are the first pair in the event's 16-year history to win three times in a row.
This year 47 couples from 10 different countries took part, with Israel, Russia and the US among the countries represented.
(AFP)
芬蘭「扛老婆」比賽主辦單位表示,一對來自芬蘭的搭檔,連續三年,贏得一年一度的「扛老婆」比賽冠軍。
泰斯托‧米耶第寧與克里斯提娜‧哈帕寧,在六千五百名桑卡耶爾維鎮觀眾的見證下,三度奪冠。
這位四十六歲律師,扛著雙腳纏繞其頭部的伴侶,在一分鐘內,奮力跑了兩百五十三公尺,不僅跳越障礙物,還在途中成功越過水池。
比賽起源於十九世界末,傳說當時有一名森林土匪Herkko Rosvo-Ronkainen,除了會從鄰村偷取食物外,有時還會「抱走」一些女孩。
米耶第寧接受電話訪問時表示,「今年的比賽較為棘手,因為水池障礙的水深較往年深。」
他說,「氣候環境也格外令人難耐,攝氏三十度對我來說太熱了。」
到底米耶第寧奪冠的秘訣是啥?已十三次參加此賽事的米耶第寧,喜愛穿著滑雪靴做練習,如此一來可以增加腿部的肌肉。
他與其實只是朋友的「妻子」配對,是該比賽舉辦十六年來,首度奪得三連冠的搭檔。
今年有來自以色列、俄羅斯與美國等十個不同國家的四十七對伴侶參賽。
(法新社/翻譯:林亞蒂)
Publication Notes
TODAY'S WORDS 今日單字
1. spectators n.
觀眾 (guan1 zhong4)
例: Organizers expect more than 10,000 spectators at the annual Fourth of July parade this year.
(主辦單位預期今年美國國慶日,將有一萬以上的觀眾。)
2. bandit n.
土匪 (tu2 fei3)
例: Bandits raided the house last night, terrorizing the family living there as they ransacked the place.
(土匪昨晚突襲這房子,當他們洗劫家中財物時,恐嚇這棟房子的家庭成員。)
3. tough adj.
艱難的 (jian1 nan2 de5)
例: The test was really tough this time. I should have studied more.
(這回考試真是難。我考前應該再多用功點。)
Comments will be moderated. Keep comments relevant to the article. Remarks containing abusive and obscene language, personal attacks of any kind or promotion will be removed and the user banned. Final decision will be at the discretion of the Taipei Times.