In NY, gay marriage law brings wedding plans 紐約州同志結婚合法 預期湧現結婚潮
It was a weekend of proposals, wedding plans and earnest thanks. The hard-won right to same-sex marriage in New York state gave way to joyous thoughts of trips down the aisle becoming a reality, not just a dream, for many thousands of gay couples.
"New York has sent a message to the nation," Gov. Andrew Cuomo said on June 26 before the colorful extravaganza that is New York City's annual gay pride parade. "It is time for marriage equality."
When Cuomo signed the gay marriage bill on June 24, New York became the sixth and largest state in the US to legalize gay marriage, reinvigorating the national gay rights movement that had stalled over a nearly identical bill in New York two years ago. The 33-29 vote by the state Senate followed days of contentious negotiations, the courting of undecided Republicans and opposition from influential religious groups. The law is set to take effect on July 24.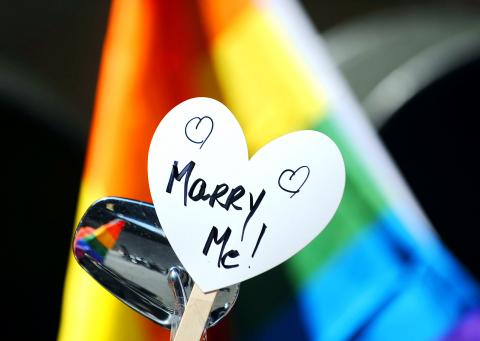 A sign reading "marry me" on a motorcycle during the New York City gay pride march on June 26. 一個在摩托車上「嫁給我」的標示,是六月二十六日紐約市同志大遊行上的一景。
Photo: AFP
照片:法新社
"We've been waiting to get married in Central Park for years, and now we got here just in time for history to be made," said Bryce Croft of Kettering, Ohio, who attended the parade festivities with her partner, Stephanie Croft.
The two women are not yet legally married although they share the same name, and they are in the process of moving to New York and getting married. They were in a Manhattan restaurant late Friday when they learned that the bill had passed.
"We cried over dinner, right into the mozzarella sticks," Stephanie Croft said, adding that they had already selected a spot in Central Park — the boulder she had marked with Bryce's name two years ago.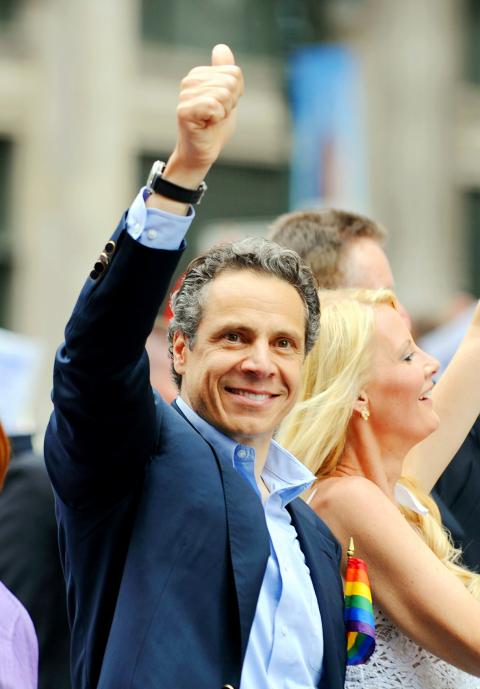 New York State Governor Andrew Cuomo walks with girlfriend Sandra Lee, right, during the New York City gay pride march on June 26. 紐約州州長安德魯‧鄺莫六月二十六日與女友珊卓拉‧李(右),走在紐約市同志大遊行的隊伍中。
Photo: AFP
照片:法新社
As he joined the parade procession, John Haracopos wore a T-shirt that declared, "Some dudes marry other dudes. Get over it." He and his partner regard the new law as a legal rubber-stamping of what they did years ago.
"We got married in the oldest church in Paris. And it was just us and God," said Haracopos, a 46-year-old hair stylist. Still, the pair plans to hold another ceremony in New York to ensure their relationship is fully recognized by the law.
"Thank you, Governor Cuomo" and "Promise kept" read signs lining both sides of Manhattan's Fifth Avenue.
Same-sex marriage licenses also are granted by Connecticut, Iowa, Massachusetts, New Hampshire and Vermont, plus Washington, D.C., and the Coquille Indian Tribe in Oregon.
New York's parade ended near the site where gays rebelled against authorities and repressive laws outside the Stonewall Inn in Greenwich Village on June 28, 1969 — an event that gave rise to the gay rights movement.
"If New York can do it, it's all right for everyone else in the country to do it," Cuomo said before the parade.
(AP)
兩週前的週末,是個求婚、計畫婚禮與認真感謝的日子。同性婚姻法在紐約州終於苦盡甘來,對於上千對同性伴侶而言,合法踏上紅毯終於成真,不再只是一場夢。
紐約州州長安德魯‧庫莫六月二十六日在紐約市的年度同志驕傲遊行,多姿多采的盛典上說:「紐約已經對全國送出了一則訊息。」他說:「落實婚姻平等的時候到了。」
當庫莫六月二十四日深夜,簽署同志婚姻法案,使紐約成為全美第六個、也是人口最多同志婚姻合法化的州。全國同志人權運動兩年前推動幾乎相同的法案受挫後,如今再度士氣大振。經過數日來爭論不休的協商,以及試圖爭取猶豫未決的共和黨員與具影響力的宗教團體的支持,法案終於以三十三票贊成、二十九票反對通過。法案將於七月二十四日生效。
從俄亥俄州凱特林來的布萊絲‧克羅夫特,在與她的伴侶史蒂芬妮‧克羅夫特一同參加遊行慶祝活動時表示:「我們想在中央公園結婚,已經等了數年,我們在最好的時機來到此地,見證寫下歷史的一刻。」
這兩位女士姓氏相同,但她們尚未合法結為連理,且正準備搬到紐約並結婚。她們週五晚間在曼哈頓的一家餐館,獲悉這項法案已經通過的消息。
史蒂芬妮‧克羅夫特說:「我們在整個晚餐上,一邊吃著莫札瑞拉起司條,一邊喜極而泣。」她還說,她們已經選定了一個中央公園的位置—一個她兩年前刻有布萊絲名字的巨石處。
約翰‧哈拉庫普斯則穿著一件寫有「有些男孩與其他男孩結婚。沒什麼大不了的。」的圓領衫,加入遊行隊伍。他與伴侶認為新法律,等同是給予他們數年前私下結婚之合法認可。
四十六歲的髮型設計師哈拉庫普斯說:「我們在巴黎最古老的教堂結婚。當下就我們倆與上帝。」這對伴侶仍計劃在紐約再辦一次婚禮儀式,以確保他們的關係是被法律認可的。
「州長庫莫,感謝您」與「承諾兌現」等標語,林立在曼哈頓第五街的兩旁。
同性婚姻證書也在康乃狄克州、愛荷華州、麻州、新罕布夏州、佛蒙特州、華府與奧勒岡州的印第安柯奇爾族合法化。
紐約大遊行的終點,鄰近格林威治村的石牆酒吧,一九六九年六月二十八日,同志們在酒吧外,力抗當局與法律的壓制─此事件造就日後同志人權運動的發展。
庫莫在遊行前說:「若紐約能做到,那麼國內其他地方的人民,也能有相等的權利。」
(美聯社/翻譯:林亞蒂)
Publication Notes
TODAY'S WORDS 今日單字
1.extravaganza n. 盛典 (sheng4 dian3)
Spring Scream is a musical extravaganza that is held annually in the Kending area.
「春天吶喊」音樂盛典每年都會在墾丁舉行。
2. contentious adj.
爭論不休的 (zheng1 lun4 bu4 xiu1 de5)
Committee members finally voted on the issue after a contentious debate.
委員會委員們經過爭論不休的辯論後,終於對此議題做出表決。
3.procession n.
隊伍(dui4 wu3)
Hundreds of mourners showed up at the funeral procession.
上百位悼念者出現在喪禮隊伍中。
Comments will be moderated. Keep comments relevant to the article. Remarks containing abusive and obscene language, personal attacks of any kind or promotion will be removed and the user banned. Final decision will be at the discretion of the Taipei Times.