Trump gives up Indy pace-car duty 川普捨棄定速車 角逐美共和黨總統?
Real estate mogul Donald Trump has opted out as the pace car driver for the Indianapolis 500, lest the famed race be overshadowed by his own possible presidential bid.
A spokesman for the fabled Indianapolis Motor Speedway said on May 5 that Trump had given up the gig at the May 29 race, deciding it would be "inappropriate" given Trump's increasing political involvement.
In a statement released by the speedway, Trump also said his schedule made it impossible for him to work in the required practice sessions.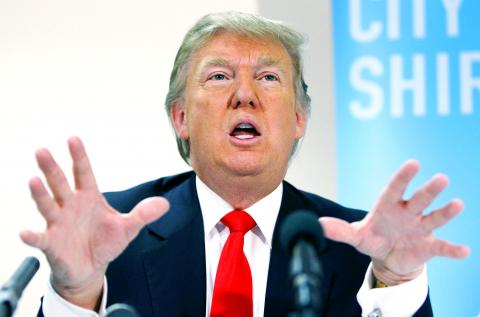 Real estate mogul Donald Trump speaks at a news conference at the Aberdeen Airport in Scotland in May last year. 地產大亨唐納‧川普去年五月在蘇格蘭亞伯丁機場的記者會上發表聲明。
Photo: Reuters
照片:路透
"We had conversations with him that started yesterday, and he was talking about his concern that he may make an announcement for president ahead of the race and that it may be inappropriate to drive the pace car," Indianapolis Motor Speedway spokesman Doug Boles said.
"So we discussed the political ramifications for everyone, we spoke with him again this morning and he decided to pull aside."
Boles stressed that he had no indication that Trump has definitely decided to seek the Republican nomination.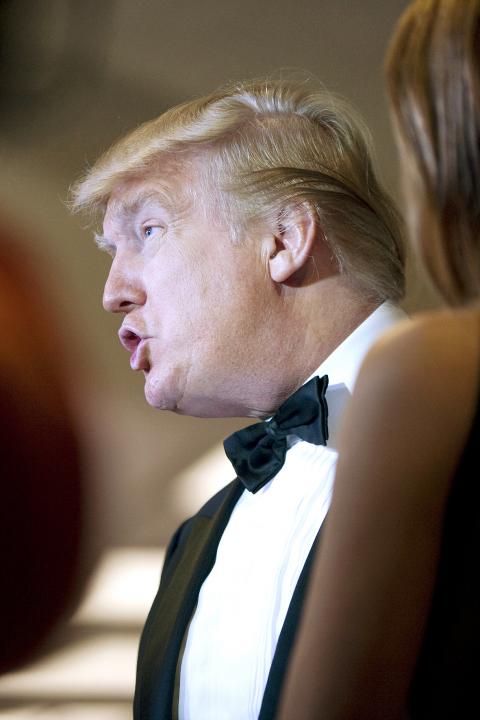 Donald Trump talks with the media at the White House Correspondents' Association (WHCA) dinner in Washington, D.C. on April 30. 唐納‧川普四月三十日於華盛頓特區白宮新聞記者協會餐會上,與媒體交談。
Photo: Bloomberg
照片:彭博社
Boles said four-time Indianapolis 500 winner AJ Foyt could be called in as a replacement for Trump, whose role had stirred some controversy.
Trump, 64, has emerged in polls as a prospect from among a weak Republican field of potential presidential contenders, despite the fact that the political establishment and pundits generally do not take him seriously.
He has said he will decide by June 1 whether to seek the GOP nomination to oppose Democrat Barack Obama, and critics argued that he was too divisive a figure to have the pace car honor.
State lawmaker Jeb Bardon, a Democrat who represents the area around the historic 2.5-mile oval circuit, launched the "Dump Trump" movement weeks ago with a speech in the state legislature.
"My voice was just reflective of what I was hearing from my constituents," Bardon said.
(AFP)
地產大亨唐納‧川普已經退出擔任印第安納波利斯五百(英里)大賽定速車駕駛,唯恐這個著名的車賽會對他可能角逐的總統大位帶來負面影響。
極富盛名的印第安納波利斯比賽的一位發言人五月五日說,川普涉足政壇日深,因而以「不妥」為由,放棄五月二十九日的比賽。
在大賽發佈的一篇聲明中,川普也說他的行程安排讓他根本無法參與定速車訓練課程。
印第安納波利斯比賽發言人道格‧波爾斯說,「我們昨天開始與他交談,且他當時說到關於他可能在比賽前宣布參選總統的顧慮,所以由他來駕駛定速車可能不妥。」
波爾斯說,「因此我們討論對於每個人的政治衍生後果,而今天早上我們又與他交談,他決定要退出比賽。」
波爾斯強調,並沒有跡象顯示川普角逐共和黨提名的心意已決。
波爾斯說四度印第安納波利斯五百比賽冠軍的佛依特可能被徵召替代角色已招致一些爭議的川普。
六十四歲的川普在民調中脫穎而出,成為疲弱不振的共和黨延攬可能角逐總統的一位看好人選。
他已說他將會在六月一日決定是角逐共和黨提名,與民主黨的巴拉克‧歐巴馬一較高下。評論家認為他曾是位過度製造紛歧的人物,因而不配擁有定速車榮譽。
該州代表史上著名的二點五英里橢圓形賽車路線地區的民主黨議員傑布‧巴爾頓數周前發起了一個「拋棄川普」的運動,並在州議會內發表一場演說。
巴爾頓說,「我只不過用聲音據實反應出我從選民那兒所聽到的種種罷了。」
(法新社/翻譯:林亞蒂)
Publication Notes
TODAY'S WORDS 今日單字
1. opt out v. phr.
退出 (tui4 chu1)
例: He didn't want to appear on the same show as his worst enemy, so he opted out when they asked him.
(他不想出現在他宿敵上過的節目中,因此當他們徵詢時,他選擇退出。)
2. give up a gig v. phr.
放棄(活動) (fang4 qi4 (huo2 dong4))
例: He has thrown a Christmas party every year for the past 10 years, but he gave up the gig this year because he said it was getting boring.
(他過去十年每年都辦一個耶誕派對,不過他說因它變得無聊,所以今年放棄舉辦。)
3. ramification n.
衍生的後果 (yan3 sheng1 de5 hou4 guo3)
例: I don't know what the ramifications of that decision will be, but hopefully it will help us make some more money.
(我不知道那個決定衍生的後果會是什麼,不過希望它將幫助我們多賺些錢。)
Comments will be moderated. Keep comments relevant to the article. Remarks containing abusive and obscene language, personal attacks of any kind or promotion will be removed and the user banned. Final decision will be at the discretion of the Taipei Times.