Grumpy bridesmaid not amused by royal kiss 威凱親吻 小伴娘一旁嘔氣
The crowds outside Buckingham Palace were all begging for Prince William and Kate Middleton to kiss — but one young bridesmaid's expression showed just what she thought of the whole business.
Three-year-old Grace van Cutsem, the new Duke of Cambridge's goddaughter, covered her ears, leaned on the ledge and stared balefully at the crowd as the royal couple locked lips behind her, photographs showed.
Kate tried to comfort the little girl, whose comedy moment apparently came after she became overwhelmed by the noise of the event as some 500,000 people massed in The Mall outside the palace.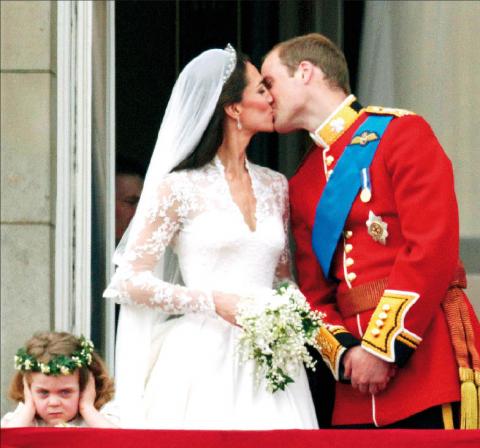 Britain's Prince William and his wife Catherine, Duchess of Cambridge, kiss as they stand next to bridesmaid Grace van Cutsem, left, on the balcony at Buckingham Palace after their wedding in Westminster Abbey in central London on April 29. 在小伴娘葛瑞絲‧范柯森的陪襯下,英國威廉王子與妻子劍橋公爵夫人凱薩琳四月二十九日於倫敦中心西敏寺教堂婚禮後,在白金漢宮陽台上親吻。
Photo: Reuters
照片:路透
Grace and the other five children who made up Middleton's troupe of bridesmaids and pageboys had otherwise behaved impeccably throughout the wedding service in London's Westminster Abbey.
The only other hiccup was when Eliza Lopes, the three-year-old granddaughter of William's stepmother Camilla, repeatedly fiddled with her floral headdress apparently fearing it would slip off.
"Their quality was superb. Everything was perfection," said one of the well-wishers below, Doris Narty, 74, from Ghana.
(AFP)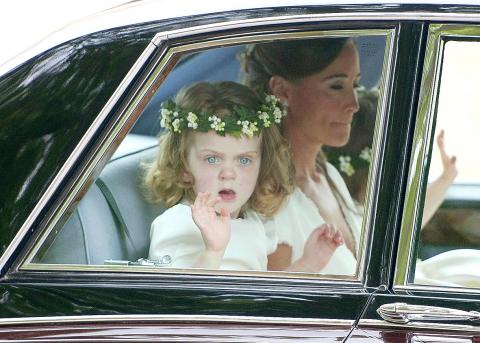 Bridesmaids Grace van Cutsem, left, and Pippa Middleton ride in a limousine to the Royal wedding of Prince William and Kate Middleton at Westminster Abbey in London on April 29. 小伴娘葛瑞絲‧范柯森(左)與琵琶‧密道頓四月二十九日乘坐一台豪華轎車,前往威廉王子與凱特‧密道頓在倫敦西敏寺教堂舉辦的皇室婚禮。
Photo: Reuters
照片:路透
正當白金漢宮外的大批群眾集體請求威廉王子與凱特‧密道頓親吻時,一位年幼伴娘的不耐表情,無疑表露她對這整場婚禮的想法。
才三歲的小伴娘葛瑞絲‧范柯森,是新封劍橋公爵的教女。正當這對皇室新人在她後方親吻時,她就摀著耳朵、倚著陽台邊緣,並且以兇惡的眼神盯著群眾看。
這位小女孩顯然是受夠了有五十萬人聚集在白金漢宮前的林蔭大道所發出的噪音,因而面露逗人發笑的表情。凱特也試著安撫這位小女孩。
除此插曲外,葛瑞絲與另外五位小孩所組成的密道頓伴娘與男花童一行人,在倫敦西敏寺教堂舉行婚禮時,可說是無可挑剔地聽話。
另外一個小插曲是威廉繼母卡蜜拉的三歲孫女艾麗莎‧洛佩斯,重複地撥弄她的花朵頭飾,顯然是怕它可能會滑落。
一位在底下從迦納帶著滿心祝福來觀禮的七十四歲婦人多利絲‧娜提說,「他們超棒。一切完美。」
(法新社/翻譯:林亞蒂)
Comments will be moderated. Keep comments relevant to the article. Remarks containing abusive and obscene language, personal attacks of any kind or promotion will be removed and the user banned. Final decision will be at the discretion of the Taipei Times.